Single-Domain Antibodies Represent Novel Alternatives to Monoclonal Antibodies as Targeting Agents against the Human Papillomavirus 16 E6 Protein
1
Biotechnology Program, Lakehead University, Thunder Bay, ON P7B 5E1, Canada
2
Probe Development and Biomarker Exploration, Thunder Bay Regional Health Research Institute, Thunder Bay, ON P7B 6V4, Canada
3
Human Health Therapeutics Research Centre, National Research Council Canada, Ottawa, ON K1A 0R6, Canada
4
Department of Biology, Lakehead University, Thunder Bay, ON P7B 5E1, Canada
5
School of Environmental Sciences, University of Guelph, Guelph, ON N1G 2W1, Canada
6
Department of Biochemistry, Microbiology and Immunology, University of Ottawa, Ottawa, ON K1H 8M5, Canada
*
Authors to whom correspondence should be addressed.
Received: 29 March 2019 / Revised: 23 April 2019 / Accepted: 26 April 2019 / Published: 28 April 2019
Abstract
Approximately one fifth of all malignancies worldwide are etiologically associated with a persistent viral or bacterial infection. Thus, there is a particular interest in therapeutic molecules which use components of a natural immune response to specifically inhibit oncogenic microbial proteins, as it is anticipated they will elicit fewer off-target effects than conventional treatments. This concept has been explored in the context of human papillomavirus 16 (HPV16)-related cancers, through the development of monoclonal antibodies and fragments thereof against the viral E6 oncoprotein. Challenges related to the biology of E6 as well as the functional properties of the antibodies themselves appear to have precluded their clinical translation. Here, we addressed these issues by exploring the utility of the variable domains of camelid heavy-chain-only antibodies (denoted as VHHs). Through construction and panning of two llama, immune VHH phage display libraries, a pool of potential VHHs was isolated. The interactions of these with recombinant E6 were further characterized using an enzyme-linked immunosorbent assay (ELISA), Western blotting under denaturing and native conditions, and surface plasmon resonance. Three VHHs were identified that bound recombinant E6 with nanomolar affinities. Our results lead the way for subsequent studies into the ability of these novel molecules to inhibit HPV16-infected cells in vitro and in vivo.
View Full-Text
►

▼

Figures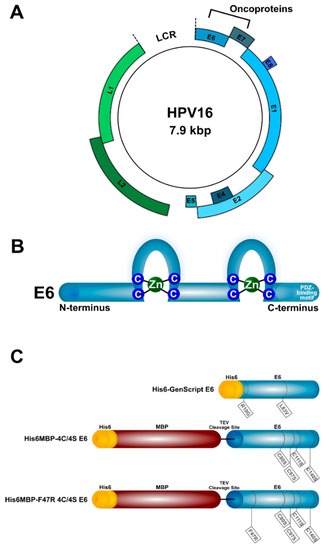 Figure 1
This is an open access article distributed under the
Creative Commons Attribution License
which permits unrestricted use, distribution, and reproduction in any medium, provided the original work is properly cited (CC BY 4.0).

Share & Cite This Article
MDPI and ACS Style
Togtema, M.; Hussack, G.; Dayer, G.; Teghtmeyer, M.R.; Raphael, S.; Tanha, J.; Zehbe, I. Single-Domain Antibodies Represent Novel Alternatives to Monoclonal Antibodies as Targeting Agents against the Human Papillomavirus 16 E6 Protein. Int. J. Mol. Sci. 2019, 20, 2088.
Note that from the first issue of 2016, MDPI journals use article numbers instead of page numbers. See further details here.
Related Articles
Comments
[Return to top]