Phosphatidylinositol 5 Phosphate (PI5P): From Behind the Scenes to the Front (Nuclear) Stage
1
National Institute of Molecular Genetics (INGM), 20122 Milan, Italy
2
The FIRC Institute of Molecular Oncology (IFOM), 20139 Milan, Italy
3
School of Biological Sciences, University of Southampton, Southampton SO17 1BJ, UK
4
Department of Biomedical e Neuromotor Sciences (DIBINEM), University of Bologna, 40126 Bologna, Italy
*
Authors to whom correspondence should be addressed.
Received: 31 March 2019 / Revised: 20 April 2019 / Accepted: 23 April 2019 / Published: 27 April 2019
Phosphatidylinositol (PI)-related signaling plays a pivotal role in many cellular aspects, including survival, cell proliferation, differentiation, DNA damage, and trafficking. PI is the core of a network of proteins represented by kinases, phosphatases, and lipases which are able to add, remove or hydrolyze PI, leading to different phosphoinositide products. Among the seven known phosphoinositides, phosphatidylinositol 5 phosphate (PI5P) was the last to be discovered. PI5P presence in cells is very low compared to other PIs. However, much evidence collected throughout the years has described the role of this mono-phosphoinositide in cell cycles, stress response, T-cell activation, and chromatin remodeling. Interestingly, PI5P has been found in different cellular compartments, including the nucleus. Here, we will review the nuclear role of PI5P, describing how it is synthesized and regulated, and how changes in the levels of this rare phosphoinositide can lead to different nuclear outputs.
1. Introduction
1.1. Phosphatidylinositol Signaling
Multiple cellular functions, including survival, proliferation, differentiation, DNA damage response, and gene transcription can be modulated by a specific network of kinases, phosphatases, and lipases able to modulate the lipid second messenger phosphatidylinositol [
1
,
2
,
3
,
4
,
5
]. Phosphatidylinositol (PI) is composed of two different modules: a hydrophilic inositol head group bound through a phosphodiester bond to a glycerol and two fatty acids tails that represent the hydrophobic part of the molecule. The fatty acids tails are prevalently represented by stearic and arachidonic acids but other acyl chains are known to be present [
6
]. Modifications of the inositol ring due to addition or removal of phosphate groups, together with hydrolysis of the phosphodiester bond by phospholipases C, are the most common changes leading to the production of second messengers involved in many cellular aspects. The first demonstration of lipids as second messengers was indicated by different works, which independently elucidated the process through which PI(4,5)P
2
is cleaved by phospholipases C to diacyglycerol (DAG) and inositol 3-phosphate (IP3). These, in turn, contribute to protein kinases C (PKC) activation and calcium (Ca
2+
) release from the endoplasmic reticulum [
1
,
2
,
3
,
4
,
5
,
7
]. Subsequently, further studies have led to the discovery of many other PI-related pathways, including those involving several forms of phosphotransferases like PIKinases and PIPKinases [
8
] or phosphatases like phosphatase and tension homologue deleted on chromosome 10 (PTEN) and SH2-domain containing inositol phosphatase 2 (SHIP2) [
9
,
10
].
1.2. Nuclear Lipid Signalling: Focus on Nuclear Phosphoinositides
PI signaling was first described at the plasma membrane level, which involves PI anchored to cell membranes through DAG molecules [
1
,
2
,
3
,
4
,
5
]. Interestingly, it soon became clear that PIs and PI-related enzymes could be present in different cellular compartments, including cytoplasmic organellar membranes and nuclei. Nuclear PI fraction was expected to exist due to the presence of the nuclear membrane, a bilayer formed by lipids and proteins connected to the endoplasmic reticulum (ER) [
11
,
12
]. However, different reports have indicated that nuclei almost completely depleted of nuclear envelope are still characterized by the presence of many PIs and PI-related proteins like phospholipases C, phosphatidylinositol phosphate kinases (PIPKs) and diacylglycerol kinases (DGKs) [
13
,
14
,
15
,
16
,
17
,
18
,
19
]. Strikingly, under different stimuli, these enzymes are able to change the nuclear pool of PIs [
14
,
16
,
20
,
21
]. This evidence unequivocally demonstrated the existence of PI signaling completely localized within the nuclear compartment of cells.
Seven different phosphoderivatives of PI are known to exist and these are modulated by an intricate network of enzymes whose related pathways often intertwine. Despite the rarity of these second messengers when compared with other lipids like phosphatidylcholine or phosphatidylserine (which represent around the 12–20% of the cellular lipid pool) [
1
,
2
,
3
,
4
,
5
], they have been described as modulating many cellular functions acting in different cellular compartments. Among PI's phosphoderivatives, here we will focus on phosphatidylinositol 5-phosphate (PI5P) and will particularly describe its involvement in nuclear outputs.
2. Phosphatidylinositol 5 Phosphate: A Rare But Essential Lipid
2.1. PI5P Discovery
Out of the different phosphoinositides, PI5P represents only 0.5% of the PI pool present in the cells. However, its function as a second messenger has been widely investigated. Its levels strongly fluctuate due to external stimuli such as TCR activation, insulin treatment, oxidative stress, and pathogen cellular invasion [
22
]. PI5P was the last PI to be discovered. In the late 1980s, experiments regarding the purification of proteins involved in PI signaling indicated the existence of two related subfamilies of phosphatidylinositol phosphate kinases (PIPK) named type I and type II PIP5K. They were thought to both be able to phosphorylate PI4P, leading to PI(4,5P)
2
production. However, in 1997, Rameh and colleagues, studying the substrate specificity of these two PIPK classes, found that type II enzymes were able to specifically phosphorylate another lipid substrate to lead to PI(4,5)P
2
, which turned out to be PI5P. As synthetic purified lipid substrates were not available at the time, the issue with PI5P detection was due to the contamination of PI4P bovine brain preparations used for experiments involving PI5P. This delayed the detection of the real function of type II PIPK, which from that point was renamed PI5P4K/PIP4K [
23
] (see later).
2.2. Changes in PI5P Levels Regulate Many Cellular Functions
As already stated, the pool of cellular PI5P can be regulated by many external factors and stimuli. For instance, upon TCR stimulation, quick (two minute) and transient accumulation of PI5P in Uh78 cells occurs. PI5P is in turn bound by DOK proteins, leading to IL-2 promoter activity in T cells [
24
]. In addition, induction of platelet aggregation by thrombin treatment has been partially connected to a three-fold increase in PI5P levels in cells [
25
]. Other reports have described insulin treatment as able to increase levels of PI5P in 3T3-L1 adipocytes, CHO cells stably expressing insulin receptors, and skeletal muscle cells [
26
]. Interestingly, insulin-dependent PI5P accumulation has been connected with GLUT4 internalization-enhancing glucose uptake from the extracellular environment [
27
]. On the other hand, increased levels of PI5P obtained by insulin or infection by
Shigella flexeneri
PI(4,5)P
2
4-phosphatase IpgD lead to actin remodeling and endosome formation through TIAM1 [
28
].
S. flexeneri
infection-related changes of PI5P have also been proposed to internalize and degrade cell surface levels of ICAM-1, inhibiting neutrophils recruitment [
29
]. Recently, other pathogen signatures like lipopolysaccharides (LPS) and viral dsRNA have been found to positively affect PI5P amounts in host cells, which have been described as being involved in toll-like receptor-related pathways [
30
]. All these reports showed that fluctuations of PI5P in cells can be linked to different external stimuli and signaling pathways.
3. Enzymes Involved in the Turnover of PI5P
Although PI5P levels can change upon different stimuli, how this occurs is not always understood. Several pathways underlying PI5P synthesis have been described, including direct processes through phosphorylation of PI on position 5, or indirect-like de-phosphorylation of PI(3,5)P
2
(
Figure 1
). Moreover, the balance between PI(4,5)P
2
and PI5P mediated by PIP4K has also been found to be important for cellular control of the PI5P pool. Here we will describe the different pathways which lead to PI5P production in cells.
4. PI5P and Nuclear Outputs
The role of PI5P as a second messenger has been widely investigated. In particular, many processes regulated by changes in PI5P levels have been described in relation to the nuclei. This began with evidence collected during the study of the cell cycle of murine erythroleukemia (MEL) cells, which showed a strong increase of the nuclear PI5P pool during G1/S transition [
14
,
65
]. This led to the first ideas about possible roles of this phosphoinositide in the regulation of nuclear processes [
66
]. In fact, throughout the years, it has turned out that PI5P is involved in many nuclear outputs such as chromatin remodeling, gene expression, or responses to stressors like UV irradiation or genotoxic factors. Here, the nuclear role of this monophosphoinositide will be reviewed by considering and describing the main published works so far.
5. Conclusions
Throughout this review we have discussed the involvement of PI5P in the regulation of several cellular functions, focusing our attention on the nuclear dynamics modulated by changes in the levels of this lipid second messenger. Specifically, we have described how different enzymes involved in the production and turnover of PI5P, comprising myotubularins, PIKFyve, PIP4Ks, and type I/II 4-phosphatases, can affect several nuclear outputs including transcription, DNA damage response, and cell differentiation. However, the study of PI5P as a second messenger is still quite challenging. This is due to a lack of specific antibodies or ways to detect it, i.e., more sensitive cellular probes, as well as methods to specifically and singularly alter its levels. In addition, other PI5P-interacting enzymes exist, but these need further validation and analysis. For all these reasons, we are sure that many new chapters in the story of this rare and little understood phosphoinositide will be written in future.
Author Contributions
A.P., writing, review, and editing; A.E.Z., figure preparation and review; S.A.-H., review; N.D., supervision; and I.F. and R.F., external supervision.
Funding
This research received no external funding.
Conflicts of Interest
The authors declare no conflict of interest.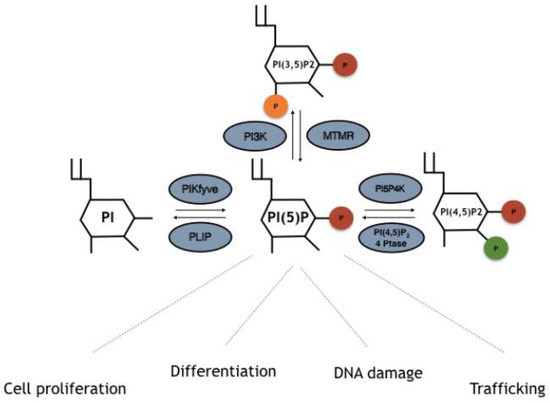 Figure 1. Enzymes involved in phosphatidylinositol 5 phosphate (PI5P) turnover and array of kinases and phosphatases involved in PI5P turnover. PI5P can be directly synthesized by PIKFyve phosphotransferases through direct phosphorylation of phosphatidylinositol (PI) on position 5 of the inositol ring. Moreover, MTMR phosphatases can remove a phosphate group on position 3 from PI(3,5)P2, leading to increased amount of PI5P levels. Finally, PI5P4K/PIP4Ks directly phosphorylate PI5P on position 4 leading to PI(4,5)P2 synthesis, an event that can be counterbalanced by type I/II 4-phosphatases which remove the phosphate group on position 4.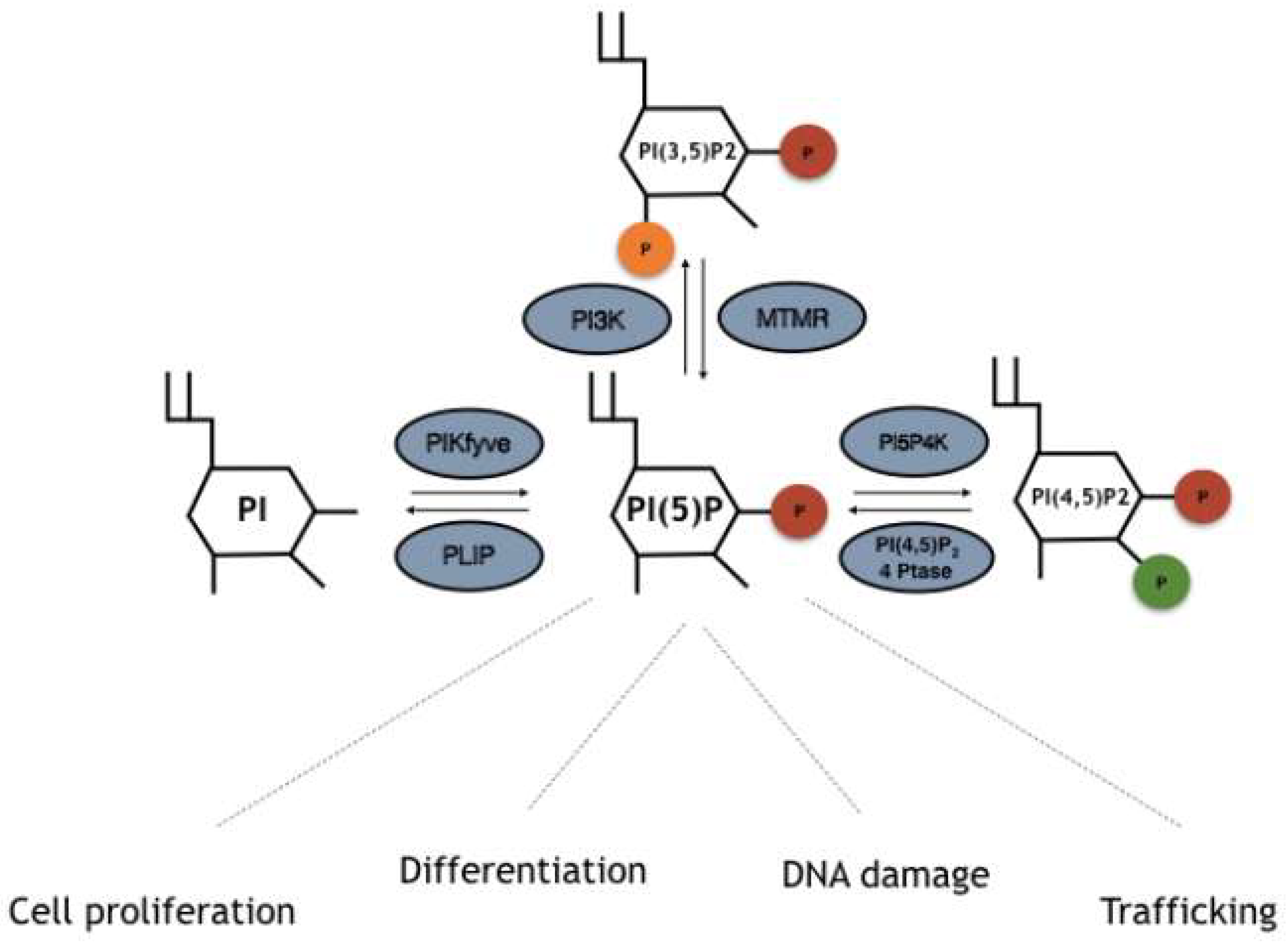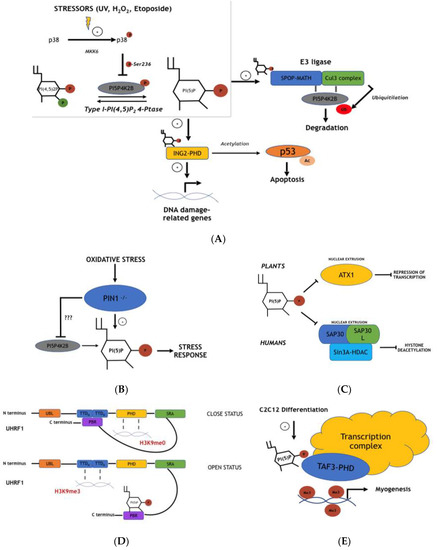 Figure 2. The role of PI5P in nuclear outputs and PI5P as lipid second messenger involved in different nuclear functions. (A) Increased levels of PI5P during cellular stress affect ING2 and cellular responses through PIP4K2B and type I PI(4,5)P2 4-ptase activity. Moreover, PI5P can modulate Cul3 E3 ligase/substrate-specific adaptor protein (SPOP) binding, leading to PI5P4K2B/PIP4K2B degradation. (B) Pin1 regulates PI5P upon oxidative stress. (C) ATX1 and SAP30/SAP30L are extruded from the cell nucleus by PI5P binding. (D) Uhrf1 conformation and binding capacity of either H3K9me3 or H3K9me0 DNA regions is mediated by interaction with PI5P. (E) TAF3-mediated regulation of genes involved in myogenic differentiation requires PI5P.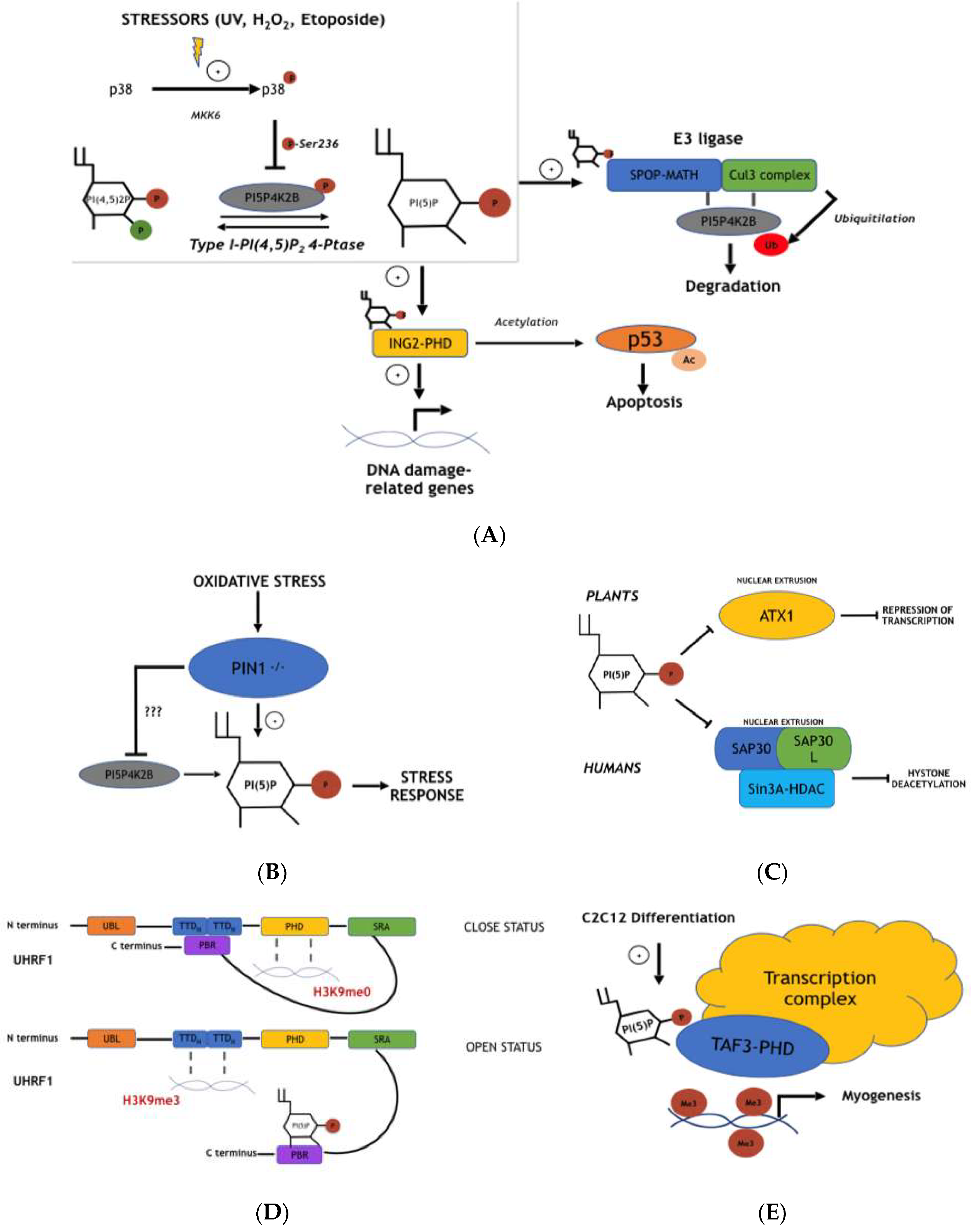 © 2019 by the authors. Licensee MDPI, Basel, Switzerland. This article is an open access article distributed under the terms and conditions of the Creative Commons Attribution (CC BY) license (http://creativecommons.org/licenses/by/4.0/).