C-X-C Motif Chemokine Ligand 14 is a Unique Multifunctional Regulator of Tumor Progression
1
Oral Health Science Research Center, Graduate School of Kanagawa Dental University, Yokosuka 238-8580, Japan
2
Department of Dentomaxillofacial Diagnosis and Treatment, Graduate School of Kanagawa Dental University, Yokosuka 238-8580, Japan
3
Nippi Research Institute of Biomatrix, 520-11 Kuwabara, Toride, Ibaraki 302-0017, Japan
4
Department of Oral Function and Molecular Biology, Ohu University School of Dentistry, Koriyama 963-8611, Japan
5
Department of Oral Science, Graduate School of Kanagawa Dental University, Yokosuka 238-8580, Japan
6
Department of Critical Care Medicine and Dentistry, Graduate School of Kanagawa Dental University, Yokosuka 238-8580, Japan
7
Division of Carcinogenesis and Cancer Prevention, Department of Cell Culture Technology, National Cancer Center Research Institute, Tokyo 104-0045, Japan
*
Author to whom correspondence should be addressed.
Received: 5 March 2019 / Revised: 12 April 2019 / Accepted: 12 April 2019 / Published: 16 April 2019
Abstract
Cancer is a leading cause of death and disease worldwide, with a tremendous financial impact. Thus, the development of cost-effective novel approaches for suppressing tumor growth and progression is essential. In an attempt to identify the mechanisms responsible for tumor suppression, we screened for molecules downregulated in a cancer progression model and found that the chemokine CXCL14, also called BRAK, was the most significantly downregulated. Increasing the production of CXCL14 protein by transfecting tumor cells with a CXCL14 expression vector and transplanting the cells into the back skin of immunodeficient mice suppressed tumor cell growth compared with that of parental tumor cells, suggesting that CXCL14 suppressed tumor growth in vivo. However, some studies have reported that over-expression of CXCL14, especially in stromal cells, stimulated the progression of tumor formation. Transgenic mice expressing 10-fold more CXCL14 protein than wild-type C57BL/6 mice showed reduced rates of chemical carcinogenesis, transplanted tumor growth, and metastasis without apparent side effects. CXCL14 also acts as an antimicrobial molecule. In this review, we highlight recent studies involving the identification and characterization of CXCL14 in cancer progression and discuss the reasons for the context-dependent effects of CXCL14 on tumor formation.
View Full-Text
►

▼

Figures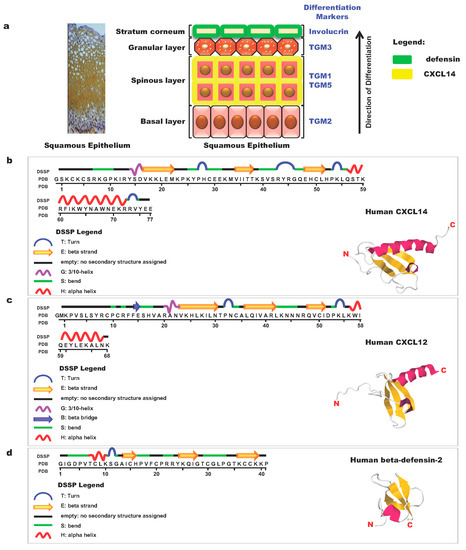 Figure 1
This is an open access article distributed under the
Creative Commons Attribution License
which permits unrestricted use, distribution, and reproduction in any medium, provided the original work is properly cited (CC BY 4.0).

Share & Cite This Article
MDPI and ACS Style
Yang, X.-Y.; Ozawa, S.; Kato, Y.; Maehata, Y.; Izukuri, K.; Ikoma, T.; Kanamori, K.; Akasaka, T.; Suzuki, K.; Iwabuchi, H.; Kurata, S.-I.; Katoh, I.; Sakurai, T.; Kiyono, T.; Hata, R.-I. C-X-C Motif Chemokine Ligand 14 is a Unique Multifunctional Regulator of Tumor Progression. Int. J. Mol. Sci. 2019, 20, 1872.
Note that from the first issue of 2016, MDPI journals use article numbers instead of page numbers. See further details here.
Related Articles
Comments
[Return to top]