Therapeutic Effect of
Dipsacus asperoides

C. Y. Cheng et T. M. Ai in Ovalbumin-Induced Murine Model of Asthma

1

College of Veterinary Medicine (BK21 Plus Project Team), Chonnam National University, 77 Yongbong-ro, Buk-gu, Gwangju 61186, Korea

2

Herbal Medicine Resources Research Center, Korea Institute of Oriental Medicine, Geonjae-ro 177, Naju-si, Jeollanam-do 58245, Korea

*

Authors to whom correspondence should be addressed.

Received: 4 March 2019 / Revised: 12 April 2019 / Accepted: 12 April 2019 / Published: 15 April 2019
Abstract
Dipsacus asperoides
C. Y. Cheng et T. M. Ai (DA) has been used in China as a traditional medicine to treat lumbar and knee pain, liver dysfunction, and fractures. We explored the suppressive effect of DA on allergic asthma using an ovalbumin (OVA)-induced asthma model. In the asthma model, female Balb/c mice were sensitized to OVA on day 0 and 14 to boost immune responses and then exposed to OVA solution by using an ultrasonic nebulizer on days 21 to 23. DA (20 and 40 mg/kg) was administered to mice by oral gavage on days 18 to 23. Methacholine responsiveness was determined on day 24 using a plethysmography. On day 25, we collected bronchoalveolar lavage fluid, serum, and lung tissue from animals under anesthesia. DA treatment effectively inhibited methacholine responsiveness, inflammatory cell infiltration, proinflammatory cytokines such as interleukin (IL)-5 and IL-13, and immunoglobulin (Ig) E in OVA-induced asthma model. Reductions in airway inflammation and mucus hypersecretion, accompanied by decreases in the expression of inducible nitric oxide synthase (iNOS) and the phosphorylation of nuclear factor kappa B (NF-κB), were also observed. Our results indicated that DA attenuated the asthmatic response, and that this attenuation was closely linked to NF-κB suppression. Thus, this study suggests that DA is a potential therapeutic for allergic asthma.
View Full-Text
►

▼

Figures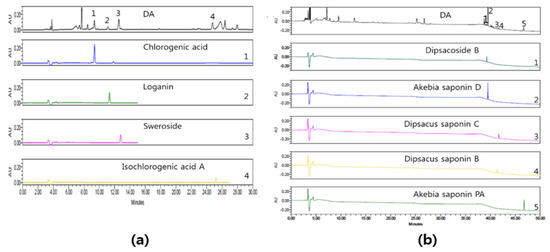 Figure 1
This is an open access article distributed under the
Creative Commons Attribution License
which permits unrestricted use, distribution, and reproduction in any medium, provided the original work is properly cited (CC BY 4.0).

Share & Cite This Article
MDPI and ACS Style
Shin, N.-R.; Lee, A.Y.; Park, G.; Ko, J.-W.; Kim, J.-C.; Shin, I.-S.; Kim, J.-S. Therapeutic Effect of Dipsacus asperoides C. Y. Cheng et T. M. Ai in Ovalbumin-Induced Murine Model of Asthma. Int. J. Mol. Sci. 2019, 20, 1855.
Note that from the first issue of 2016, MDPI journals use article numbers instead of page numbers. See further details here.
Related Articles
Comments
[Return to top]