Crosstalk between p38 and Erk 1/2 in Downregulation of FGF1-Induced Signaling
1
Department of Protein Engineering, Faculty of Biotechnology, University of Wroclaw, 50-383 Wroclaw, Poland
2
Department of Tumor Biology, Institute for Cancer Research, Oslo University Hospital, Montebello, 0379 Oslo, Norway
3
Centre for Cancer Cell Reprogramming, Institute of Clinical Medicine, Faculty of Medicine, University of Oslo, Montebello, 0379 Oslo, Norway
4
Department of Molecular Cell Biology, Institute for Cancer Research, Oslo University Hospital, Montebello, 0379 Oslo, Norway
*
Author to whom correspondence should be addressed.
Received: 14 January 2019 / Revised: 25 January 2019 / Accepted: 10 April 2019 / Published: 12 April 2019
Abstract
Mitogen-activated protein kinases (MAPK): Erk1 and Erk2 are key players in negative-feedback regulation of fibroblast growth factor (FGF) signaling. Upon activation, Erk1 and Erk2 directly phosphorylate FGF receptor 1 (FGFR1) at a specific serine residue in the C-terminal part of the receptor, substantially reducing the tyrosine phosphorylation in the receptor kinase domain and its signaling. Similarly, active Erks can also phosphorylate multiple threonine residues in the docking protein FGF receptor substrate 2 (FRS2), a major mediator of FGFR signaling. Here, we demonstrate that in NIH3T3 mouse fibroblasts and human osteosarcoma U2OS cells stably expressing FGFR1, in addition to Erk1 and Erk2, p38 kinase is able to phosphorylate FRS2. Simultaneous inhibition of Erk1/2 and p38 kinase led to a significant change in the phosphorylation pattern of FRS2 that in turn resulted in prolonged tyrosine phosphorylation of FGFR1 and FRS2 and in sustained signaling, as compared to the selective inhibition of Erks. Furthermore, excessive activation of p38 with anisomycin partially compensated the lack of Erks activity. These experiments reveal a novel crosstalk between p38 and Erk1/2 in downregulation of FGF-induced signaling.
View Full-Text
►

▼

Figures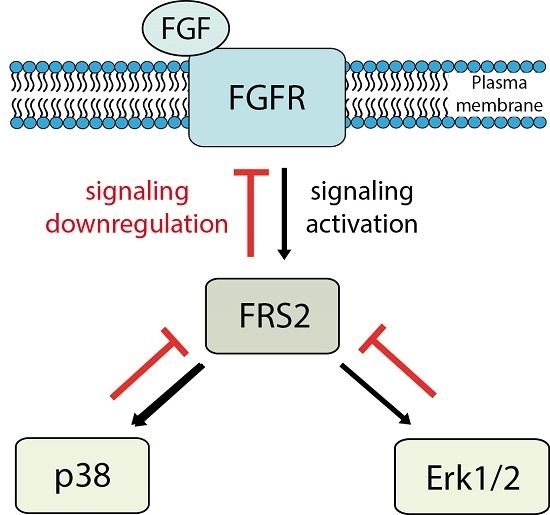 Graphical abstract
This is an open access article distributed under the
Creative Commons Attribution License
which permits unrestricted use, distribution, and reproduction in any medium, provided the original work is properly cited (CC BY 4.0).

Share & Cite This Article
MDPI and ACS Style
Zakrzewska, M.; Opalinski, L.; Haugsten, E.M.; Otlewski, J.; Wiedlocha, A. Crosstalk between p38 and Erk 1/2 in Downregulation of FGF1-Induced Signaling. Int. J. Mol. Sci. 2019, 20, 1826.
Note that from the first issue of 2016, MDPI journals use article numbers instead of page numbers. See further details here.
Related Articles
Comments
[Return to top]