Open Access This article is
freely available
re-usable
Review
When CAR Meets Stem Cells
School of Life Science, Handong Global University, Pohang 37554, Korea
Received: 26 March 2019 / Accepted: 10 April 2019 / Published: 12 April 2019
Abstract
:
The generation of immune cells from human pluripotent stem cells (embryonic stem cells and induced pluripotent stem cells) has been of keen interest to regenerative medicine. Pluripotent stem cell-derived immune cells such as natural killer cells, macrophages, and lymphoid cells, especially T cells, can be used in immune cell therapy to treat incurable cancers. Moreover, since the advent of chimeric antigen receptor (CAR) technology, the success of CAR-T cells in the clinic has galvanized new efforts to harness the power of CAR technology to generate CAR-engineered immune cells from pluripotent stem cells. This review provides a summary of pluripotent stem cell-derived immune cells and CAR technology, together with perspectives on combining pluripotent stem-cell derived immune cells and CAR engineering to pave a new way for developing next generation immune cell therapy.
Keywords:
pluripotent stem cell; CAR; CRISPR/Cas9
Funding
This research was funded by BioYouCell.
Acknowledgments
I thank Hyeon-Rae Kim for assistance with proof reading and for comments that greatly improved the manuscript.
Conflicts of Interest
The authors declare no conflict of interest.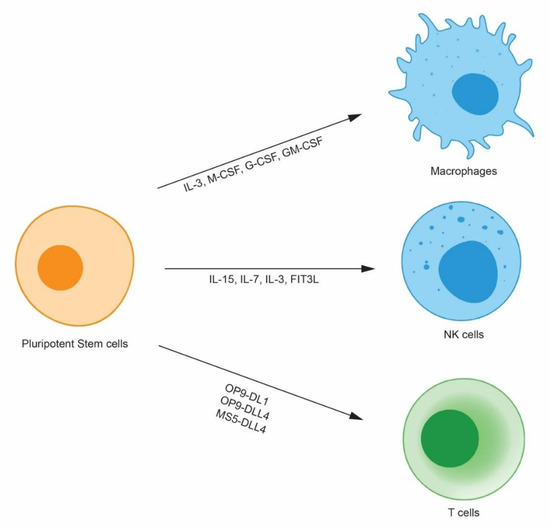 Figure 1. Human pluripotent stem cell-derived immune cells. Human pluripotent stem cells differentiate into immune cells such as macrophages, natural killer (NK) cells, and T cells by virtue of cytokines and stromal cells. Because human pluripotent stem cells proliferate indefinitely, they can be clonally selected after gene modification and can provide an unlimited number of modified immune cells.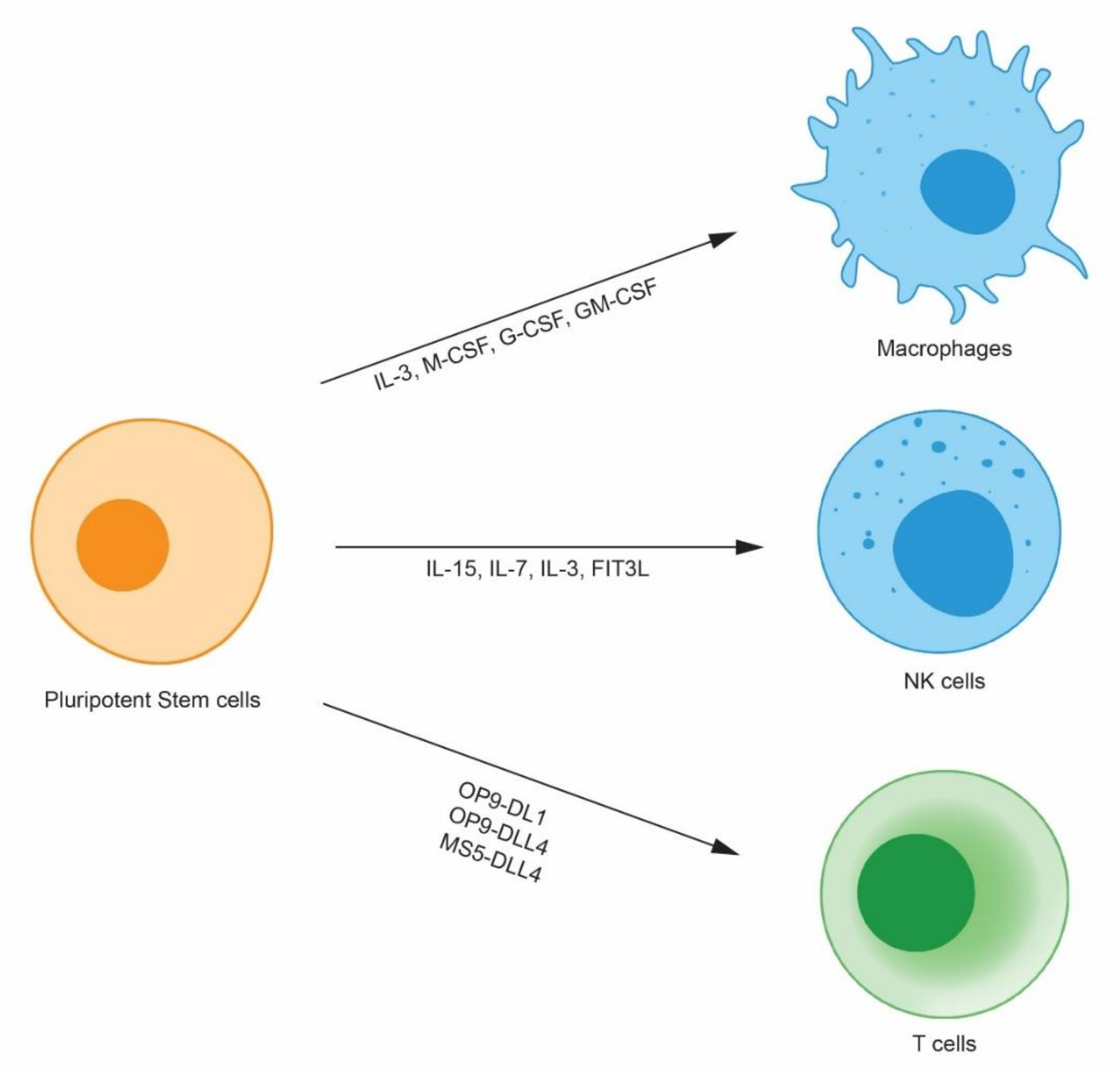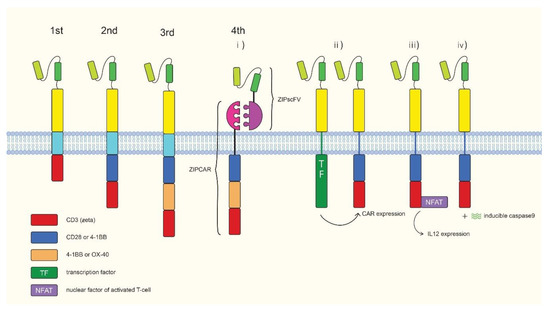 Figure 2. Overview of chimeric antigen receptors. Frist generation (chimeric antigen receptors) CARs contain the single chain variable (scFv) domain from a monoclonal antibody, and an intracellular signaling domain of CD3 zeta. Second generation CAR adds a co-stimulatory domain (CD28 or 4-1BB) on the first generation CAR. Third generation CAR contain two co-stimulatory domains (CD28, 4-1BB or OX40). Fourth generation CARs. The newest version is equipped with the features such as flexibility against antigens, or controllable on/off switch to increase safety and versatility of the treatment. (i) split, universal, and programmable (SUPRA) CAR-T that has a flexible antigen detection activity. (ii) Synnotch CAR-T. After binding of the first antigen, the intracellular transcription factor (TF) domain is cleaved and translocated into the nucleus to induce second CAR expression. (iii) T cell redirected universal cytokine killing (TRUCK) CAR-T cells. Once the first antigen is detected, the nuclear factor of activated T cell (NFAT) induces IL12 expression. (iv) Induced caspase 9 (iC9) CAR-T. CAR-T cells express inducible caspase 9 by chemical inducer of dimerization. This system efficiently eliminates 85%~90% of CAR-T cells improving the safety of CAR-T cells.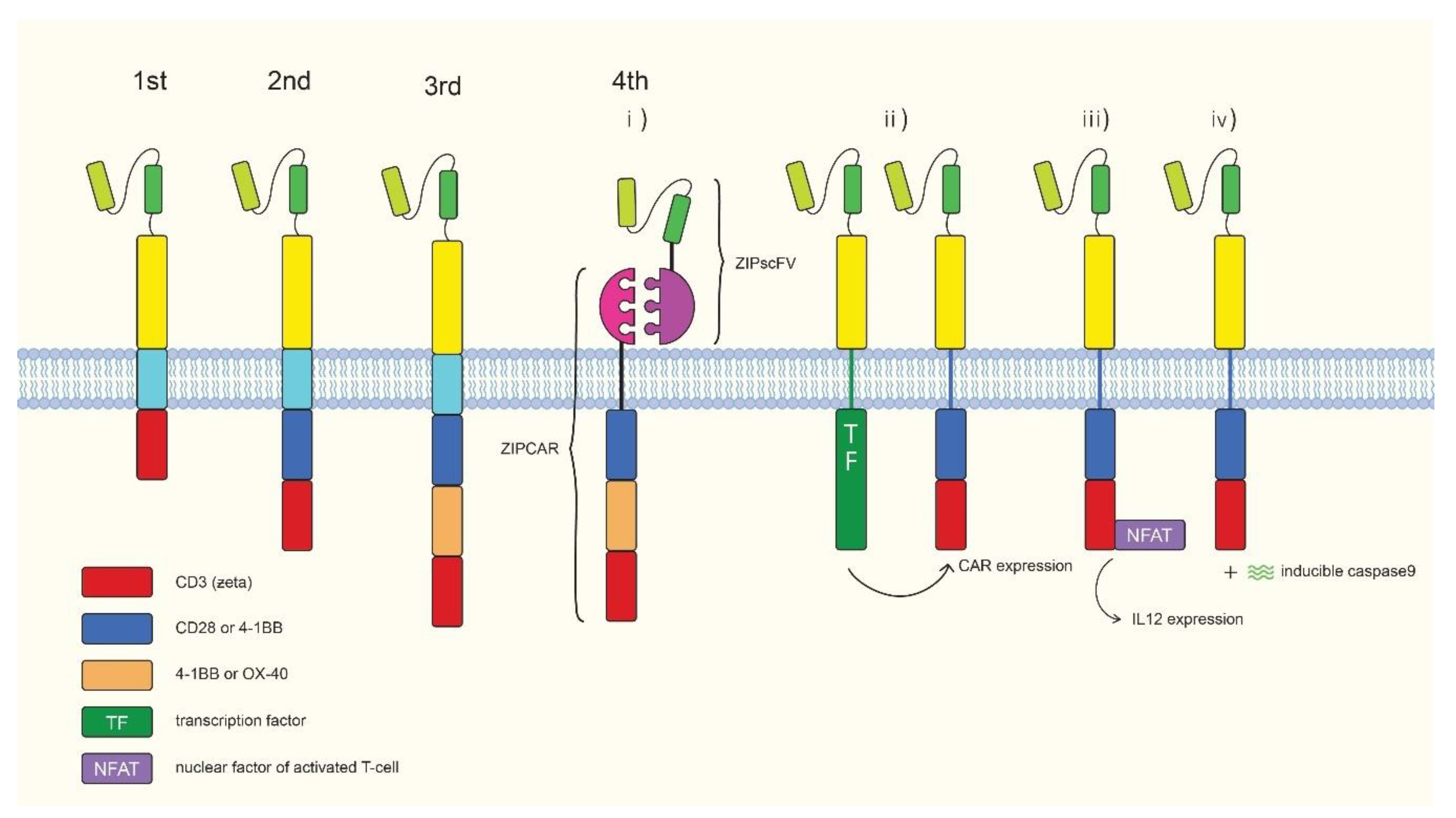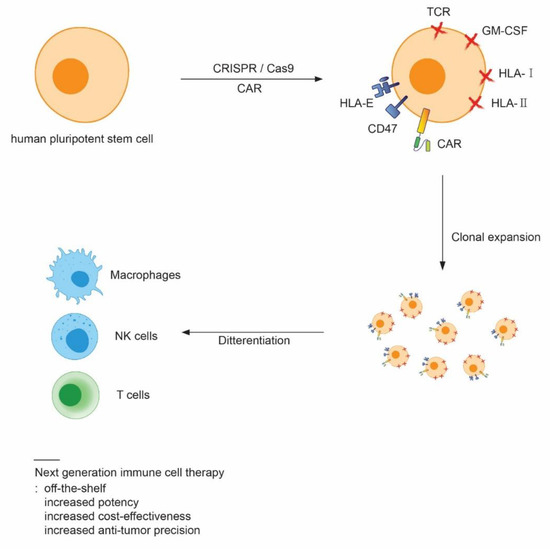 Figure 3. Overview of future strategies for developing next generation immune cell therapy from human pluripotent stem cells. By deploying CAR and clustered regularly interspaced short palindromic repeats (CRISPR/Cas9 technologies, human pluripotent stem cells can be engineered to knockout the genes related to immune rejection, cytokine release syndrome, or to express fourth generation CAR, which can be utilized for precise anti-tumor activity and safety. The engineered human pluripotent stem cells can be clonally selected and expanded. The clonally expanded cells differentiated to immune cells for the therapy. This approach can generate next generation immune cells, which can pave a new way for developing immune cell therapy with off-the shelf, increased potency, increased cost-effectiveness, and an increase in anti-tumor activity precision.
NCT Number
T-Cell
Indication
Country
Group
Features
NCT03399448
NYESO-1 TCR-T
MM/Melanoma/Synovial Sarcoma/Myeloid/Round cell iposarcoma
US
U. Penn.
TCR/PD-1 KO
NCT03166878
CD19 CAR-T
B-cell Leukemia/Lymphoma
China
Chinese PLA General Hospital
TCR/B2M KO
NCT03398967
CD19 AND CD20/22 CAR-T
B-cell Leukemia/Lymphoma
China
Chinese PLA General Hospital
TCR KO
NCT03081715
Primary T cell
Esophageal Cancer
China
Hangzhou Cancer Hospital Anhui Kedgene Biotechnology
PD-1 KO
NCT02863913
Invasive Bladder Cancer Stage IV
China
Peking Univ./Cell Biotech
NCT02867345
Hormone Refractory Prostate Cancer
China
Peking Univ./Cell Biotech
NCT02867332
Metastatic Renal Cell Carcinoma
China
Peking Univ./Cell Biotech
NCT02793856
Metastatic Non-small Cell Lung Cancer
China
Sichuan Univ./Chengdu MedGenCell
NCT03044743
EBV-CTL
Gastric Carcinoma/Nasopharyngeal Carcinoma/T-cell Lymphoma/Adult Hodgkin Lymphoma/Diffuse Large B-cell Lymphoma
China
Nanjing Drum Tower Hospital
NCT02746952
CD19 CAR-T
Relapsed/refractory B-All
US/Europe
Servier
TCR/CD52 KO
NCT03190278
CD123 CAR-T
Acute Myeloid Leukemia
US
Cellectis
TCR KO
NCT03050190
CD19 CAR-T
Relapsed and Refractory B cell Malignancies
China
Shenzhen Geno-Immune Medical Institute
Inducible apoptotic caspase 9
NCT02247609
High-risk and Refractory B cell Lymphomas
Peking Univ.
NCT02968472
Relapsed and Refractory B cell Leukemia
The First People's Hospital of Yunnan
NCT03098355
CD19 and CD22 CAR-T
Refractory and/or Recurrent B cell Malignancies
Zhujiang Hospital
NCT02274584
CD30 CAR-T
CD 30 Positive Lymphomas
Peking Univ.
NCT03185468
PSMA, Fra CAR-T
Bladder Cancer
Shenzhen Gene-Immune Medical Institute
Fourth generation CAR-T with inducible on/off switch by caspase 9 to enhance safety is under clinical trials. Using CRISPR/Cas9 and transcription activator-like effector nucleases (TALEN), T-cell receptor or PD-1 were deleted (knockout, KO) for generating off-the-shelf CAR-T cells or overcoming immune check point, respectively.

Table 2. Clinical trials of CAR-NK cell therapy. Ten trials are ongoing, and two trials are evaluating fourth generation CAR which expresses inducible apoptotic caspase 9, or inducible apoptotic caspase 9 with IL15.
NCT Number
NK-Cell
Indication
Country
Group
Features
NCT03692767
CD22 CAR-NK
Relapsed and Refractory B cell Leukemia
China
Allife Medical Science and Technology Co., Ltd
-
NCT03690310
CD19 CAR-NK
Relapsed and Refractory B cell Leukemia
China
-
NCT03398967
Mesothelin CAR-NK
Epithelial Ovarian Cancer
China
-
NCT03692663
PSMA CAR-NK
Castration-Resistant Prostate Cancer
China
-
NCT03824964
CD19/CD22 CAR-NK
Relapsed and Refractory B cell Leukemia
China
-
NCT03415100
NKG2D-CAR-NK
Metastatic Solid Tumours
China
The Third Affiliated Hospital of Guangzhou Medical Univ.
-
NCT02944162
CD33 CAR-NK
Relapsed/Refractory CD33+AML
China
PersonGen BioTherapeutics Co., Ltd
-
NCT02892695
CD19 CAR-NK
CD19 Positive Leukemia and Lymphoma
China
-
NCT03579927
CD19 CAR-NK
B-cell Lymphoma
US
M.D. Anderson Cancer Center
Inducible apoptotic caspase 9
NCT03056339
CD19 CAR-NK
B Lymphoid Malignancies
US
Inducible apoptotic caspase 9 + IL15

© 2019 by the author. Licensee MDPI, Basel, Switzerland. This article is an open access article distributed under the terms and conditions of the Creative Commons Attribution (CC BY) license (http://creativecommons.org/licenses/by/4.0/).