Intranasal Delivery of Mesenchymal Stromal Cells Protects against Neonatal Hypoxic–Ischemic Brain Injury
1
The Ritchie Centre, Hudson Institute of Medical Research, Clayton 3168, Australia
2
Department of Obstetrics and Gynaecology, Monash University, Clayton 3168, Australia
3
Cerebral Palsy Alliance Research Institute, University of Sydney, Camperdown 2086, Australia
4
Department of Paediatrics, Monash University, Clayton 3168, Australia
*
Author to whom correspondence should be addressed.
Int. J. Mol. Sci. 2019, 20(10), 2449; https://doi.org/10.3390/ijms20102449 (registering DOI)
Received: 29 March 2019 / Revised: 15 May 2019 / Accepted: 15 May 2019 / Published: 17 May 2019
Abstract
Cerebral palsy (CP) is a permanent motor disorder that results from brain injury and neuroinflammation during the perinatal period. Mesenchymal stromal cells (MSCs) have been explored as a therapy in multiple adult neuroinflammatory conditions. Our study examined the therapeutic benefits of intranasal delivery of human umbilical cord tissue (UC) derived-MSCs in a rat model of neonatal hypoxic–ischemic (HI) brain injury. To do this, HI was performed on postnatal day 10 Sprague-Dawley rat pups via permanent ligation of the left carotid artery, followed by a hypoxic challenge of 8% oxygen for 90 min. A total of 200,000 UC-MSCs (10 million/kg) were administered intranasally 24 h post-HI. Motor control was assessed after seven days, followed by post-mortem. Analysis included brain immunohistochemistry, gene analysis and serum cytokine measurement. Neonatal HI resulted in brain injury with significant loss of neurons, particularly in the hippocampus. Intranasal administration of UC-MSCs significantly reduced the loss of brain tissue and increased the number of hippocampal neurons. HI significantly upregulated brain inflammation and expression of pro-inflammatory cytokines, while intranasal UC-MSCs significantly reduced markers of neuroinflammation. This study demonstrated that a clinically relevant dose (10 million/kg) of UC-MSCs was neuroprotective following HI by restoring neuronal cell numbers and reducing brain inflammation. Therefore, intranasal delivery of UC-MSCs may be an effective therapy for neonatal brain injury.
View Full-Text
►

▼

Figures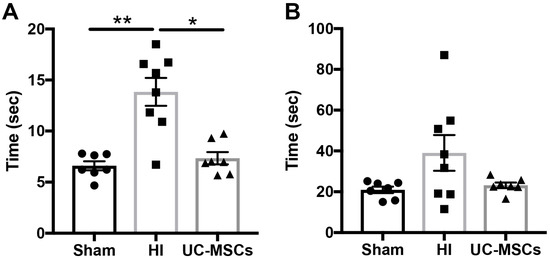 Figure 1
This is an open access article distributed under the
Creative Commons Attribution License
which permits unrestricted use, distribution, and reproduction in any medium, provided the original work is properly cited (CC BY 4.0).
Share & Cite This Article
MDPI and ACS Style
McDonald, C.A.; Djuliannisaa, Z.; Petraki, M.; Paton, M.C.B.; Penny, T.R.; Sutherland, A.E.; Castillo-Melendez, M.; Novak, I.; Jenkin, G.; Fahey, M.C.; Miller, S.L. Intranasal Delivery of Mesenchymal Stromal Cells Protects against Neonatal Hypoxic–Ischemic Brain Injury. Int. J. Mol. Sci. 2019, 20, 2449.
Note that from the first issue of 2016, MDPI journals use article numbers instead of page numbers. See further details here.
Related Articles
Comments
[Return to top]