Intestinal Permeability Study of Clinically Relevant Formulations of Silibinin in Caco-2 Cell Monolayers
1
Instituto de Biología Molecular y Celular (IBMC) and Instituto de Investigación, Desarrollo e Innovación en Biotecnología Sanitaria de Elche (IDiBE), Universidad Miguel Hernández (UMH), 03202 Elche, Spain
2
Program Against Cancer Therapeutic Resistance (ProCURE), Metabolism and Cancer Group, Catalan Institute of Oncology, 17007 Girona, Spain
3
Girona Biomedical Research Institute (IDIBGI), 17190 Girona, Spain
4
Pharmacokinetics and Pharmaceutical Technology Area, Engineering Department, Universidad Miguel Hernández (UMH), San Juan de Alicante, 03202 Alicante, Spain
5
Unitat de Recerca Biomèdica, Hospital Universitari Sant Joan, Institut d'Investigació Sanitària Pere Virgili, Universitat Rovira i Virgili, 43201 Reus, Spain
6
CIBER, Fisiopatología de la Obesidad y la Nutrición, CIBERobn, Instituto de Salud Carlos III (CB12/03/30038), 07122 Palma de Mallorca, Spain
7
Department of Medical Sciences, Medical School University of Girona, 17003 Girona, Spain
8
Medical Oncology, Catalan Institute of Oncology (ICO), Dr. Josep Trueta University Hospital, 17007 Girona, Spain
*
Authors to whom correspondence should be addressed.
†
These authors contributed equally.
Received: 14 March 2019 / Revised: 27 March 2019 / Accepted: 29 March 2019 / Published: 31 March 2019
Abstract
An ever-growing number of preclinical studies have investigated the tumoricidal activity of the milk thistle flavonolignan silibinin. The clinical value of silibinin as a bona fide anti-cancer therapy, however, remains uncertain with respect to its bioavailability and blood–brain barrier (BBB) permeability. To shed some light on the absorption and bioavailability of silibinin, we utilized the Caco-2 cell monolayer model of human intestinal absorption to evaluate the permeation properties of three different formulations of silibinin: silibinin-meglumine, a water-soluble form of silibinin complexed with the amino-sugar meglumine; silibinin-phosphatidylcholine, the phytolipid delivery system Siliphos; and Eurosil
85
/Euromed, a milk thistle extract that is the active component of the nutraceutical Legasil with enhanced bioavailability. Our approach predicted differential mechanisms of transport and blood–brain barrier permeabilities between the silibinin formulations tested. Our assessment might provide valuable information about an idoneous silibinin formulation capable of reaching target cancer tissues and accounting for the observed clinical effects of silibinin, including a recently reported meaningful central nervous system activity against brain metastases.
View Full-Text
►

▼

Figures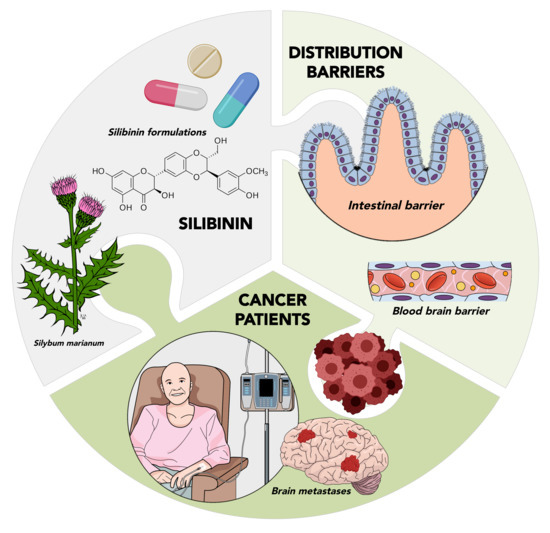 Graphical abstract
This is an open access article distributed under the
Creative Commons Attribution License
which permits unrestricted use, distribution, and reproduction in any medium, provided the original work is properly cited (CC BY 4.0).

Share & Cite This Article
MDPI and ACS Style
Pérez-Sánchez, A.; Cuyàs, E.; Ruiz-Torres, V.; Agulló-Chazarra, L.; Verdura, S.; González-Álvarez, I.; Bermejo, M.; Joven, J.; Micol, V.; Bosch-Barrera, J.; Menendez, J.A. Intestinal Permeability Study of Clinically Relevant Formulations of Silibinin in Caco-2 Cell Monolayers. Int. J. Mol. Sci. 2019, 20, 1606.
Note that from the first issue of 2016, MDPI journals use article numbers instead of page numbers. See further details here.
Related Articles
Comments
[Return to top]