Inhibition of p300/CBP-Associated Factor Attenuates Renal Tubulointerstitial Fibrosis through Modulation of NF-kB and Nrf2
1
Department of Internal Medicine, College of Medicine, The Catholic University of Korea, 222, Banpo-daero, Seocho-gu, Seoul 06591, Korea
2
Department of Biochemistry, College of Medicine, The Catholic University of Korea, 222, Banpo-daero, Seocho-gu, Seoul 06591, Korea
*
Author to whom correspondence should be addressed.
Received: 14 March 2019 / Accepted: 24 March 2019 / Published: 28 March 2019
Abstract
p300/CBP-associated factor (PCAF), a histone acetyltransferase, is involved in many cellular processes such as differentiation, proliferation, apoptosis, and reaction to cell damage by modulating the activities of several genes and proteins through the acetylation of either the histones or transcription factors. Here, we examined a pathogenic role of PCAF and its potential as a novel therapeutic target in the progression of renal tubulointerstitial fibrosis induced by non-diabetic unilateral ureteral obstruction (UUO) in male C57BL/6 mice. Administration of garcinol, a PCAF inhibitor, reversed a UUO-induced increase in the renal expression of total PCAF and histone 3 lysine 9 acetylation and reduced positive areas of trichrome and α-smooth muscle actin and collagen content. Treatment with garcinol also decreased mRNA levels of transforming growth factor-β, matrix metalloproteinase (MMP)-2, MMP-9, and fibronectin. Furthermore, garcinol suppressed nuclear factor-κB (NF-κB) and pro-inflammatory cytokines such as tumor necrosis factor-α and IL-6, whereas it preserved the nuclear expression of nuclear factor erythroid-derived 2-like factor 2 (Nrf2) and levels of Nrf2-dependent antioxidants including heme oxygense-1, catalase, superoxide dismutase 1, and NAD(P)H:quinone oxidoreductase 1. These results suggest that the inhibition of inordinately enhanced PCAF could mitigate renal fibrosis by redressing aberrant balance between inflammatory signaling and antioxidant response through the modulation of NF-κB and Nrf2.
View Full-Text
►

▼

Figures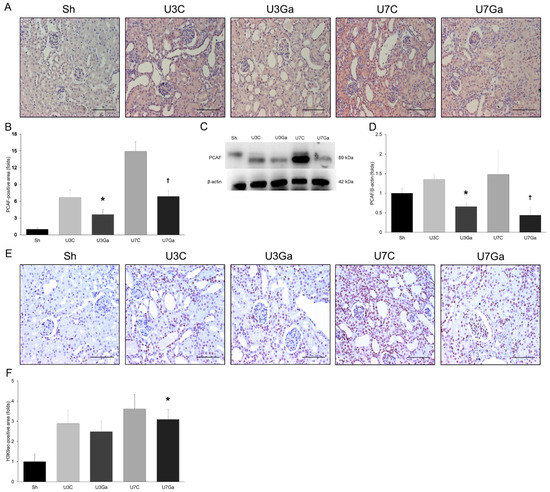 Figure 1
This is an open access article distributed under the
Creative Commons Attribution License
which permits unrestricted use, distribution, and reproduction in any medium, provided the original work is properly cited (CC BY 4.0).

Share & Cite This Article
MDPI and ACS Style
Chung, S.; Kim, S.; Son, M.; Kim, M.; Koh, E.S.; Shin, S.J.; Park, C.W.; Kim, H.-S. Inhibition of p300/CBP-Associated Factor Attenuates Renal Tubulointerstitial Fibrosis through Modulation of NF-kB and Nrf2. Int. J. Mol. Sci. 2019, 20, 1554.
Note that from the first issue of 2016, MDPI journals use article numbers instead of page numbers. See further details here.
Related Articles
Comments
[Return to top]