The Genetic Background of Mice Influences the Effects of Cigarette Smoke on Onset and Severity of Experimental Autoimmune Encephalomyelitis
1
Theodor Kocher Institute, University of Bern, Freiestrasse 1, 3012 Bern, Switzerland
2
Institute of Virology and Immunology, Sensemattstrasse 293, 3147 Mittelhäusern, Switzerland
3
Department of Infectious Diseases and Pathobiology, Vetsuisse Faculty, University of Bern, 3012 Bern, Switzerland
4
Max-Planck-Institute for Neurobiology, Am Klopferspitz 18, 82152 Martinsried, Germany
*
Authors to whom correspondence should be addressed.
Received: 31 January 2019 / Revised: 15 March 2019 / Accepted: 19 March 2019 / Published: 21 March 2019
Abstract
Multiple sclerosis (MS) is the most common inflammatory disorder of the central nervous system (CNS) in young adults leading to severe disability. Besides genetic traits, environmental factors contribute to MS pathogenesis. Cigarette smoking increases the risk of MS in an HLA-dependent fashion, but the underlying mechanisms remain unknown. Here, we explored the effect of cigarette smoke exposure on spontaneous and induced models of experimental autoimmune encephalomyelitis (EAE) by evaluating clinical disease and, when relevant, blood leukocytes and histopathology. In the relapsing-remitting (RR) transgenic model in SJL/J mice, we observed very low incidence in both smoke-exposed and control groups. In the optico-spinal encephalomyelitis (OSE) double transgenic model in C57BL/6 mice, the early onset of EAE prevented a meaningful evaluation of the effects of cigarette smoke. In EAE models induced by immunization, daily exposure to cigarette smoke caused a delayed onset of EAE followed by a protracted disease course in SJL/J mice. In contrast, cigarette smoke exposure ameliorated the EAE clinical score in C57BL/6J mice. Our exploratory studies therefore show that genetic background influences the effects of cigarette smoke on autoimmune neuroinflammation. Importantly, our findings expose the challenge of identifying an animal model for studying the influence of cigarette smoke in MS.
View Full-Text
►

▼

Figures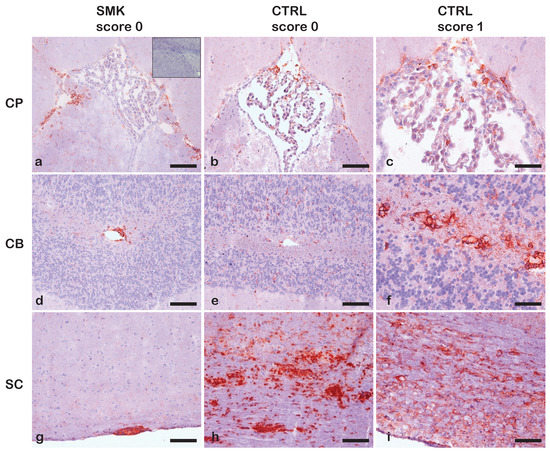 Figure 1
This is an open access article distributed under the
Creative Commons Attribution License
which permits unrestricted use, distribution, and reproduction in any medium, provided the original work is properly cited (CC BY 4.0).

Share & Cite This Article
MDPI and ACS Style
Enzmann, G.; Adelfio, R.; Godel, A.; Haghayegh Jahromi, N.; Tietz, S.; Burgener, S.S.; Deutsch, U.; Wekerle, H.; Benarafa, C.; Engelhardt, B. The Genetic Background of Mice Influences the Effects of Cigarette Smoke on Onset and Severity of Experimental Autoimmune Encephalomyelitis. Int. J. Mol. Sci. 2019, 20, 1433.
Note that from the first issue of 2016, MDPI journals use article numbers instead of page numbers. See further details here.
Related Articles
Comments
[Return to top]