Relationship of Iron Metabolism and Short-Term Cuprizone Treatment of C57BL/6 Mice
1
Department of Pharmaceutical Biology, Faculty of Pharmacy, University of Pécs, H-7624 Pécs, Hungary
2
Department of Neurology, Medical School, University of Pécs, H-7623 Pécs, Hungary
*
Author to whom correspondence should be addressed.
Received: 5 March 2019 / Revised: 30 April 2019 / Accepted: 4 May 2019 / Published: 7 May 2019
Abstract
One of the models to investigate the distinct mechanisms contributing to neurodegeneration in multiple sclerosis is based on cuprizone (CZ) intoxication. CZ is toxic to mature oligodendrocytes and produces demyelination within the central nervous system but does not cause direct neuronal damage. The CZ model is suitable for better understanding the molecular mechanism of de- and remyelination processes of oligodendrocytes. CZ is a copper chelating agent and it also affects the iron metabolism in brain and liver tissues. To determine the early effect of CZ treatment on iron homeostasis regulation, cytosolic and mitochondrial iron storage, as well as some lipid metabolism genes, we investigated the expression of respective iron homeostasis and lipid metabolism genes of the corpus callosum (CC) and the liver after short-term CZ administration. In the present study C57BL/6 male mice aged four weeks were fed with standard rodent food premixed with 0.2 w/w% CZ for two or eight days. The major findings of our experiments are that short-term CZ treatment causes significant changes in iron metabolism regulation as well as in the expression of myelin and lipid synthesis-related genes, even before apparent demyelination occurs. Both in the CC and the liver the iron uptake, utilization and storage are modified, though not always the same way or to the same extent in the two organs. Understanding the role of iron in short-term and long-term CZ intoxication could provide a partial explanation of the discrepant signs of acute and chronic MS. These could contribute to understanding the development of multiple sclerosis and might provide a possible drug target.
View Full-Text
►

▼

Figures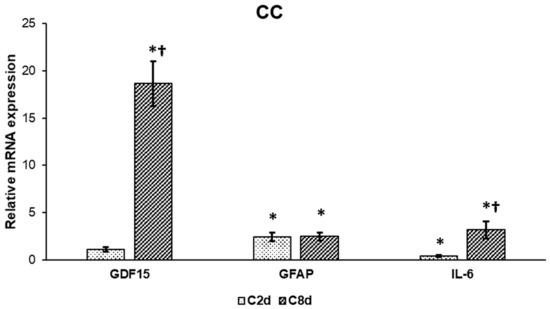 Figure 1
This is an open access article distributed under the
Creative Commons Attribution License
which permits unrestricted use, distribution, and reproduction in any medium, provided the original work is properly cited (CC BY 4.0).

Share & Cite This Article
MDPI and ACS Style
Pandur, E.; Pap, R.; Varga, E.; Jánosa, G.; Komoly, S.; Fórizs, J.; Sipos, K. Relationship of Iron Metabolism and Short-Term Cuprizone Treatment of C57BL/6 Mice. Int. J. Mol. Sci. 2019, 20, 2257.
Note that from the first issue of 2016, MDPI journals use article numbers instead of page numbers. See further details here.
Related Articles
Comments
[Return to top]