Exploiting the Therapeutic Potential of Endogenous Immunomodulatory Systems in Multiple Sclerosis—Special Focus on the Peroxisome Proliferator-Activated Receptors (PPARs) and the Kynurenines
1
Department of Neurology, Faculty of Medicine, Albert Szent-Györgyi Clinical Center, University of Szeged, H-6725 Szeged, Semmelweis u. 6, Hungary
2
MTA-SZTE Neuroscience Research Group, H-6725 Szeged, Semmelweis u. 6, Hungary
*
Author to whom correspondence should be addressed.
Received: 5 December 2018 / Revised: 13 January 2019 / Accepted: 15 January 2019 / Published: 19 January 2019
Abstract
Multiple sclerosis (MS) is a progressive neurodegenerative disease, characterized by autoimmune central nervous system (CNS) demyelination attributable to a disturbed balance between encephalitic T helper 1 (Th1) and T helper 17 (Th17) and immunomodulatory regulatory T cell (Treg) and T helper 2 (Th2) cells, and an alternatively activated macrophage (M2) excess. Endogenous molecular systems regulating these inflammatory processes have recently been investigated to identify molecules that can potentially influence the course of the disease. These include the peroxisome proliferator-activated receptors (PPARs), PPARγ coactivator-1alpha (PGC-1α), and kynurenine pathway metabolites. Although all PPARs ameliorate experimental autoimmune encephalomyelitis (EAE), recent evidence suggests that PPARα, PPARβ/δ agonists have less pronounced immunomodulatory effects and, along with PGC-1α, are not biomarkers of neuroinflammation in contrast to PPARγ. Small clinical trials with PPARγ agonists have been published with positive results. Proposed as immunomodulatory and neuroprotective, the therapeutic use of PGC-1α activation needs to be assessed in EAE/MS. The activation of indolamine 2,3-dioxygenase (IDO), the rate-limiting step of the kynurenine pathway of tryptophan (Trp) metabolism, plays crucial immunomodulatory roles. Indeed, Trp metabolites have therapeutic relevance in EAE and drugs with structural analogy to kynurenines, such as teriflunomide, are already approved for MS. Further studies are required to gain deeper knowledge of such endogenous immunomodulatory pathways with potential therapeutic implications in MS.
View Full-Text
►

▼

Figures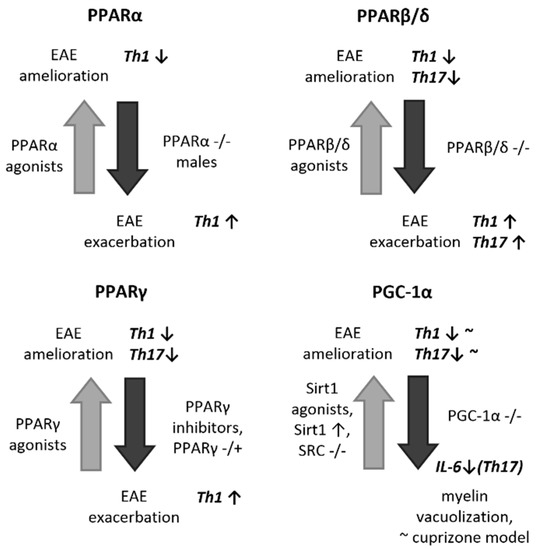 Figure 1
This is an open access article distributed under the
Creative Commons Attribution License
which permits unrestricted use, distribution, and reproduction in any medium, provided the original work is properly cited (CC BY 4.0).

Share & Cite This Article
MDPI and ACS Style
Fakan, B.; Szalardy, L.; Vecsei, L. Exploiting the Therapeutic Potential of Endogenous Immunomodulatory Systems in Multiple Sclerosis—Special Focus on the Peroxisome Proliferator-Activated Receptors (PPARs) and the Kynurenines. Int. J. Mol. Sci. 2019, 20, 426.
Note that from the first issue of 2016, MDPI journals use article numbers instead of page numbers. See further details here.
Related Articles
Comments
[Return to top]