Quercetin Potentiates Docosahexaenoic Acid to Suppress Lipopolysaccharide-induced Oxidative/Inflammatory Responses, Alter Lipid Peroxidation Products, and Enhance the Adaptive Stress Pathways in BV-2 Microglial Cells
1
Biochemistry Department, University of Missouri, Columbia, MO 65211, USA
2
Department of Chemistry, University of Missouri, Columbia, MO 65211, USA
3
Department of Nutrition and Exercise Physiology, University of Missouri, Columbia, MO 65211, USA
4
Departments of Radiology, Neurology and Psychological Sciences, and the Thompson Center, University of Missouri, Columbia, MO 65211, USA
5
Department of Bioengineering, University of Illinois at Chicago, IL 60607, USA
*
Author to whom correspondence should be addressed.
Received: 29 January 2019 / Revised: 14 February 2019 / Accepted: 18 February 2019 / Published: 21 February 2019
Abstract
High levels of docosahexaenoic acid (DHA) in the phospholipids of mammalian brain have generated increasing interest in the search for its role in regulating brain functions. Recent studies have provided evidence for enhanced protective effects when DHA is administered in combination with phytochemicals, such as quercetin. DHA and quercetin can individually suppress lipopolysaccharide (LPS)–induced oxidative/inflammatory responses and enhance the antioxidative stress pathway involving nuclear factor erythroid-2 related factor 2 (Nrf2). However, studies with BV-2 microglial cells indicated rather high concentrations of DHA (IC
50
in the range of 60–80 µM) were needed to produce protective effects. To determine whether quercetin combined with DHA can lower the levels of DHA needed to produce protective effects in these cells is the goal for this study. Results showed that low concentrations of quercetin (2.5 µM), in combination with DHA (10 µM), could more effectively enhance the expression of Nrf2 and heme oxygenase 1 (HO-1), and suppress LPS–induced nitric oxide, tumor necrosis factor-α, phospho-cytosolic phospholipase A
2
, reactive oxygen species, and 4-hydroxynonenal, as compared to the same levels of DHA or quercetin alone. These results provide evidence for the beneficial effects of quercetin in combination with DHA, and further suggest their potential as nutraceuticals for improving health.
View Full-Text
►

▼

Figures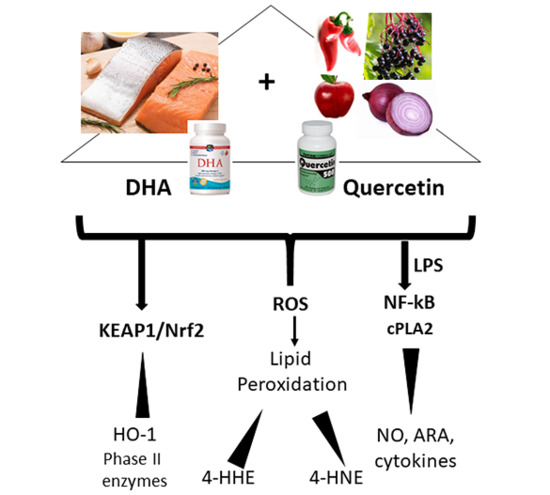 Graphical abstract
This is an open access article distributed under the
Creative Commons Attribution License
which permits unrestricted use, distribution, and reproduction in any medium, provided the original work is properly cited (CC BY 4.0).

Share & Cite This Article
MDPI and ACS Style
Sun, G.Y.; Li, R.; Yang, B.; Fritsche, K.L.; Beversdorf, D.Q.; Lubahn, D.B.; Geng, X.; Lee, J.C.; Greenlief, C.M. Quercetin Potentiates Docosahexaenoic Acid to Suppress Lipopolysaccharide-induced Oxidative/Inflammatory Responses, Alter Lipid Peroxidation Products, and Enhance the Adaptive Stress Pathways in BV-2 Microglial Cells. Int. J. Mol. Sci. 2019, 20, 932.
Note that from the first issue of 2016, MDPI journals use article numbers instead of page numbers. See further details here.
Related Articles
Comments
[Return to top]