Role of PD-L1 Expression in Non-Small Cell Lung Cancer and Their Prognostic Significance according to Clinicopathological Factors and Diagnostic Markers
1
Department of Thoracic Surgery, Wroclaw Medical University, Wroclaw 53-439, Poland
2
Department of Thoracic Surgery, Lower Silesian Centre of Lung Diseases, Wroclaw 53-439, Poland
3
Department of Human Morphology and Embryology, Wroclaw Medical University, Wroclaw 50-368, Poland
4
Department of Physiotherapy, Wroclaw University School of Physical Education, Wroclaw 51-612, Poland
*
Author to whom correspondence should be addressed.
Received: 25 January 2019 / Revised: 10 February 2019 / Accepted: 12 February 2019 / Published: 14 February 2019
Abstract
Background: The latest immunotherapy, used in the treatment of non-small cell lung cancer (NSCLC), uses monoclonal antibodies directed against programmed death ligand 1 (PD-L1) to inhibit its interaction with the PD-1 receptor. Elevated levels of PD-L1 expression were observed on NSCLC cells. The association between PD-L1 expression and clinicopathological features is still unclear. Therefore, we examined this relationship and also compare PD-L1 expression levels with Ki-67, p63 and TTF-1. Methods: 866 samples of NSCLCs were used to prepare tissue microarrays (TMAs) on which immunohistochemical (IHC) reactions were performed. Changes in the level of
CD274
(
PD-L1
) gene expression in 62 NSCLC tumors were tested in relation to 14 normal lung tissues by real-time PCR reactions (RT-PCR). Results: PD-L1 expression was observed in 32.6% of NSCLCs. PD-L1 expression was increased in higher malignancy grades (G) (
p
< 0.0001) and in higher lymph node status (pN) (
p
= 0.0428). The patients with low PD-L1 expression had longer overall survival compared to the group with high expression (
p
= 0.0332) in adenocarcinoma (AC) only. Conclusions: PD-L1 expression seems to be associated with increased tumor proliferation and aggressiveness as well as shorter patient survival in NSCLC, predominantly in the AC group.
View Full-Text
►

▼

Figures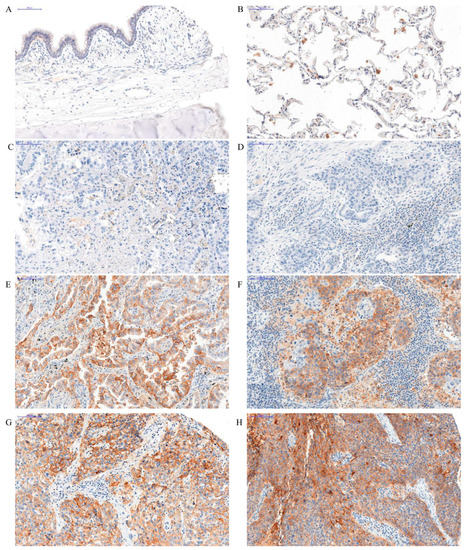 Figure 1
This is an open access article distributed under the
Creative Commons Attribution License
which permits unrestricted use, distribution, and reproduction in any medium, provided the original work is properly cited (CC BY 4.0).

Share & Cite This Article
MDPI and ACS Style
Pawelczyk, K.; Piotrowska, A.; Ciesielska, U.; Jablonska, K.; Glatzel-Plucinska, N.; Grzegrzolka, J.; Podhorska-Okolow, M.; Dziegiel, P.; Nowinska, K. Role of PD-L1 Expression in Non-Small Cell Lung Cancer and Their Prognostic Significance according to Clinicopathological Factors and Diagnostic Markers. Int. J. Mol. Sci. 2019, 20, 824.
Note that from the first issue of 2016, MDPI journals use article numbers instead of page numbers. See further details here.
Related Articles
Comments
[Return to top]