Open Access This article is
freely available
re-usable
Review
Citrus Taste Modification Potentials by Genetic Engineering
1
College of Food and Biological Engineering, Jimei University, Xiamen 361021, China
2
Fujian Provincial Key Laboratory of Food Microbiology and Enzyme Engineering, Xiamen 361021, China
3
Research Center of Food Biotechnology of Xiamen City, Xiamen 361021, China
4
Department of Life Science, National Taiwan University, Taipei 10617, Taiwan
5
Institute of Plant Biology, National Taiwan University, Taipei 10617, Taiwan
*
Author to whom correspondence should be addressed.
Received: 31 October 2019 / Accepted: 4 December 2019 / Published: 8 December 2019
Abstract
:
Citrus fruits are mainly consumed as fresh fruit and processed juice products. They serve as nutritional and a tasty diet in our daily life. However, the formidable bitterness and delayed bitterness significantly impact the citrus industry attributable to the two major bitter compounds naringin and limonin. The extremely sour and acidic also negatively affects the sensory quality of citrus products. Citrus breeding programs have developed different strategies to improve citrus quality and a wealth of studies have aimed to uncover the genetic and biochemical basis of citrus flavor. In this minireview, we outline the major genes characterized to be involved in pathways shaping the sweet, bitter, or sour taste in citrus, and discuss briefly about the possible approaches to modify citrus taste by genetic engineering.
Keywords:
Citrus; taste; genetic modification; sour; bitter; sweet; metabolism
Funding
This work was funded by the Natural Science Foundation of China (No. U1805235) and the Science and Technology Project of Xiamen City (No. 3502Z20183029).
Acknowledgments
Thank Wen-Guang Zheng very much for helping improve English writing.
Conflicts of Interest
The authors declare no conflict of interest.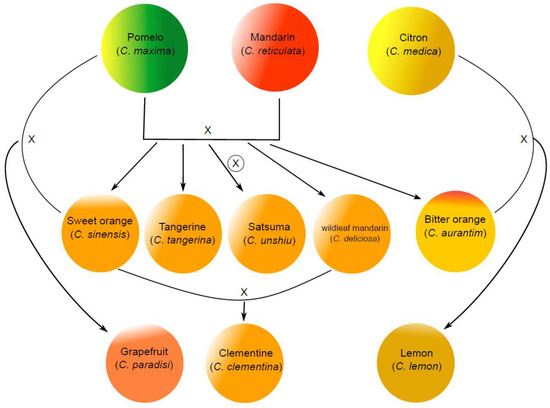 Figure 1. Proposed family tree of citrus species. The three ancestral citrus species of the main citrus species on the market include mandarin, pumelo, and citron. The commercial mandarins consist of tangerine, satsuma, and clementine, and they are hybrids between mandarin and pomelo. Satsuma is a highly inbred line from the hybrid of mandarin and pomelo. Clementine is the hybrid between sweet orange and willowleaf mandarin which are also the hybrid between mandarin and pomelo. Bitter orange is also a hybrid between mandarin and pomelo. Grapefruit is a hybrid between sweet orange and pomelo. Lemon is a hybrid between bitter orange and citron.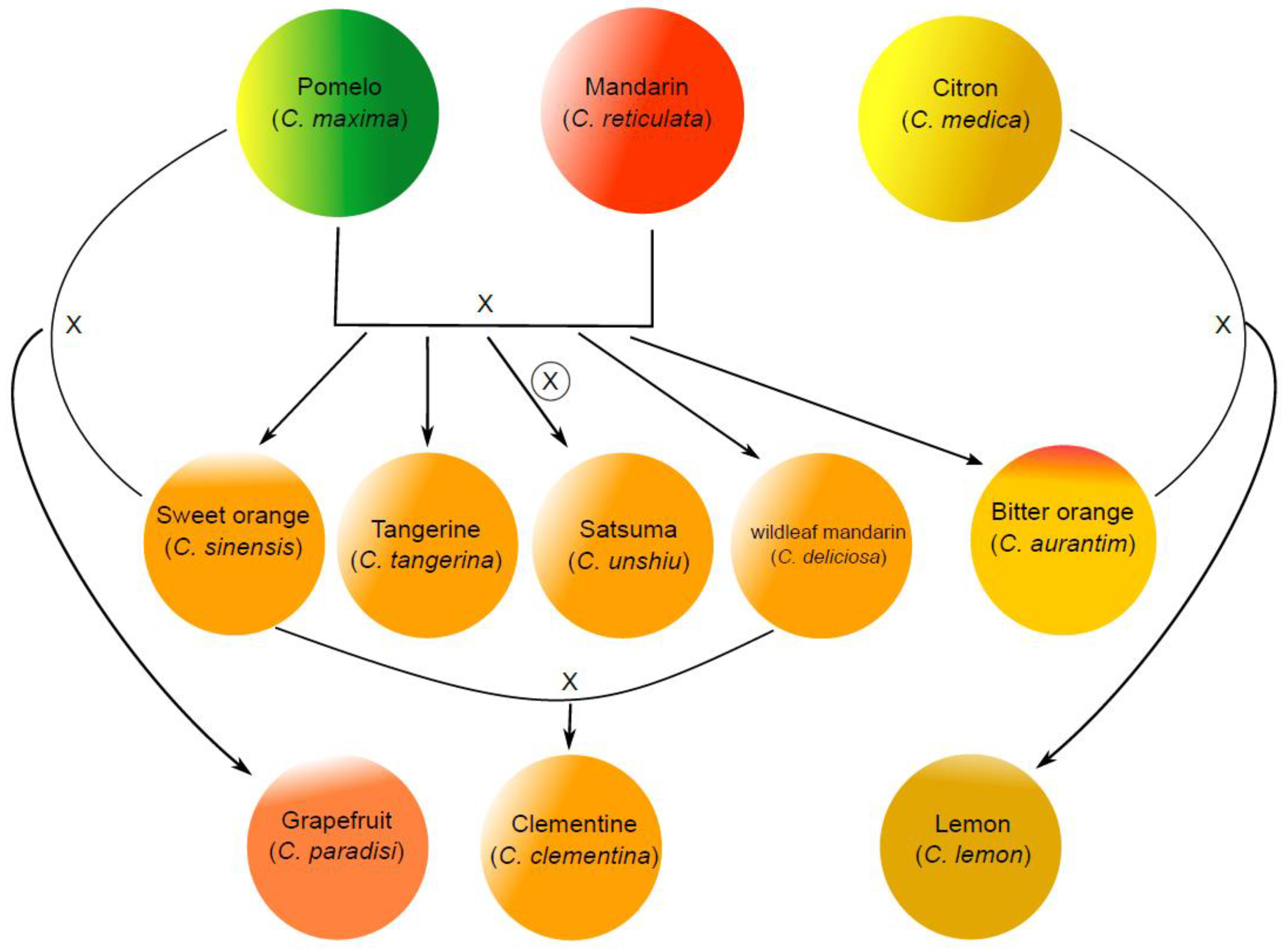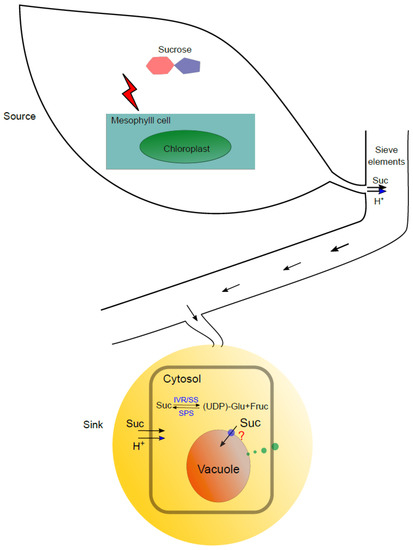 Figure 2. Schematic illustration of sucrose transport from source to sink in citrus. Sucrose is biosynthesized in leaf mesophyll cells through photosynthesis. The translocate sucrose is loaded to the sieve cells of phloem using H+ electrochemical potential gradient as driving force with the help of H+/sucrose symporter. Sucrose is transported in phloem following the turgor pressure in sieve elements towards sink tissue (citrus fruit) and unloaded by the symplastic or apoplastic pathway. Sucrose can be converted to fructose and glucose by IVR or fructose and UDP-glucose by SS, and it can be resynthesized through fructose and UDP-glucose by SPS in the cytosol. Sucrose uptake from apoplastic into cytosol is driven by the H+/sucrose symporter. The apoplastic sucrose can be directly incorporated into vacuole through endocytosis system, while the existence of an active transporter or H+/sucrose antiporter from cytosol to vacuole is still questioning. IVR—invertase; SS—sucrose synthase; SPS—sucrose-phosphate synthase.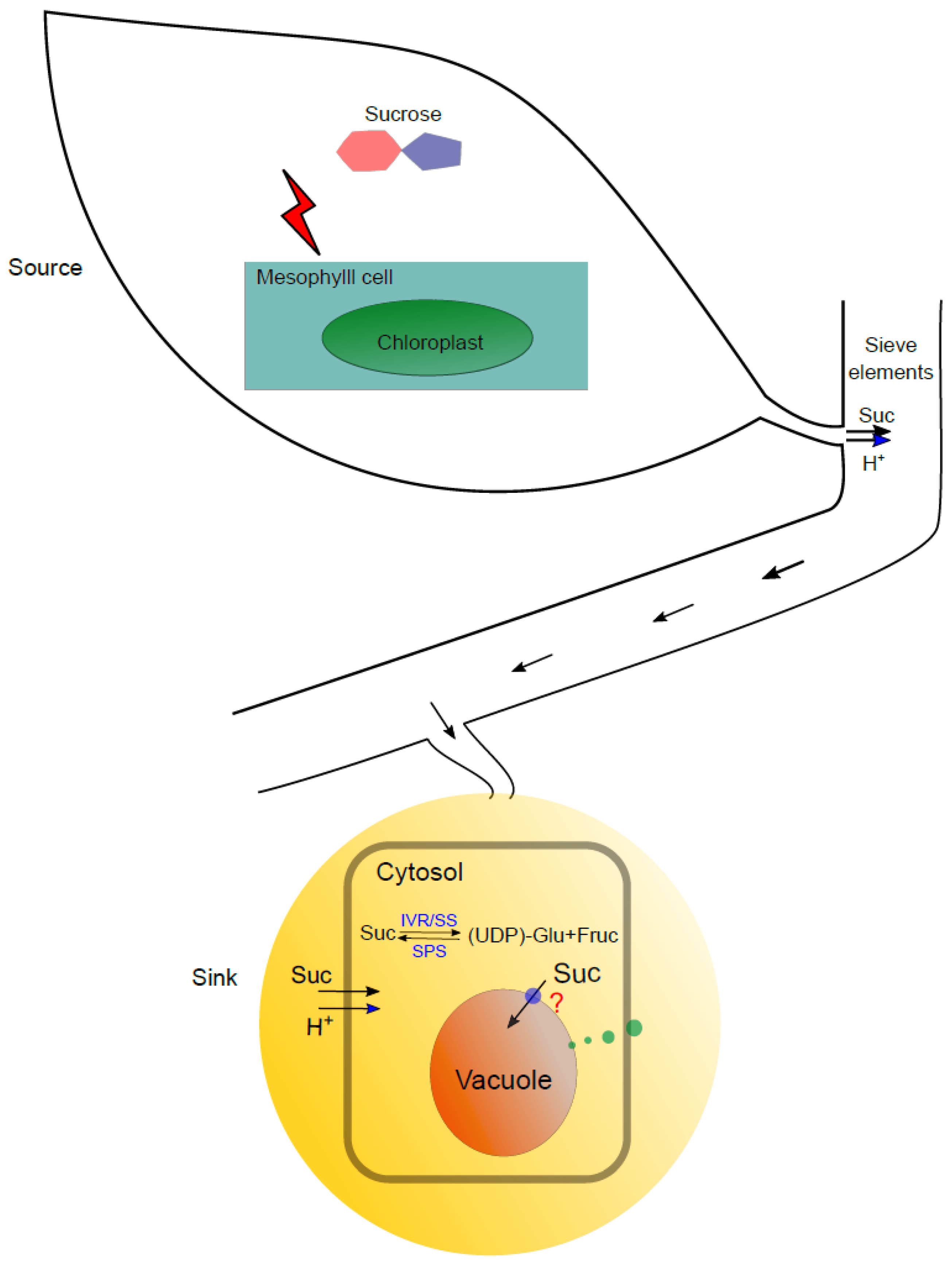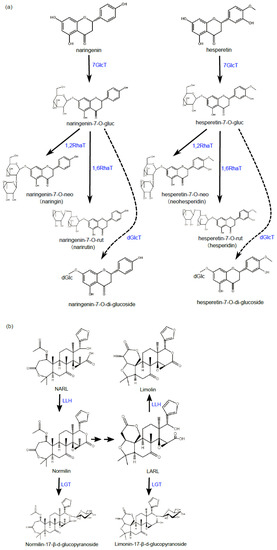 Figure 3. Flavanone glycosylation pathways, and limonoid aglycon or glycon formation pathways. (a) Two major flavanone compounds, naringenin and hesperitin, in citrus are exemplified. They can be converted to their glucoside derivatives at their C7 site by 7GlcT (7-glucose transferase), and further rahmnosylated on glucoside through C1,2 or C1,6 bond formation between rhamnose and glucose catalyzed by 1,2RhaT or 1,6RhaT, respectively. Consequently, the glycosylation of flavanone by neohesperidose (rhamylose-1,2-glucose) leading to the formation of naringin and neohesperidin confers bitterness and the glycosylation by rutinose (rhamylose-1,6-glucose) leading to the formation of narirutin and hesperidin confers non-bitterness. Flavanone-7-O-gluc can also be further glucosylated to form flavanone-7-O-di-glucocide (glucose-1,2-glucose as proposed) catalyzed by dGlcT; (b) Two major limonoid compounds, nomilin and limonin, in citrus are exemplified. Non-bitter NARL and LARL precursors can be converted to bitter-tasting nomilin and limonin, respectively, by LLH under acidic condition. Nomilin can be converted to LARL through multiple steps. Nomilin and LARL can also be converted to the non-bitter derivatives of nomilin-17-O-glucoside and limonin-17-O-glucoside, respectively, catalyzed by LGT. NARL—nomilioate A-ring lactone; LARL—limonoate A-ring lactone; LLH—limonoid D-ring lactone hydrolase; LGT—limonoid glycosyltransferase.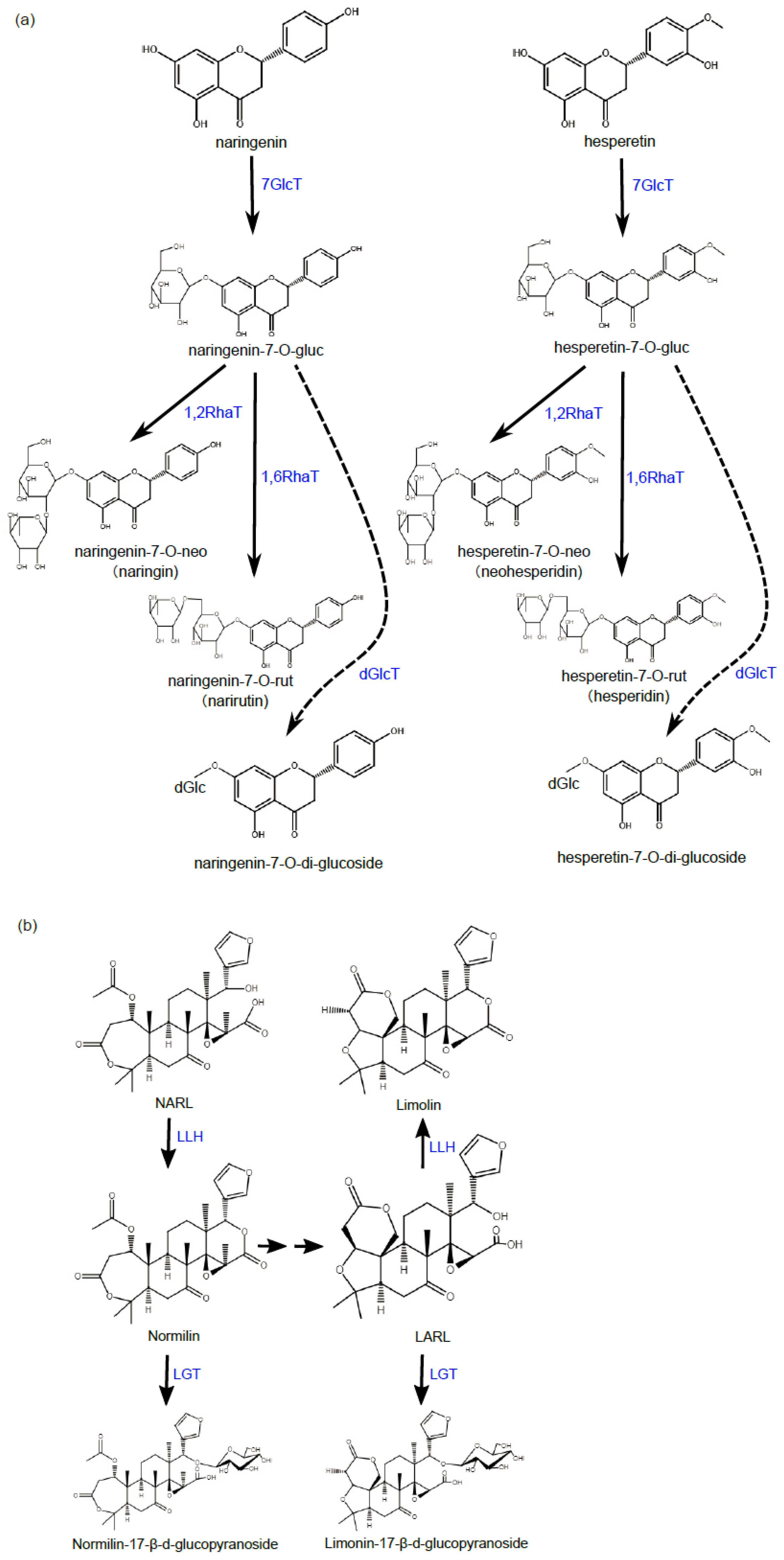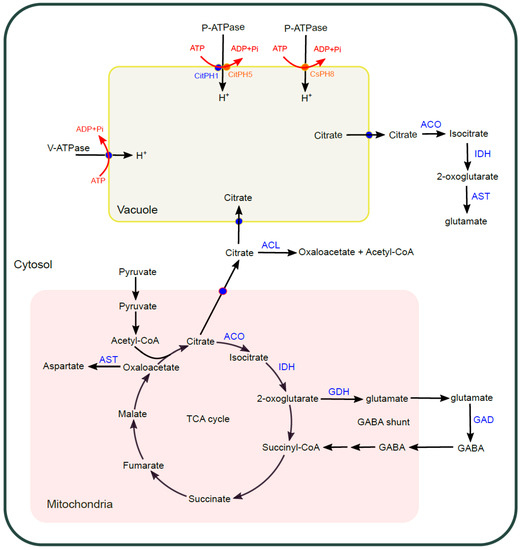 Figure 4. Citrate biosynthesis, transport, and accumulation in citrus. Citrate is synthesized in mitochondria through TCA cycle. In mitochondria, citrate can be degraded through TCA cycle initiated by the enzymatic actions of mitochondrial ACO and IDH or through GABA shunt characterized by the functioning of enzymes of GDH and GAD with the shuttle of glutamate and GABA between mitochondria and cytosol. Citrate can be exported from mitochondria to cytosol and further degraded by the action of ACL. Citrate exported from mitochondria to cytosol can be imported to vacuole with the help of H+ electrochemical gradient and pH gradient conferred by the actions of V-ATPase and P-ATPase. Vacuolar citrate can be exported to cytosol by transporters and be degraded by the action of cytosolic ACO and IDH. The integral metabolic pathways affect the citrate content in vacuole and sour taste of citrus fruit. ACO—aconitase; IDH—isocitrate dehydrogenase; GDH—glutamate dehydrogenase; ACL—ATP citrate lyase; GABA—gamma-aminobutyric acid; AST—aspartate aminotransferase.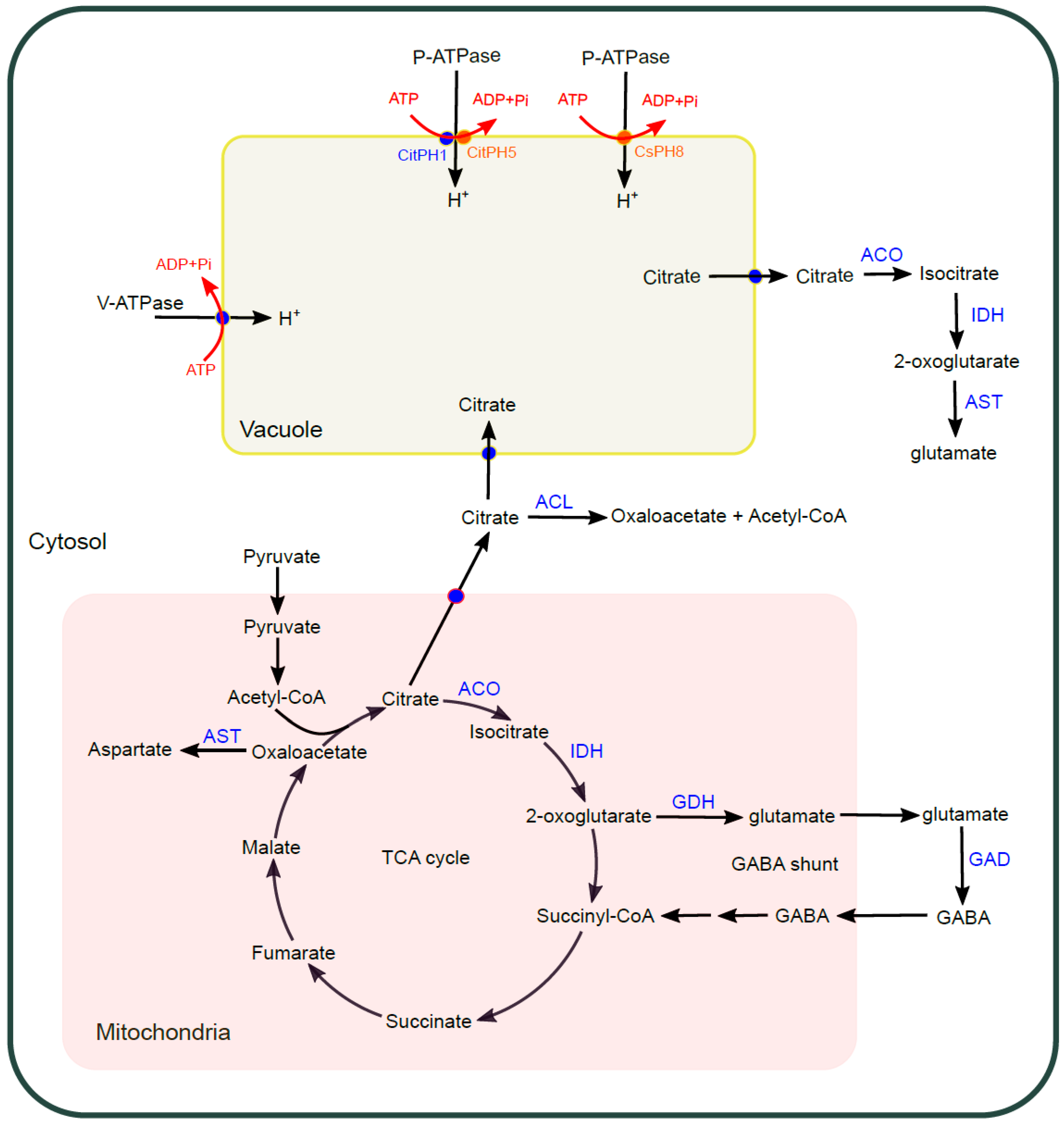 © 2019 by the authors. Licensee MDPI, Basel, Switzerland. This article is an open access article distributed under the terms and conditions of the Creative Commons Attribution (CC BY) license (http://creativecommons.org/licenses/by/4.0/).