Open Access This article is
freely available
re-usable
Article
Molecular Cloning and Exploration of the Biochemical and Functional Analysis of Recombinant Glucose-6-Phosphate Dehydrogenase from
Gluconoacetobacter diazotrophicus
PAL5
1
Laboratorio de Bioquímica Genética, Instituto Nacional de Pediatría, Secretaría de Salud, Ciudad de México 04530, Mexico
2
Laboratorio de Nutrición Experimental, Instituto Nacional de Pediatría, Secretaría de Salud 04530, Mexico
3
Departamento de Biología Molecular y Biotecnología, Instituto de Investigaciones Biomédicas, Universidad Nacional Autónoma de México, Ciudad de Mexico 04510, Mexico
4
Consejo Nacional de Ciencia y Tecnología (CONACYT), Instituto Nacional de Pediatría, Secretaría de Salud, Ciudad de Mexico 04530, Mexico
5
Institute for Bio- and Geosciences (IBG-2: Plant Sciences), Forschungszentrum Jülich, Wilhelm Johnen Straße, 52428 Jülich, Germany
6
Laboratorio de Inmunoquímica, Hospital Infantil de México Federico Gómez, Secretaría de Salud, Ciudad de Mexico 06720, Mexico
7
Laboratorio de Neurociencias, Instituto Nacional de Pediatría, Secretaría de Salud, Ciudad de México 04530, Mexico
8
Consejo Nacional de Ciencia y Tecnología (CONACYT), Laboratorio de Agrobiotecnología, Tecnoparque CLQ, Universidad de Colima, Carretera los Limones-Loma de Juárez, Colima 28629, Mexico
9
Colegio de Ciencias y Humanidades, Plantel Casa Libertad, Universidad Autónoma de la Ciudad de México, Ciudad de Mexico 09620, Mexico
10
Departamento de Química de Biomacromoléculas, Instituto de Química, Universidad Nacional Autónoma de Mexico, Ciudad de Mexico 04510, Mexico
11
Departamento de Infectología, Hospital Infantil de México Federico Gómez, Dr. Márquez No. 162, Col Doctores, Delegación Cuauhtémoc 06720, Mexico
12
Departamento de Neuroquímica, Instituto Nacional de Neurología y Neurocirugía Manuel Velasco Suárez, S.S.A., Ciudad de Mexico 14269, Mexico
†
These authors contributed equally to this work.

Received: 17 September 2019 / Accepted: 22 October 2019 / Published: 24 October 2019
Abstract
:
Gluconacetobacter diazotrophicus
PAL5 (GDI) is an endophytic bacterium with potential biotechnological applications in industry and agronomy. The recent description of its complete genome and its principal metabolic enzymes suggests that glucose metabolism is accomplished through the pentose phosphate pathway (PPP); however, the enzymes participating in this pathway have not yet been characterized in detail. The objective of the present work was to clone, purify, and biochemically and physicochemically characterize glucose-6-phosphate dehydrogenase (G6PD) from GDI. The gene was cloned and expressed as a tagged protein in
E
.
coli
to be purified by affinity chromatography. The native state of the G6PD protein in the solution was found to be a tetramer with optimal activity at pH 8.8 and a temperature between 37 and 50 °C. The apparent
Km
values for G6P and nicotinamide adenine dinucleotide phosphate (NADP
+
) were 63 and 7.2 μM, respectively. Finally, from the amino acid sequence a three-dimensional (3D) model was obtained, which allowed the arrangement of the amino acids involved in the catalytic activity, which are conserved (RIDHYLGKE, GxGGDLT, and EKPxG) with those of other species, to be identified. This characterization of the enzyme could help to identify new environmental conditions for the knowledge of the plant–microorganism interactions and a better use of GDI in new technological applications.
Keywords:
glucose 6 phosphate dehydrogenase (G6PD); bioinformatics analysis; kinetic parameters; thermal stability; three-dimensional structure
1. Introduction
Gluconacetobacter diazotrophicus
PAL5 (GDI) is a strict aerobe and a nitrogen-fixing acetic acid bacterium that was originally isolated from sugar cane [
1
]. It grows under stringent conditions, such as in areas with a high sucrose content and low pH [
2
]. GDI is an excellent model system for the study of plant–microbe interactions [
3
,
4
], since it performs symbiosis with different plants, such as potato, sorghum, coffee, and pineapple [
5
,
6
], by colonizing their stems, leaves, and the intracellular space of sugarcane roots [
1
].
Whole genome sequencing allows for better understanding of the GDI, and the knowledge of several molecular and biochemical aspects of this microorganism have opened new research directions. The GDI genome is composed of one chromosome (3.9 Mb) and two plasmids (16.6 and 38.8 kb, respectively). About 3938 coding sequences have been annotated, including those related to sugar metabolism, such as that of the pentose phosphate pathway (PPP) [
7
,
8
].
An analysis of carbon and nitrogen metabolism for GDI showed that glucose is the principal carbon source. Accordingly, the first step for glucose oxidation to gluconate is catalysis by membrane-bound quino-protein glucose dehydrogenases; however, in situations with excess glucose, a second enzyme, named NAD-GDH (GDI2625), also promotes its oxidation [
9
]. Furthermore, it has been proposed that complete glucose oxidation may occur through several enzymes such as protein kinase (GDI3115), 2-ketogluconate reductase (GDI3432), and 6-phosphogluconate dehydrogenase-NAD, which drive the movement of gluconate to the PPP [
9
], since the key enzymes of the Embden–Meyerhof–Parnas (6-phosphofructokinase and 1-phosphofructokinase) and Entner–Doudoroff (6-phosphogluconate dehydratase and 2-keto-3-deoxyphosphogluconate aldolase) systems have not been detected [
1
,
10
,
11
].
Given the relevance of the function of the PPP, whose key regulatory enzyme is glucose-6-phosphate dehydrogenase (G6PD) in the glucose metabolism of GDI, in this work, for the first time we report the cloning and heterologous expression of complete active recombinant G6PD from GDI. This study allowed us to analyze the detailed steady state kinetics, thermostability, and biophysical characterization of the purified G6PD enzyme. Finally, using homologous 3D structures, we modeled the G6PD protein, which suggests the structural and functional features of the G6PD from several organisms, including humans.
2. Results and Discussion
4. Conclusions
We reported, for the first time, the cloning, purification, and characterization of G6PD from the genome of
Glunacetobacter diazotrophicus,
PAL5. The purified protein allowed us to determine different structural and functional parameters. In the kinetic analysis, the enzyme showed specificity for the G6P and NADP
+
substrates, which allowed us to determine the values of
Km
and
Vmax
. However, when this protein was incubated with NADP
+
, no protective effect on the thermal stability was observed, in contrast to other previously reported G6PDs. Bioinformatics analyses and the 3D model revealed that the protein contains highly conserved fragments that participate in catalysis and substrate binding, similar to eukaryotic organisms. Finally, this new data allowed us to obtain a better understanding of the metabolism of this endophytic bacterium and offered a better idea of its potential for use in biotechnology applications due to the production of metabolites of biotechnological interest by this bacterium.
Author Contributions
Conceptualization, S.G.-M.; Data curation, R.A.C.-R., B.H.-O., E.S.-P., and R.A.-E.; formal analysis, E.J.R.-N., D.O.-C., A.G.-V., R.A.C.-R., G.Y.P.-S., B.H.-O., N.C.-R., V.M.-R., L.M.-L., H.S.-P., E.S.-P., R.A.-E., M.C.-C., L.M.R.-R., V.P.d.l.C., J.M.-Q., and S.G.-M.; funding acquisition, N.C.-R., J.M.-Q., and S.G.-M.; investigation, D.O.-C., A.G.-V., R.A.C.-R., R.A.-E., L.M.R.-R., V.P.d.l.C., J.M.-Q., and S.G.-M.; methodology, E.J.R.-N., A.G.-V., G.Y.P.-S., B.H.-O., V.M.-R., L.M.-L., H.S.-P., E.S.-P., M.C.-C., L.M.R.-R., J.M.-Q., and S.G.-M.; software, H.S.-P., J.M.-Q., and S.G.-M.; supervision, N.C.-R.; validation, E.J.R.-N. and B.H.-O.; Writing—original draft, N.C.-R. and S.G.-M.; writing—review and editing, D.O.-C., R.A.C.-R., H.S.-P., R.A.-E., L.M.R.-R., V.P.d.l.C., J.M.-Q., and S.G.-M.
Funding
This work was supported by the E022 Program, National Institute of Pediatrics, Mexico City, Mexico (Recursos Fiscales para la Investigación. J.M.-Q. was supported by INP 024/2017. S.G.-M. was supported by INP 031/2018, INP 038/2019. N.C.-R. was supported by INP 041/2018). J.M.-Q. is supported by CONACYT grant 259201, Cátedras CONACYT (2184) project number 2057. H.S.-P. acknowledges financial support from CONACyT project INFR-2017-01-280608.
Acknowledgments
The technical assistance of Camila Marcial, Ximena Gomez-Gonzalez, and Maria Jose Gomez-Gonzalez are greatly appreciated. Finally, thanks to Javier Gallegos Infante (Instituto de Fisiología Celular, UNAM) for assistance with the bibliographic materials.
Conflicts of Interest
The authors declare no conflict of interest. The funders had no role in the design of the study; in the collection, analyses, or interpretation of data; in the writing of the manuscript, or in the decision to publish the results.
Abbreviations
| | |
| --- | --- |
| G6PD | Glucose-6-phosphate dehydrogenase |
| PPP | Pentose Phosphate Pathway |
| GDI | Gluconacetobacter diazotrophicus |
| NADP | Nicotinamide adenine dinucleotide phosphate |
| DC | Dichroism Circular |

Figure 1. Oligomeric status and SDS-PAGE of purified G6PD protein from GDI. (A) FPLC chromatograms of the purified G6PD protein. The blue line represents the protein absorptivity at A280 nm. The red line represents the G6PD activity. Inset: SDS-PAGE analysis of the expressed G6PD protein; Lane 1: protein MW marker precision plus protein kaleidoscope standards from Bio-Rad; Lane 2. purified G6PD protein. Ten micrograms of protein were loaded, and SDS-PAGE was stained with colloidal Coomassie Brilliant Blue (R-250) (Sigma-Aldrich). (B) Calibration curve showing the elution volumes versus the log of MW Bio-Rad's gel filtration standard (black spots). The MW of G6PD is shown on the straight line obtained (blue spot).


Figure 2. Effect of pH and temperature on the activity of the G6PD enzyme. (A) Effect of pH on G6PD activity. (B) Heat-inactivation profile of G6PD activity. Error bars indicate the mean ± standard deviation of the triplicate values.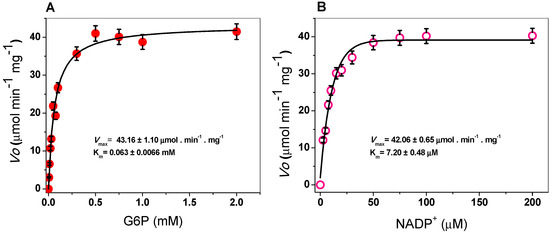 Figure 3.
Michaelis–Menten plots for G6PD from
Gluconacetobacter diazotrophicus
(GDI) with (
A
) G6P and (
B
) NADP
+
as substrates. The data represent the mean ± SD from five independent experiments.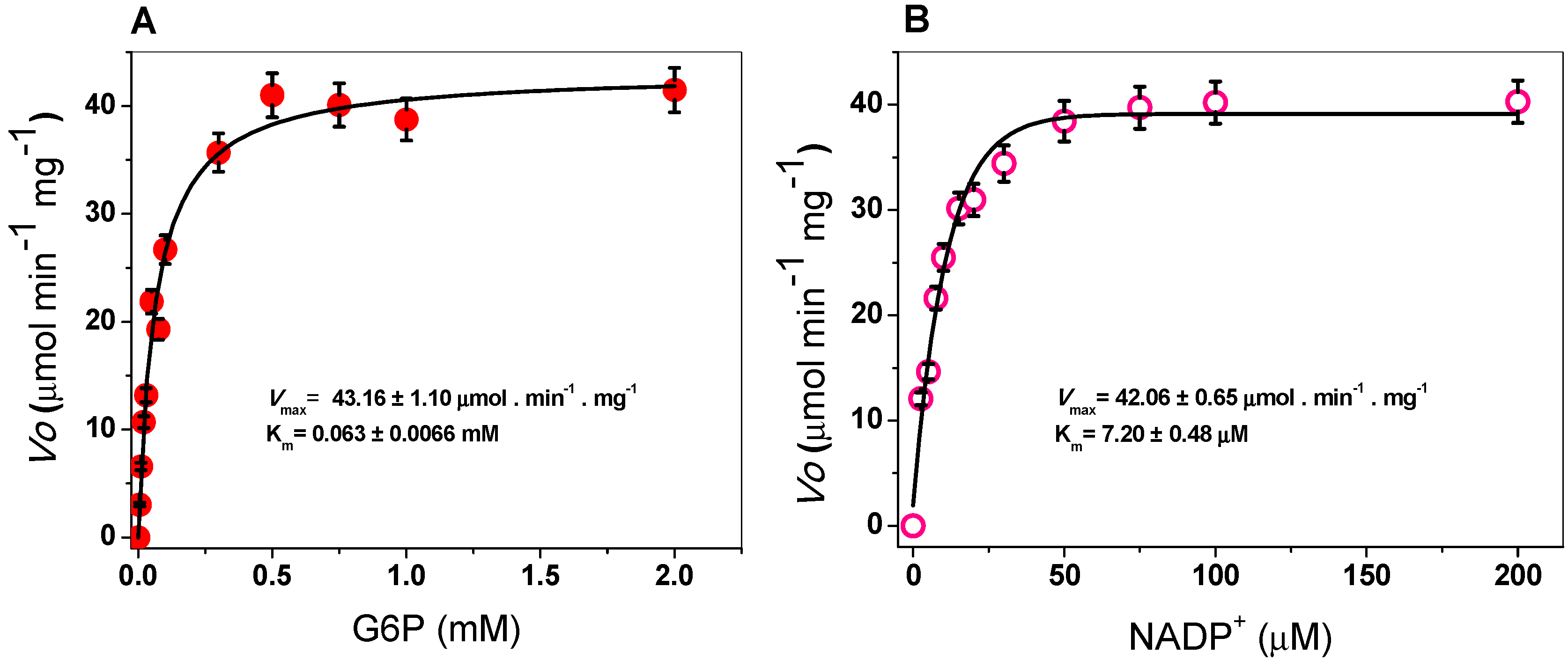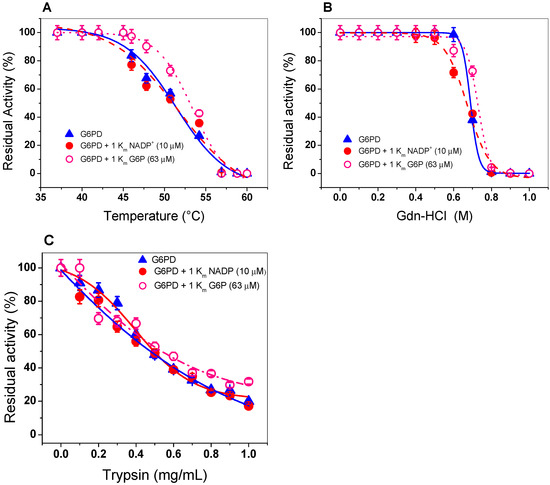 Figure 4. Evaluation of protein stability. The G6PD enzyme was incubated in the (Δ) absence or presence of (•) NADP+ (1 Km = 7.2 µM) and (o) G6P (1 Km = 63 µM). (A) Thermal inactivation assays of G6PD protein. (B) Stability of G6PD protein in the presence or absence of Gdn-HCl. (C) Stability of G6PD in the presence or absence of protease digestion. In all cases, the G6PD protein was incubated at 0.2 mg/mL, and the residual activity was measured with 200 ng of total protein. All the assays were performed in triplicate; standard errors were lower than 5%.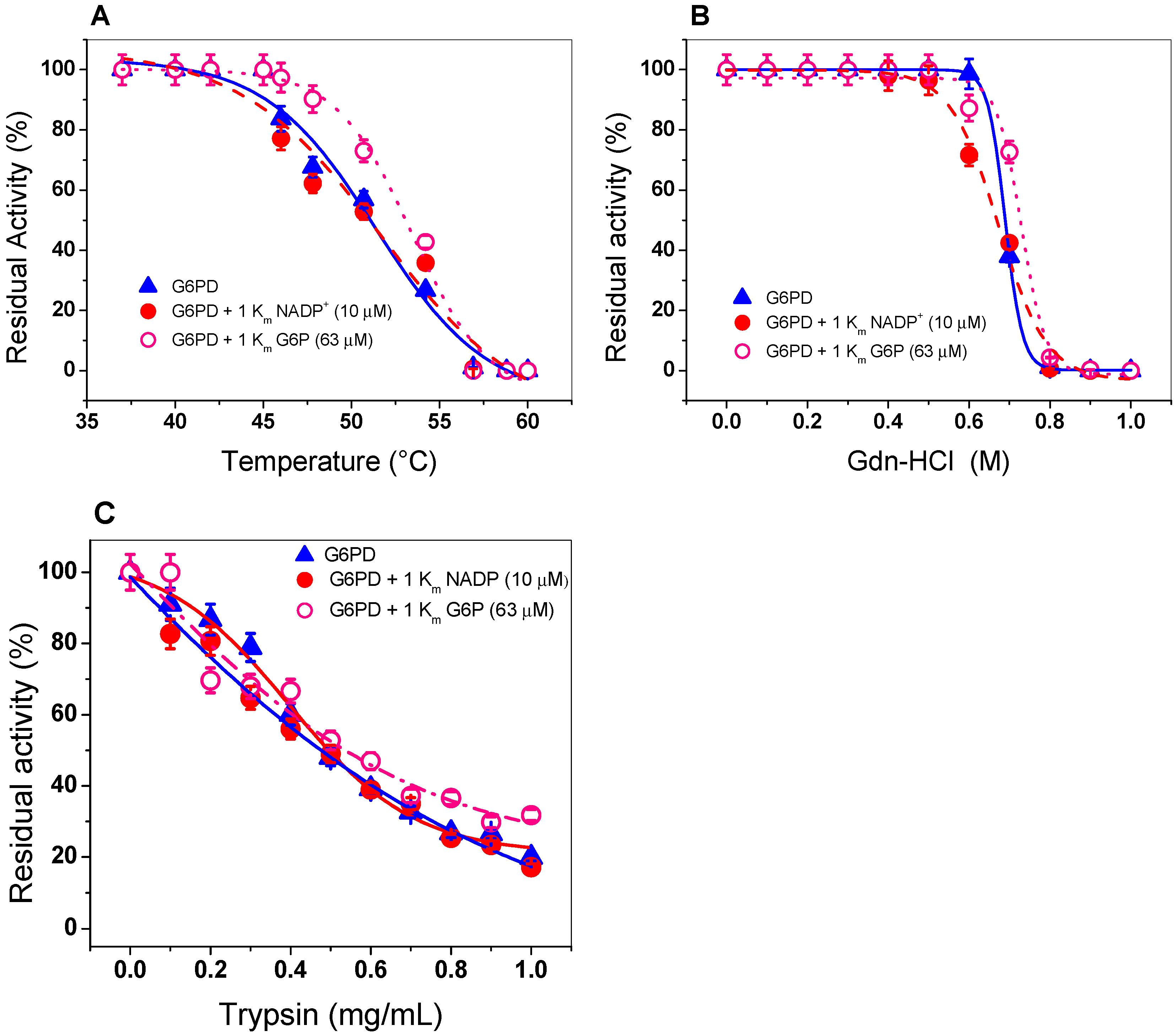 Figure 5. Circular dichroism (CD) analysis and thermal stability. (A) Far-ultraviolet (UV) CD spectra and (B) thermal stability of the G6PD protein. Changes in the CD signal were monitored at 222 nm as the temperature increased (20 to 90 °C). In both assays, the G6PD protein was recorded at 0.5 mg/mL in a 25 mM phosphate buffer (pH 7.4). This experiment is representative of duplicate experiments.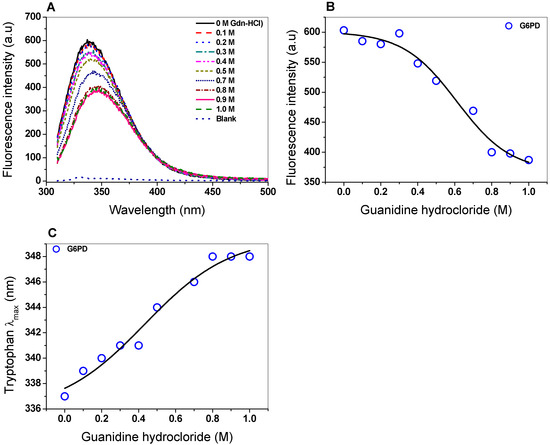 Figure 6. Spectroscopic characterization. (A) Intrinsic fluorescence spectra of the G6PD protein in the presence of Gdn-HCl; (B) fluorescence intensity obtained with different concentrations of Gdn-HCl. (C) Maximum emission intrinsic fluorescence of tryptophan produced by denaturing induced by Gnd-HCl. G6PD (0.2 mg/mL) was incubated in PBS (50 mM, pH 7.4) in the presence of Gdn-HCl. The assays were realized by triplicate (standard errors < 5%).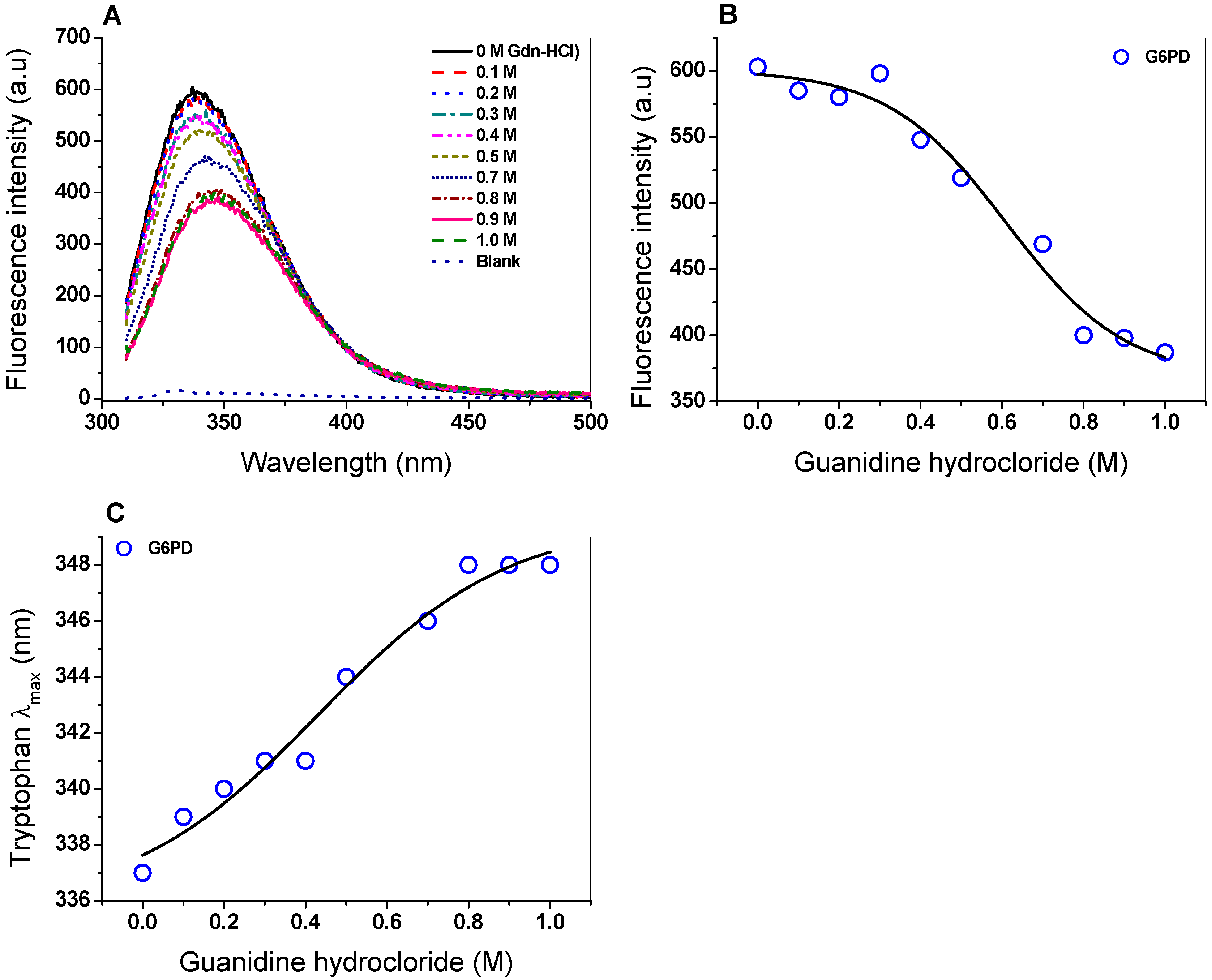 Organism
kcat (s−1)
Km G6P (µM)
Km NADP+ (µM)
Reference

Gluconacetobacter diazotrophichus

293,181
63
7
This study

Escherichia coli

DH5α
32
224
127
[32]

Pseudomonas aeruginosa

540
498
56
[21]

Termotoga maritima

35,000
200
40
[20]

Haloferax volcanii

11
370
520
[26]

Giardia lamblia

31
18
14
[38]

Plasmodium falciparum

8
19
6
[39]

Trypanosoma cruzy

62
77
16
[31]

Aspergillus niger

NR
153
26
[34]

Aspergillus oryzae

1000
109
6
[33]

Brugia malayi

40
245
14
[25]
Dog liver
NR
122
10
[29]
Buffalo liver
NR
NR
59
[24]
Camel liver
NR
81
81
[22]

Homo sapiens

230
38
7
[36]

© 2019 by the authors. Licensee MDPI, Basel, Switzerland. This article is an open access article distributed under the terms and conditions of the Creative Commons Attribution (CC BY) license (http://creativecommons.org/licenses/by/4.0/).