Open Access This article is
freely available
re-usable
Review
Effects of Omega-3 Fatty Acids on Immune Cells
Department of Physiology, Institute of Neuroscience and Physiology, The Sahlgrenska Academy, University of Gothenburg, 405 30 Gothenburg, Sweden
*
Author to whom correspondence should be addressed.
Received: 6 September 2019 / Accepted: 2 October 2019 / Published: 11 October 2019
Abstract
:
Alterations on the immune system caused by omega-3 fatty acids have been described for 30 years. This family of polyunsaturated fatty acids exerts major alterations on the activation of cells from both the innate and the adaptive immune system, although the mechanisms for such regulation are diverse. First, as a constitutive part of the cellular membrane, omega-3 fatty acids can regulate cellular membrane properties, such as membrane fluidity or complex assembly in lipid rafts. In recent years, however, a new role for omega-3 fatty acids and their derivatives as signaling molecules has emerged. In this review, we describe the latest findings describing the effects of omega-3 fatty acids on different cells from the immune system and their possible molecular mechanisms.
Keywords:
polyunsaturated fatty acids; PUFAs; omega-3 fatty acids; α-linolenic acid; ALA; eicosapentaenoic acid; EPA; docosahexaenoic acid; DHA; immune cells; immune response; phagocytosis; immune-modulation; anti-inflammatory; migration; presentation; cytokines; antibody production
Author Contributions
Conceptualization, writing of draft, review and editing: S.G., S.L.S. and M.E.J.
Funding
Our work was supported by grants from the Swedish Heart Lung foundation, the Lars Hiertas foundation, the Stiftelsen Tornspiran, Emil and Wera Cornells foundation, the Wilhelm and Martina Lundgren foundation, and the Mary von Sydow foundation.
Conflicts of Interest
The authors declare no conflict of interest.
Abbreviations
| | |
| --- | --- |
| ALA | Alpha (α)-linolenic acid |
| DHA | docosahexaenoic acid |
| EPA | eicosapentaenoic acid |
| PAMPS | pathogen-associated molecular patterns |
| PUFAs | polyunsaturated fatty acids |
| ROS | reactive oxygen species |
| SPMs | pro-resolving mediators |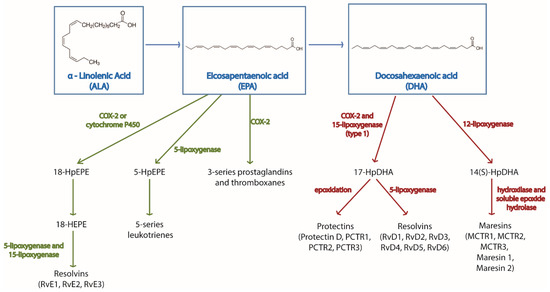 Figure 1. Main biochemical pathways for the synthesis of omega-3 derived metabolites. The figure shows the omega-3 fatty acids α-linolenic acid (ALA), eicosapentaenoic acid (EPA), and docosahexaenoic acid (DHA), their downstream metabolites and the enzymes regulating their synthesis.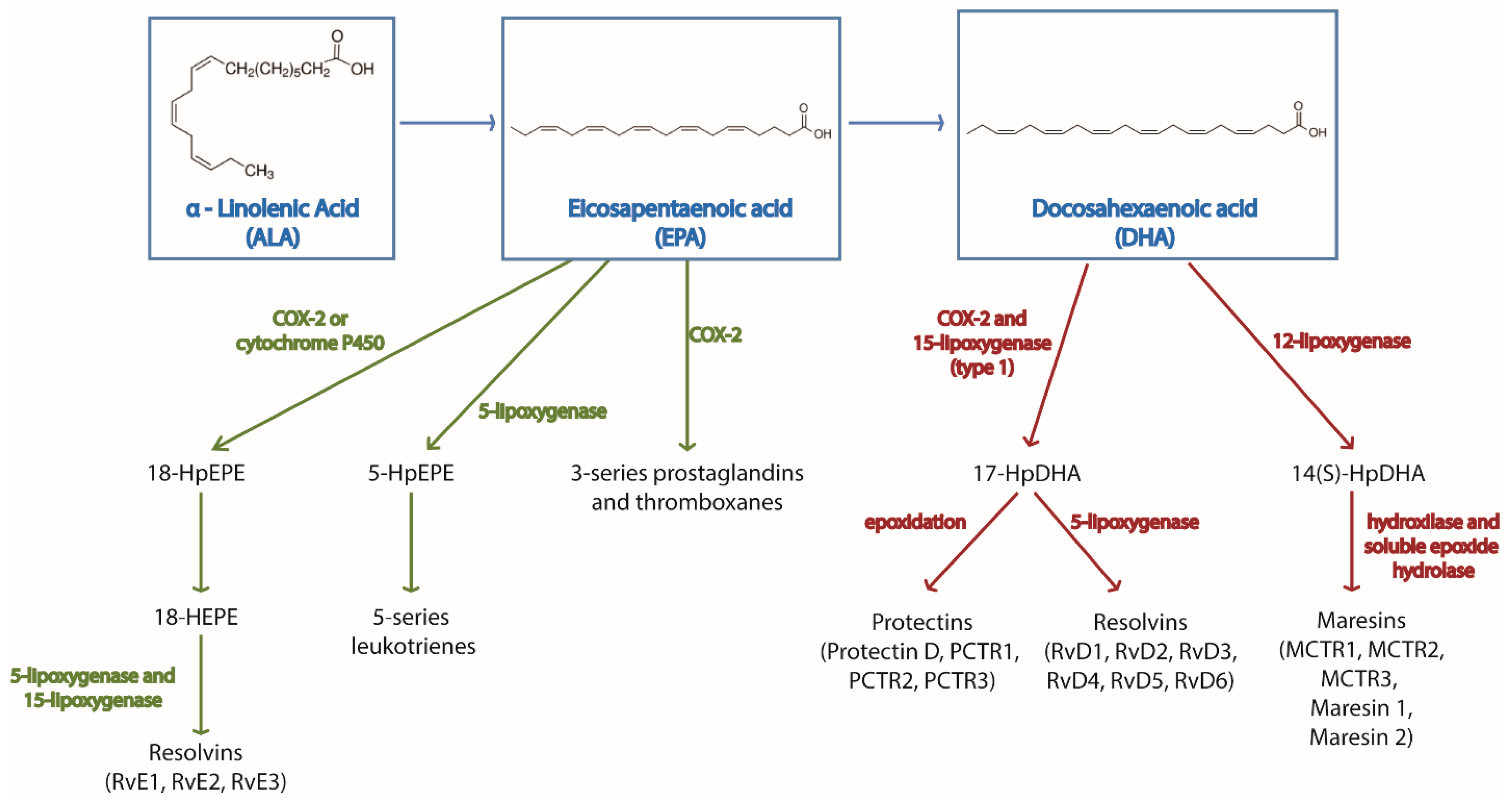 Table 1. Summary of the properties of omega-3 fatty acids and their mediators on the different cells of the immune system including main references.
Cell Type
Effect
References
Macrophages
↓ cytokines
Cytokine production and secretion
[29,30,31,32,33,34,35,36,37,39,40,41,42]
Signaling [28,38,44,45,46,47]
↑ polarization towards M2 phenotype
[29,30,49]
Stroke [50]
Atopic dermatitis [51]
↑ phagocytosis
Zymosan [29]


R.equi, P.aeruginosa

[52]


E.coli

[53]
Apoptotic cells [29]
Neutrophils
↑ production of pro-resolving mediators
[61,62]
↓ migration
[63,64,65,66,67,68,71]
↑ phagocytosis
Particles [72]


C. albicans

[4]


E.coli

[73,74]
Zymosan [70]

↔

ROS production
Rat [4]
Goat [73]
Human [70,74]
↑ frequency
[72,75,76]
Eosinophils
↓ infiltration
Airway inflammation [155]
Skin [141,156]
Allergy [154,157]
Basophils
↓ activation
[149,150,152]
Dendritic cells
↓ antigen presentation
[88,129,130,131,133,134]
NK cells

↔

activation
[137,138,139]
Mast cells
↓ activation
[141,142,143,144,145,146]
T cells
↓ activation
General effects [87,88,89,90,91,92]
CD4+ T cells [95,97,98,99]
Th17 T cells [92,95,97,104,105,106]
↑ Treg differentiation
[19,87,107,108,109,110]
B cells

↔

activation
Human [121,122,125,126]
Mouse [14,123,124]
↑ IgM production
[114,117,121,122]
↓ indicates a decrease, ↑ indicates an increase,

↔

indicates contradictive evidence.

© 2019 by the authors. Licensee MDPI, Basel, Switzerland. This article is an open access article distributed under the terms and conditions of the Creative Commons Attribution (CC BY) license (http://creativecommons.org/licenses/by/4.0/).