Open Access This article is
freely available
re-usable
Review
Ultrafine Particles from Residential Biomass Combustion: A Review on Experimental Data and Toxicological Response
1
Laboratory of Toxicology, ESP, Università degli Studi di Milano, 20133 Milan, Italy
2
Laboratory of Toxicology, DISFEB, Università degli Studi di Milano, 20133 Milan, Italy
3
Department of Physics, Università degli Studi di Milano, and INFN-Milan, 20133 Milan, Italy
*
Author to whom correspondence should be addressed.
Received: 20 August 2019 / Accepted: 6 October 2019 / Published: 9 October 2019
Abstract
:
Biomass burning is considered an important source of indoor and outdoor air pollutants worldwide. Due to competitive costs and climate change sustainability compared to fossil fuels, biomass combustion for residential heating is increasing and expected to become the major source of primary particulate matter emission over the next 5–15 years. The understanding of health effects and measures necessary to reduce biomass emissions of harmful compounds is mandatory to protect public health. The intent of this review is to report available data on ultrafine particles (UFPs, i.e., particles with diameter smaller than 100 nm) emitted by residential biomass combustion and their effects on human health (in vitro and in vivo studies). Indeed, as far as we know, papers focusing specifically on UFPs originating from residential biomass combustion and their impact on human health are still lacking.
Keywords:
biomass combustion; residential heating; ultrafine particles; chemical composition; toxicity
Author Contributions
E.C. and R.V. equally contributed to the preparation of this review article. M.M. contributed to the harmonization of the content and a critical reading of it.
Funding
This research received no external funding.
Acknowledgments
We acknowledge Fondazione Cariplo, which funded our previous experimental work on UFPs (ref. 2013-1040). In this section you can acknowledge any support given which is not covered by the author contribution or funding sections. This may include administrative and technical support, or donations in kind (e.g., materials used for experiments).
Conflicts of Interest
The authors declare no conflict of interest.
Abbreviations
| | |
| --- | --- |
| IL | interleukin |
| PM | particulate matter |
| UFP | ultrafine particles |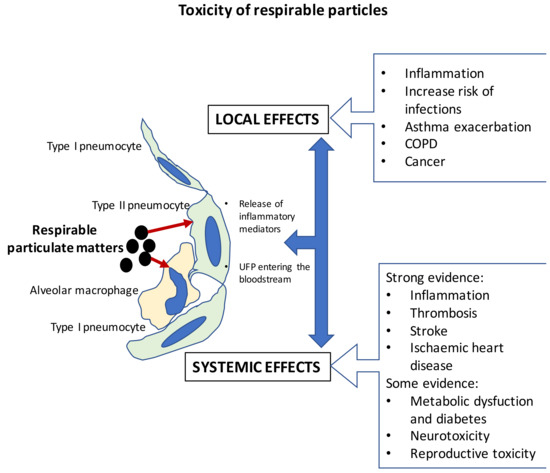 Figure 1. Possible adverse effects of exposure to respirable particulate matter. Inhaled particles, including the ones generated by biomass combustion, can interact with alveolar macrophages and pneumocytes resulting in cell activation, oxidative stress, glutathione depletion, DNA damage, cell death, and release of inflammatory mediators, which mediate local inflammation and, if spilled over, the systemic circulation, can contribute to adverse effects in other organs. Ultrafine particles can also enter the bloodstream, further contributing to systemic effects. Overall, the potential adverse effects of biomass smoke is expected to be similar to the ones described for tobacco smoke and ambient particulate matter, with the evidence, however, that the effects strictly depend on the type of biomass and combustion methods.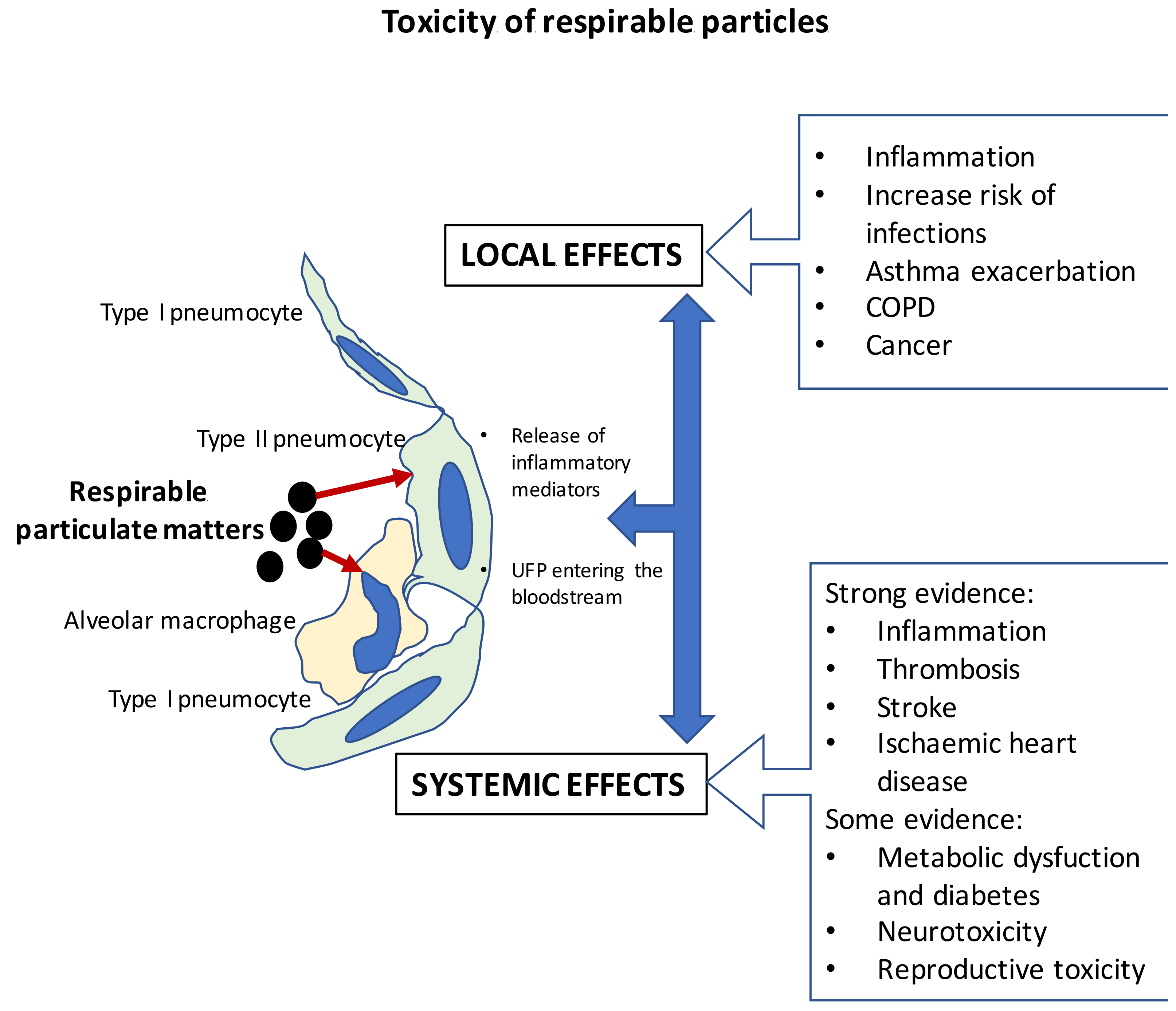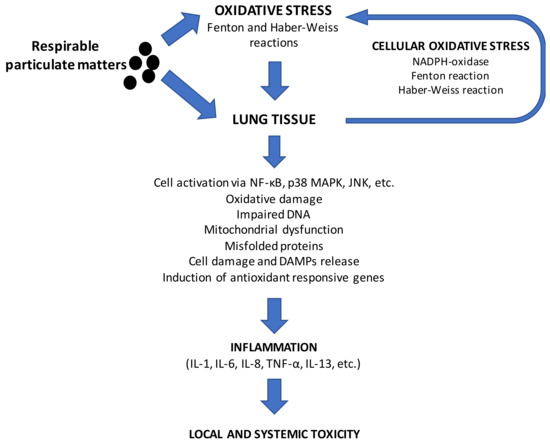 Figure 2.
Biological pathways linking combustion particle-induced oxidative stress and adverse health effects. Respirable particulate matter, which includes UFPs, has a highly adsorptive carbon core that can deliver within the lung redox-active metals, polyaromatic hydrocarbons, and quinones. Oxidative stress has an instrumental role in the toxicity of combustion particles, and their oxidative potential has been used as an effective exposure metric, providing a biologically-relevant index of particulate activity [
75
]. The oxidative potential is typically assessed by the capacity of the particles to deplete physiologically relevant antioxidants like ascorbate or glutathione. Thus, reactive oxygen species can be generated directly by the particle surface in short times but also as secondary process due to cellular response. Oxidative damage, depletion of antioxidants is followed by upregulation of redox-sensitive transcription factors (NF-κB and AP-1) and their associated upstream stress-related mitogen-activated protein kinases (p38, JNK) in lung cells, which trigger the expression of proinflammatory cytokines and induce inflammation. In addition, the alteration of the cellular redox status together with the presence of genotoxic compounds adsorbed on particles, can cause DNA damage. All of this together leads to sequela of cellular adverse events, resulting in local and systemic toxicity.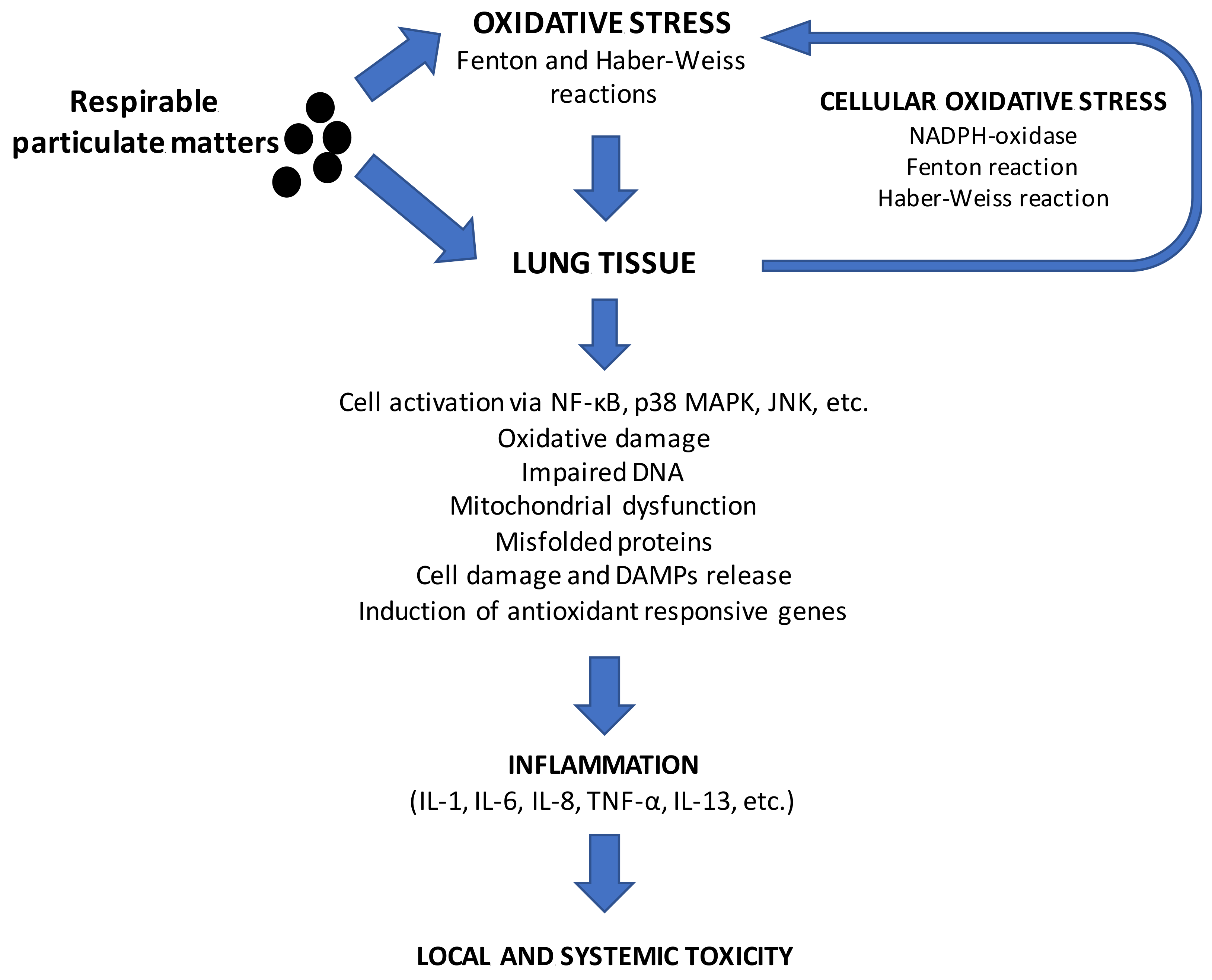 © 2019 by the authors. Licensee MDPI, Basel, Switzerland. This article is an open access article distributed under the terms and conditions of the Creative Commons Attribution (CC BY) license (http://creativecommons.org/licenses/by/4.0/).