Open Access This article is
freely available
re-usable
Review
Epigenetic Factors in Late-Onset Alzheimer's Disease:
MTHFR
and
CTH
Gene Polymorphisms, Metabolic Transsulfuration and Methylation Pathways, and B Vitamins
1
Department of Neurology, Methodist Neurological Institute, Institute for Academic Medicine Houston Methodist Research Institute, Houston Methodist Hospital, Houston, TX 77030, USA
2
Weill Cornell Medical College, Department of Neurology, Cornell University, New York, NY 10065, USA
3
Universidad Nacional de Colombia, Hospital Universitario Nacional, Faculty of Medicine, Department of Neurology, Bogotá ZC 57, Colombia
4
David Cabello International Alzheimer Disease Scholarship Fund, Houston Methodist Hospital, Houston, TX77030, USA
†
These authors contributed equally to this work.

Received: 20 December 2018 / Accepted: 11 January 2019 / Published: 14 January 2019
Abstract
:
DNA methylation and other epigenetic factors are important in the pathogenesis of late-onset Alzheimer's disease (LOAD). Methylenetetrahydrofolate reductase (
MTHFR
) gene mutations occur in most elderly patients with memory loss. MTHFR is critical for production of S-adenosyl-
l
-methionine (SAM), the principal methyl donor. A common mutation (1364T/T) of the cystathionine-γ-lyase (
CTH
) gene affects the enzyme that converts cystathionine to cysteine in the transsulfuration pathway causing plasma elevation of total homocysteine (tHcy) or hyperhomocysteinemia—a strong and independent risk factor for cognitive loss and AD. Other causes of hyperhomocysteinemia include aging, nutritional factors, and deficiencies of B vitamins. We emphasize the importance of supplementing vitamin B
12
(methylcobalamin), vitamin B
9
(folic acid), vitamin B
6
(pyridoxine), and SAM to patients in early stages of LOAD.
Keywords:
Alzheimer's disease; cystathionine-γ-lyase
CTH
gene; DNA methylation; epigenetics; epigenome-wide association study; methylome; methylenetetrahydrofolate reductase
MTHFR
gene; nutrition; S-adenosylmethionine; vitamin B complex
Author Contributions
Conceptualization, G.C.R. and O.M.-P.; methodology, G.C.R.; bibliographic investigation, G.C.R., O.M.-P. and C.B.; writing—original draft preparation, G.C.R., O.M.-P. and C.B.; writing—review and editing, G.C.R. and O.M.-P.; funding acquisition, G.C.R.
Funding
This research was funded by the Jack Blanton Presidential Distinguished Chair, the Fondren Fund and the Wareing Family Fund at Houston Methodist Hospital to G.C.R.
Acknowledgments
The authors would like to thank Houston Methodist Hospital for constant support to clinical research. Mancera-Páez was supported by the David Cabello International Alzheimer Disease Scholarship Fund. J David Spence, London, ON Canada provided valuable comments and bibliography.
Conflicts of Interest
The authors declare no conflict of interest.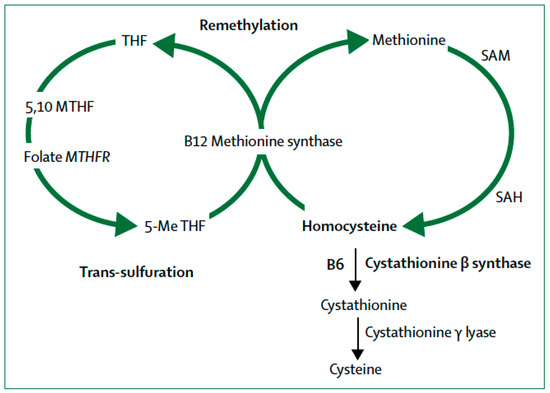 Figure 1.
Homocysteine metabolism: B12 = cobalamin (vitamin B12). B6 = pyridoxine (vitamin B6). MTH = methylenetetrahydrofolate. MTHFR = methylenetetrahydrofolate reductase. SAM = S-adenosyl- methionine. SAH = S-adenosylhomocysteine. 5-Me THF = 5-methyl tetrahydrofolate. (From [
53
]).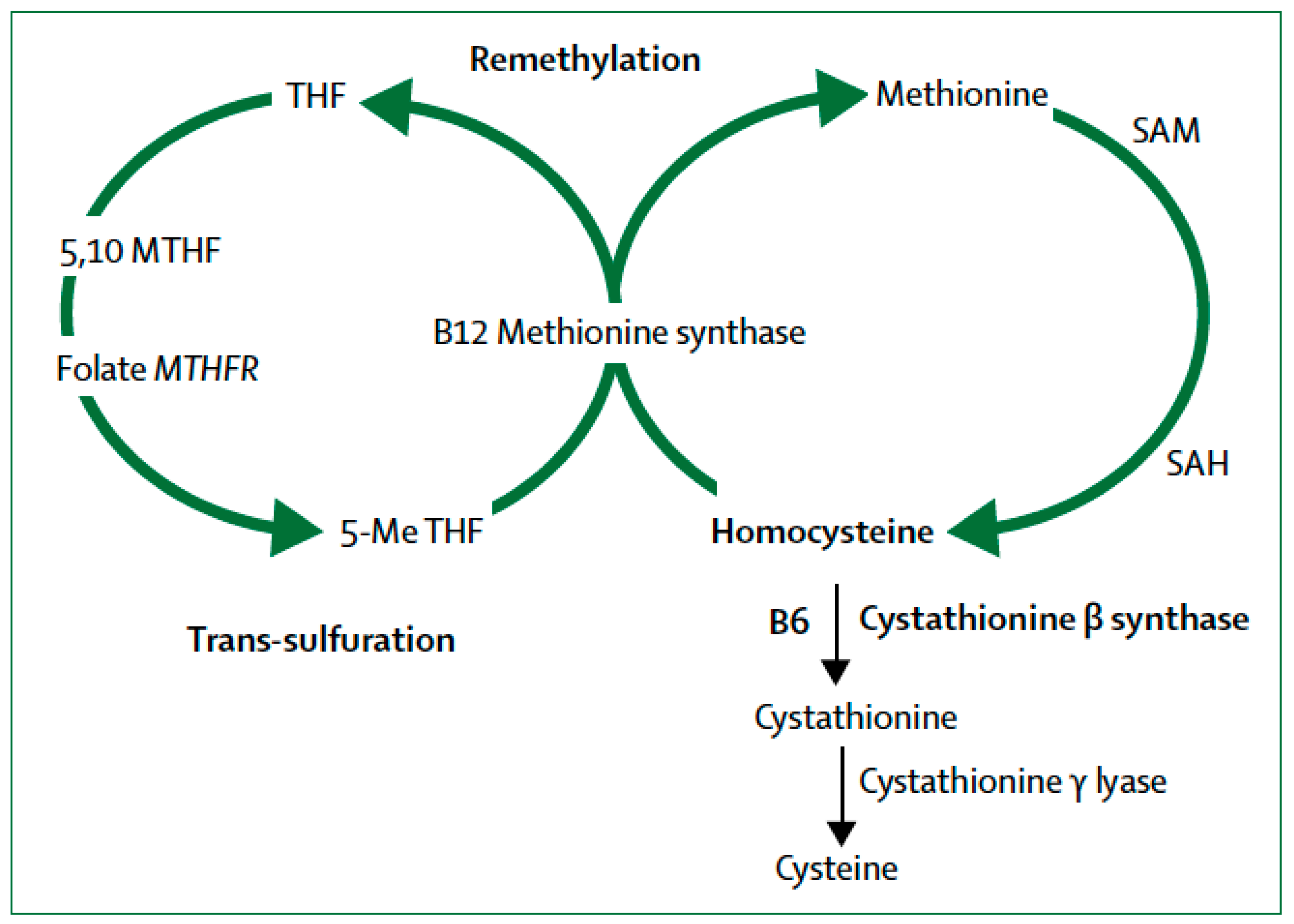 Table 1.
Harmful effects of homocysteine on vascular function and cognition (modified from Smith & Refsum [
54
]).
Proposed Mechanisms
Vascular Mechanisms
1
Impairs endothelial function reducing inducible NO synthase
2
NO-mediated endothelial dysfunction in brain vasculature
3
Causes a leaky blood-brain barrier
4
Induces thrombosis
5
Cerebrovascular ischemia leading to neuronal death and tau tangle deposition
6
Affects lipid metabolism increasing cholesterol synthesis
7
Reduces synthesis of apolipoprotein 1
8
Causes cerebral amyloid angiopathy
Neuronal Mechanisms
1
Direct activation of NMDA receptor causes excitotoxic neuronal death
2
Homocysteic acid and cysteine sulfinic acid activate NMDA receptor causing neuronal death by excitotoxicity
3
Oxidative stress induced by generating superoxide and reactive oxygen species
4
Decreased activity of antioxidant enzymes
5
Formation and deposition of β-amyloid
6
Potentiates neurotoxic effects of β-amyloid by itself or via homocysteic acid
7
Activates tau kinases, such as Cdk5, causing tau tangle deposition
8
Triggers the cell cycle in neurons, leading to tangle formation and cell death
9
Causes DNA damage, limits DNA repair, leading to apoptosis
10
Increases SAH inhibiting methylation reactions, such as DNA cytosine methylation in promoters for amyloid genes, causing epigenetic effects
11
Inhibits PP2A activity leading to tau tangle deposition
12
Inhibits methylation of phosphatidyletanolamine
13
Stimulates endoplasmic reticulum stress response leading to amyloid formation
14
Activates the immune system
15
Decreases SAM-dependent synthesis of catecholamines and other neurotransmitters

© 2019 by the authors. Licensee MDPI, Basel, Switzerland. This article is an open access article distributed under the terms and conditions of the Creative Commons Attribution (CC BY) license (http://creativecommons.org/licenses/by/4.0/).