c-Src Recruitment is Involved in c-MET-Mediated Malignant Behaviour of NT2D1 Non-Seminoma Cells
1
Department of Anatomy, Histology, Forensic-Medicine and Orthopedics, "Sapienza" University of Rome, 00161 Rome, Italy
2
Department of Surgery "Pietro Valdoni", "Sapienza" University of Rome, 00161 Rome, Italy
3
Department of Experimental Medicine, "Sapienza" University of Rome, 00161 Rome, Italy
4
IRCCS, Regina Elena National Cancer Institute, 00144 Rome, Italy
5
Azienda Policlinico Umberto I, Rome, Italy
6
Dept. Of Molecular and Clinical Medicine, "Sapienza" University of Rome, 00189 Rome, Italy
7
Systems Biology Group Lab, 00161 Rome, Italy
8
Dept. of Experimental Medicine, Università degli Studi della Campania "Luigi Vanvitelli", 80138 Naples, Italy
†
These authors contributed equally to this work.
*
Author to whom correspondence should be addressed.
Received: 14 December 2018 / Revised: 9 January 2019 / Accepted: 10 January 2019 / Published: 14 January 2019
Abstract
: c-MET pathway over-activation is the signature of malignancy acquisition or chemotherapy resistance of many cancers. We recently demonstrated that type II Testicular Germ Cell Tumours (TGCTs) express c-MET receptor. In particular, we elucidated that the non-seminoma lesions express c-MET protein at higher level, compared with the seminoma ones. In line with this observation, NTERA-2 clone D1 (NT2D1) non-seminoma cells increase their proliferation, migration and invasion in response to Hepatocyte Growth Factor (HGF). One of the well-known adaptor-proteins belonging to c-MET signaling cascade is c-Src. Activation of c-Src is related to the increase of aggressiveness of many cancers. For this reason, we focused on the role of c-Src in c-MET-triggered and HGF-dependent NT2D1 cell activities. In the present paper, we have elucidated that this adaptor-protein is involved in HGF-dependent NT2D1 cell proliferation, migration and invasion, since Src inhibitor-1 administration abrogates these responses. Despite these biological evidences western blot analyses have not revealed the increase of c-Src activation because of HGF administration. However, notably, immunofluorescence analyses revealed that cytoplasmic and membrane-associated localization of c-Src shifted to the nuclear compartment after HGF stimulation. These results shed new light in the modality of HGF-dependent c-Src recruitment, and put the basis for novel investigations on the relationship between c-Src, and TGCT aggressiveness.

►

▼

Figures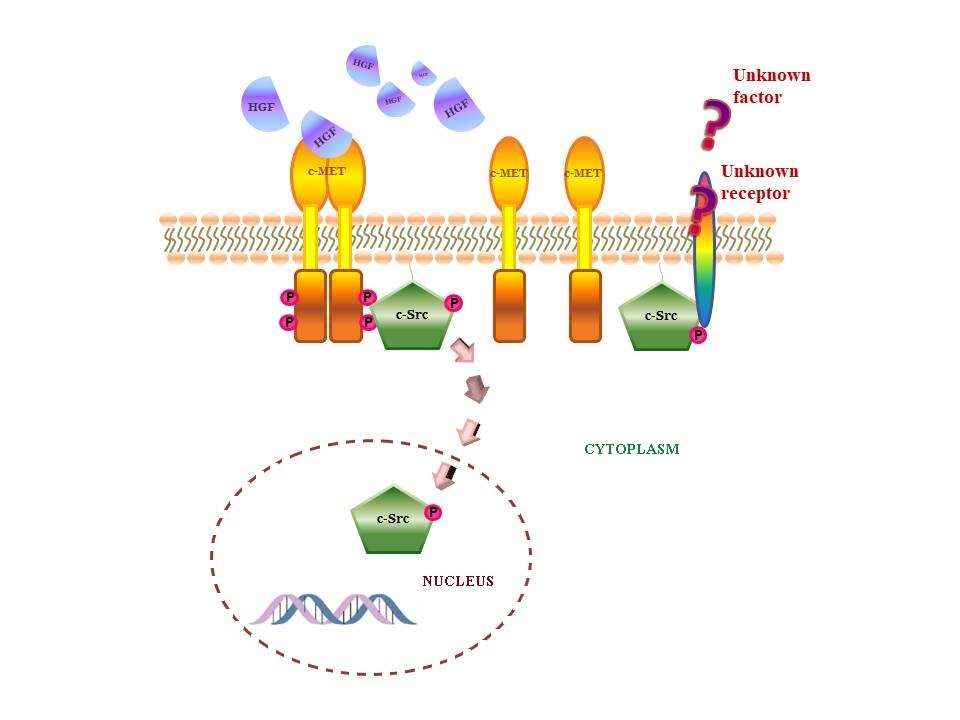 Graphical abstract
This is an open access article distributed under the
Creative Commons Attribution License
which permits unrestricted use, distribution, and reproduction in any medium, provided the original work is properly cited (CC BY 4.0).

Share & Cite This Article
MDPI and ACS Style
Leonetti, E.; Gesualdi, L.; Scheri, K.C.; Dinicola, S.; Fattore, L.; Masiello, M.G.; Cucina, A.; Mancini, R.; Bizzarri, M.; Ricci, G.; Catizone, A. c-Src Recruitment is Involved in c-MET-Mediated Malignant Behaviour of NT2D1 Non-Seminoma Cells. Int. J. Mol. Sci. 2019, 20, 320.
Note that from the first issue of 2016, MDPI journals use article numbers instead of page numbers. See further details here.
Related Articles
Comments
[Return to top]