miRNA Polymorphisms and Risk of Cardio-Cerebrovascular Diseases: A Systematic Review and Meta-Analysis
1
Department of Medical Genetics, Faculty of Medicine, Tabriz University of Medical Sciences, Tabriz 5166614766, Iran
2
Immunology Research Center, Tabriz University of Medical Sciences, Tabriz 5166614766, Iran
3
Student Research Committee, Faculty of Medicine, Shahid Beheshti University of Medical Sciences, Tehran 1985717443, Iran
4
Kidney Research Center, Tabriz University of Medical Sciences, Tabriz 5166614756, Iran
5
Noncommunicable Diseases Research Center, Fasa University of Medical Sciences, Fasa 7461686688, Iran
6
Department of Genetics, Faculty of Medicine, Babol University of Medical Sciences, Babol 4617647745, Iran
7
Drug Applied Research Center, Tabriz University of Medical Sciences, Tabriz 5165665811, Iran
8
Bambino Gesù Children's Hospital-IRCCS, Research Laboratories, Viale di San Paolo 15, 00146 Rome, Italy
9
Women's Reproductive Health Research Center, Tabriz University of Medical Sciences, Tabriz 5138663134, Iran
*
Authors to whom correspondence should be addressed.
Received: 29 November 2018 / Revised: 31 December 2018 / Accepted: 8 January 2019 / Published: 12 January 2019
Abstract
Recently extensive focus has been concentrated on the role of miRNAs in the initiation and progression of cardio-cerebrovascular diseases (CCDs) which constitute a range of conditions including cardiovascular diseases (CVDs, especially coronary artery disease (CAD)), congenital heart disease (CHD) and cerebrovascular diseases (CBVDs, especially the ischemic stroke (IS)). An increasing number of studies are evaluating the association between different miRNA polymorphisms and risk of CCDs, but results have been inconclusive. This study represents a comprehensive systematic review and meta-analysis of the association between miRNA polymorphisms and risk of CCDs. PubMed, Embase, Scopus, and Web of Science were queried to identify eligible articles. Odds ratios and 95% confidence intervals were used to assess the association of miRNA polymorphisms with CCD susceptibility. A total of 51 eligible articles evaluating the association of 31 miRNA polymorphisms were identified. Meta-analysis was performed for six miRNA polymorphisms. miR-146a rs2910164 (30 studies: 13,186 cases/14,497 controls), miR-149 rs2292832 (Nine studies: 4116 cases/3511 controls), miR-149 rs71428439 (Three studies: 1556 cases/1567 controls), miR-196a2 rs11614913 (20 studies: 10,144 cases/10,433 controls), miR-218 rs11134527 (Three studies: 2,322 cases/2,754 controls) were not associated with overall CCD. miR-499 rs3746444 was associated with CCD (20 studies: 9564 cases/8876 controls). In the subgroups, rs2910164 and rs3746444 were only associated with CVDs, especially CAD. In conclusion, the results support the existence of a role for miR-146a rs2910164 and miR-499 rs3746444 in determining susceptibility to CCDs, especially CAD.
View Full-Text
►

▼

Figures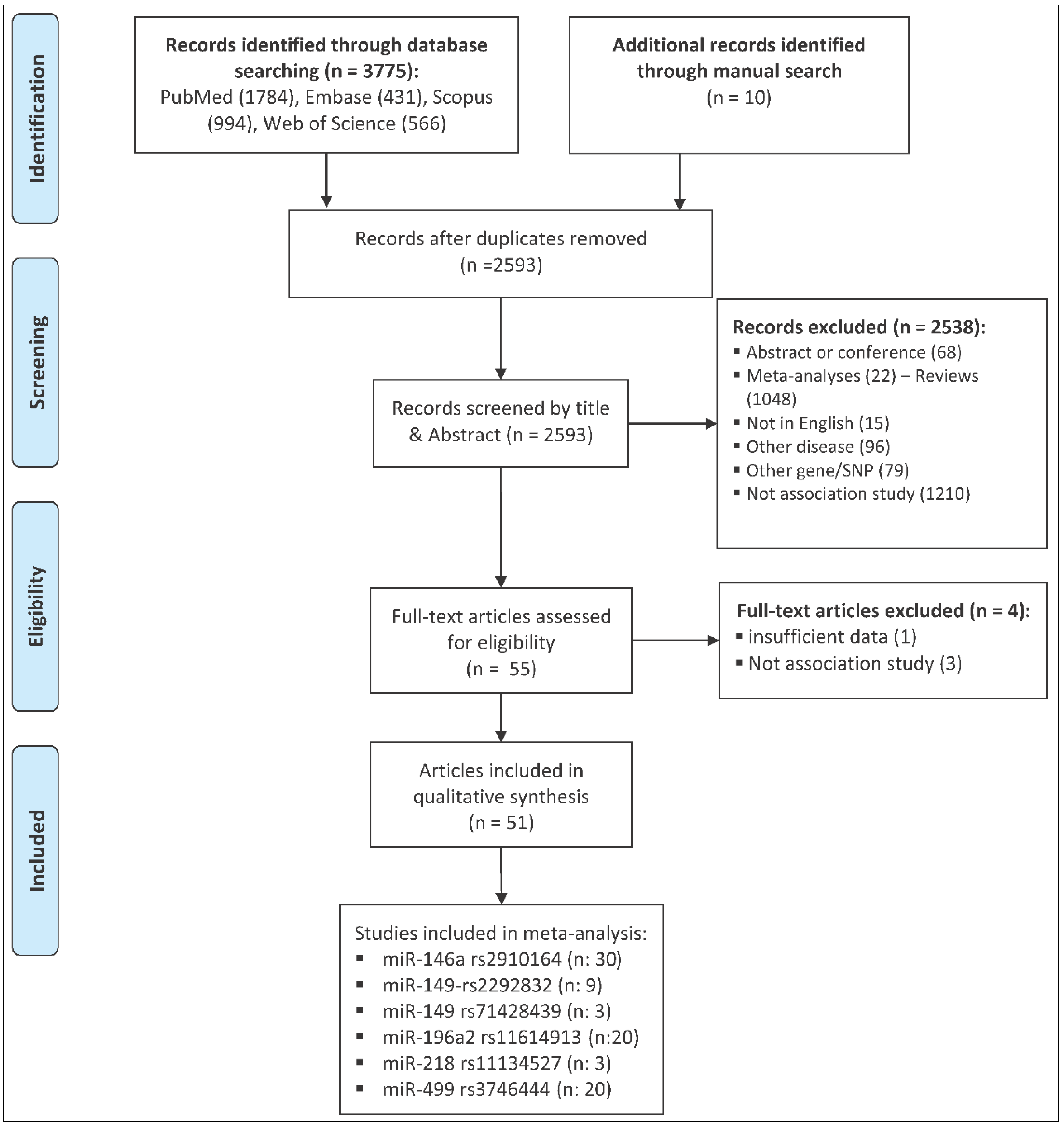 Figure 1
This is an open access article distributed under the
Creative Commons Attribution License
which permits unrestricted use, distribution, and reproduction in any medium, provided the original work is properly cited (CC BY 4.0).

Share & Cite This Article
MDPI and ACS Style
Bastami, M.; Choupani, J.; Saadatian, Z.; Zununi Vahed, S.; Mansoori, Y.; Daraei, A.; Samadi Kafil, H.; Masotti, A.; Nariman-saleh-fam, Z. miRNA Polymorphisms and Risk of Cardio-Cerebrovascular Diseases: A Systematic Review and Meta-Analysis. Int. J. Mol. Sci. 2019, 20, 293.
Note that from the first issue of 2016, MDPI journals use article numbers instead of page numbers. See further details here.
Related Articles
Comments
[Return to top]