Ginsenoside Rb1 Blocks Ritonavir-Induced Oxidative Stress and eNOS Downregulation through Activation of Estrogen Receptor-Beta and Upregulation of SOD in Human Endothelial Cells
1
Michael E. DeBakey Department of Surgery, Baylor College of Medicine, Houston, TX 77030, USA
2
Center for Translational Research on Inflammatory Diseases (CTRID), Michael E. DeBakey Veterans Affairs (VA) Medical Center, Houston, TX 77030, USA
*
Author to whom correspondence should be addressed.
Received: 27 November 2018 / Revised: 4 January 2019 / Accepted: 9 January 2019 / Published: 12 January 2019
Abstract
We have previously shown that ritonavir (RTV), a highly active anti-retroviral therapy (HAART) drug, can cause endothelial dysfunction through oxidative stress. Several antioxidants including ginsenoside Rb1, a compound with antioxidant effect, can effectively block this side effect of RTV in endothelial cells. In the current study, we explored a mechanism by which ginsenoside Rb1 could protect these cells via binding of estrogen receptors (ERs). We found that several human endothelial cell lines differentially expressed ER-β and had very low levels of ER-α. RTV treatment significantly increased the production of reactive oxygen species (ROS) and decreased the expression of endothelial nitric oxidase synthase (eNOS) and superoxide dismutase (SOD) in HUVECs, while Rb1 effectively blocked these effects of RTV. These effects of Rb1 were effectively inhibited by silencing ER-β, indicating that ginsenoside Rb1 requires ER-β for its antioxidant activity in inhibiting the deleterious effect of RTV in human endothelial cells. Furthermore, Rb1 specifically activated ER-β transactivation activity by ER-β luciferase reporter assay. Rb1 competitively bound to ER-β, which was determined by the high sensitive fluorescent polarization assay.
View Full-Text
►

▼

Figures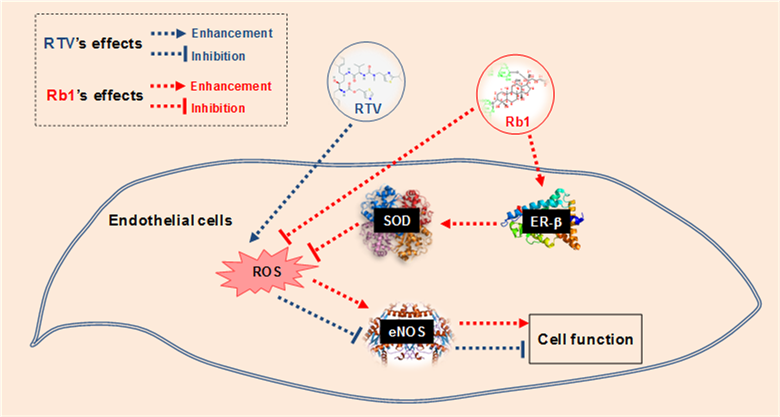 Graphical abstract
This is an open access article distributed under the
Creative Commons Attribution License
which permits unrestricted use, distribution, and reproduction in any medium, provided the original work is properly cited (CC BY 4.0).

Share & Cite This Article
MDPI and ACS Style
Lü, J.-M.; Jiang, J.; Jamaluddin, M.S.; Liang, Z.; Yao, Q.; Chen, C. Ginsenoside Rb1 Blocks Ritonavir-Induced Oxidative Stress and eNOS Downregulation through Activation of Estrogen Receptor-Beta and Upregulation of SOD in Human Endothelial Cells. Int. J. Mol. Sci. 2019, 20, 294.
Note that from the first issue of 2016, MDPI journals use article numbers instead of page numbers. See further details here.
Related Articles
Comments
[Return to top]