Sevoflurane, Propofol and Carvedilol Block Myocardial Protection by Limb Remote Ischemic Preconditioning
1
Department of Anesthesiology and Pain Medicine, Seoul National University Hospital, Seoul National University College of Medicine, Seoul 03080, Korea
2
Department of Anesthesiology and Pain Medicine, SMG-SNU Boramae Medical Center, Seoul 07061, Korea
3
Department of Physiology, Department of Biomedical Sciences, Seoul National University College of Medicine, Seoul 03080, Korea
4
Department of Stem Cell Biology, School of Medicine, Konkuk University, Seoul 05029, Korea
5
Cardiovascular and Metabolic Disorders Program, Duke-National University of Singapore Medical School, Singapore 169857, Singapore
6
Hatter Cardiovascular Institute, Institute of Cardiovascular Science, University College of London, London WC1E 6HX, UK
7
Tecnologico de Monterrey, Centro de Biotecnologica-FEMSA, Nuevo Leon 64849, Mexico
8
Yong Loo Lin School of Medicine, National University of Singapore, Singapore 119228, Singapore
9
The National Institute of Health Research, University College London Hospitals, Biomedical Research Centre, London W1T 7DN, UK
10
National Heart Research Institute Singapore, National Heart Centre, Singapore 169609, Singapore
*
Author to whom correspondence should be addressed.
†
These authors contributed equally to this work and should be considered as joint senior authors.
Received: 8 November 2018 / Revised: 4 January 2019 / Accepted: 8 January 2019 / Published: 11 January 2019
Abstract
The effects of remote ischemic preconditioning (RIPC) in cardiac surgery have been inconsistent. We investigated whether anesthesia or beta-blockers interfere with RIPC cardioprotection. Fifty patients undergoing cardiac surgery were randomized to receive limb RIPC (four cycles of 5-min of upper arm cuff inflation/deflation) in the awake state (no-anesthesia;
n
= 17), or under sevoflurane (
n
= 17) or propofol (
n
= 16) anesthesia. In a separate crossover study, 11 healthy volunteers received either carvedilol or no medication prior to RIPC. Plasma dialysates were obtained and perfused through an isolated male Sprague–Dawley rat heart subjected to 30-min ischemia/60-min reperfusion, following which myocardial infarct (MI) size was determined. In the cardiac surgery study, pre-RIPC MI sizes were similar among the groups (39.7 ± 4.5% no-anesthesia, 38.9 ± 5.3% sevoflurane, and 38.6 ± 3.6% propofol). However, post-RIPC MI size was reduced in the no-anesthesia group (27.5 ± 8.0%;
p
< 0.001), but not in the anesthesia groups (35.7 ± 6.9% sevoflurane and 35.8 ± 5.8% propofol). In the healthy volunteer study, there was a reduction in MI size with RIPC in the no-carvedilol group (41.7 ± 4.3% to 30.6 ± 8.5%;
p
< 0.0001), but not in the carvedilol group (41.0 ± 4.0% to 39.6 ± 5.6%;
p
= 0.452). We found that the cardioprotective effects of limb RIPC were abolished under propofol or sevoflurane anesthesia and in the presence of carvedilol therapy.
View Full-Text
►

▼

Figures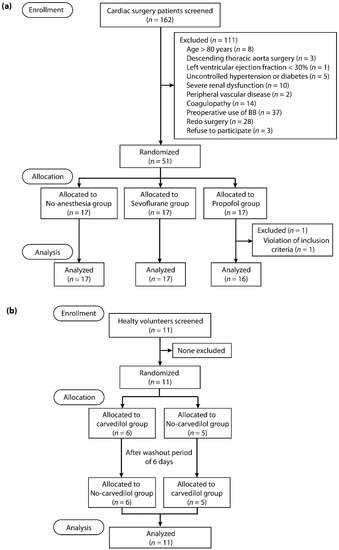 Figure 1
This is an open access article distributed under the
Creative Commons Attribution License
which permits unrestricted use, distribution, and reproduction in any medium, provided the original work is properly cited (CC BY 4.0).

Share & Cite This Article
MDPI and ACS Style
Cho, Y.J.; Nam, K.; Kim, T.K.; Choi, S.W.; Kim, S.J.; Hausenloy, D.J.; Jeon, Y. Sevoflurane, Propofol and Carvedilol Block Myocardial Protection by Limb Remote Ischemic Preconditioning. Int. J. Mol. Sci. 2019, 20, 269.
Note that from the first issue of 2016, MDPI journals use article numbers instead of page numbers. See further details here.
Related Articles
Comments
[Return to top]