Genome-Wide Characterization and Identification of Trihelix Transcription Factor and Expression Profiling in Response to Abiotic Stresses in Rice (
Oryza sativa

L.)

1

College of Agriculture, Northeast Agricultural University, Harbin 150030, China

2

College of Life Science, Northeast Agricultural University, Harbin 150030, China

3

Agriculture Technology and Popularization Center, Jixi 158100, China

*

Author to whom correspondence should be addressed.

Received: 29 October 2018 / Revised: 21 December 2018 / Accepted: 6 January 2019 / Published: 10 January 2019
Abstract
Trihelix transcription factors play a role in plant growth, development and various stress responses. Here, we identified 41 trihelix family genes in the rice genome. These
OsMSL
s (Myb/SANT-LIKE) were located on twelve chromosomes. Synteny analysis indicated only six duplicated gene pairs in the rice trihelix family. Phylogenetic analysis of these
OsMSL
s and the trihelix genes from other species divided them into five clusters.
OsMSL
s from different groups significantly diverged in terms of gene structure and conserved functional domains. However, all
OsMSL
s contained the same five
cis
-elements. Some of these were responsive to light and dehydration stress. All
OsMSL
s expressed in four tissues and six developmental stages of rice but with different expression patterns. Quantitative real-time PCR analysis revealed that the
OsMSL
s responded to abiotic stresses including drought and high salt stress and stress signal molecule including ABA (abscisic acid), hydrogen peroxide.
OsMSL39
were simultaneously expressed under all treatments, while
OsMSL28
showed high expression under hydrogen peroxide, drought, and high salt treatments. Moreover,
OsMSL16/27/33
displayed significant expression under ABA and drought treatments. Nevertheless, their responses were regulated by light. The expression levels of the 12 chosen
OsMSL
s differed between light and dark conditions. In conclusion, our results helped elucidate the biological functions of rice trihelix genes and provided a theoretical basis for further characterizing their biological roles in responding to abiotic stresses.
View Full-Text
►

▼

Figures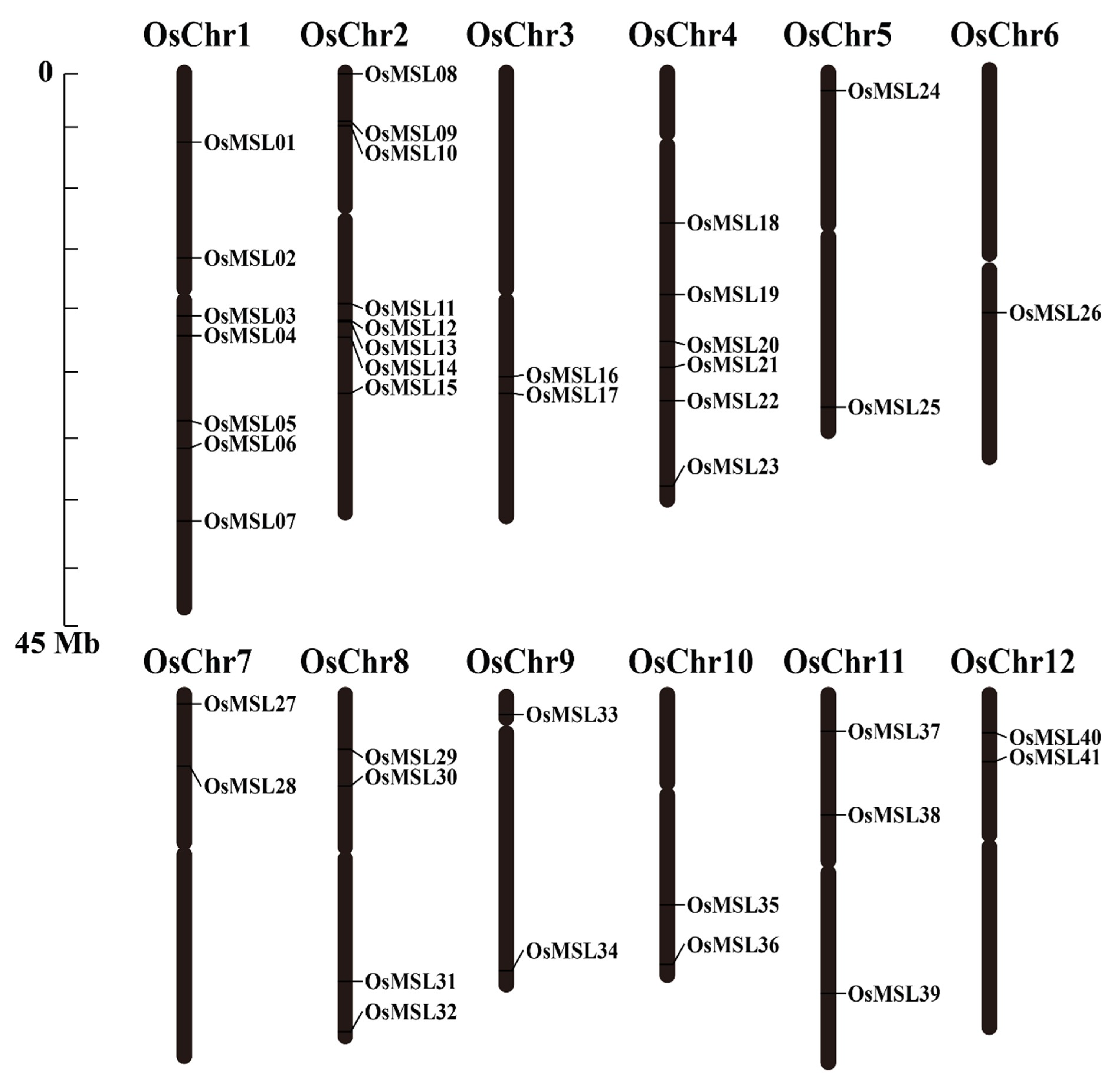 Figure 1
This is an open access article distributed under the
Creative Commons Attribution License
which permits unrestricted use, distribution, and reproduction in any medium, provided the original work is properly cited (CC BY 4.0).

Share & Cite This Article
MDPI and ACS Style
Li, J.; Zhang, M.; Sun, J.; Mao, X.; Wang, J.; Wang, J.; Liu, H.; Zheng, H.; Zhen, Z.; Zhao, H.; Zou, D. Genome-Wide Characterization and Identification of Trihelix Transcription Factor and Expression Profiling in Response to Abiotic Stresses in Rice (Oryza sativa L.). Int. J. Mol. Sci. 2019, 20, 251.
Note that from the first issue of 2016, MDPI journals use article numbers instead of page numbers. See further details here.
Related Articles
Comments
[Return to top]