Open Access This article is
freely available
re-usable
Review
Extracellular Matrix Alterations in Metastatic Processes
Department of Drug Sciences, University of Pavia, 27100 Pavia, Italy
*
Author to whom correspondence should be addressed.
Received: 17 September 2019 / Accepted: 30 September 2019 / Published: 7 October 2019
Abstract
:
The extracellular matrix (ECM) is a complex network of extracellular-secreted macromolecules, such as collagen, enzymes and glycoproteins, whose main functions deal with structural scaffolding and biochemical support of cells and tissues. ECM homeostasis is essential for organ development and functioning under physiological conditions, while its sustained modification or dysregulation can result in pathological conditions. During cancer progression, epithelial tumor cells may undergo epithelial-to-mesenchymal transition (EMT), a morphological and functional remodeling, that deeply alters tumor cell features, leading to loss of epithelial markers (i.e., E-cadherin), changes in cell polarity and intercellular junctions and increase of mesenchymal markers (i.e., N-cadherin, fibronectin and vimentin). This process enhances cancer cell detachment from the original tumor mass and invasiveness, which are necessary for metastasis onset, thus allowing cancer cells to enter the bloodstream or lymphatic flow and colonize distant sites. The mechanisms that lead to development of metastases in specific sites are still largely obscure but modifications occurring in target tissue ECM are being intensively studied. Matrix metalloproteases and several adhesion receptors, among which integrins play a key role, are involved in metastasis-linked ECM modifications. In addition, cells involved in the metastatic niche formation, like cancer associated fibroblasts (CAF) and tumor associated macrophages (TAM), have been found to play crucial roles in ECM alterations aimed at promoting cancer cells adhesion and growth. In this review we focus on molecular mechanisms of ECM modifications occurring during cancer progression and metastatic dissemination to distant sites, with special attention to lung, liver and bone. Moreover, the functional role of cells forming the tumor niche will also be reviewed in light of the most recent findings.
Keywords:
ECM components; collagen; fibronectin; cancer associated fibroblasts; tumor associated macrophages; pre-metastatic niche
1. Extracellular Matrix Structure and Function
Non-activated tissue fibroblasts synthesize and release ECM components such as type I and III collagens, elastin, fibronectin, tenascin and a variety of PGs that combine to form a network of fibers embedded in a hydrogel of PGs. Consequently, this network of protein fibers and PGs regulates the homeostasis of cells, tissues and organs and allows the ECM to resist a wide range of mechanical stresses.
It is therefore not surprising that alterations in a specific ECM component or in the interactions with adhesion receptors can have a remarkable impact on the biochemical and physical properties of the ECM and eventually lead to dysregulation of cell adhesion and function.
2. The Metastatic Process
Tumors can be defined as a loss of tissue organization and aberrant behavior of some cellular types that, growing independently from the surrounding tissue [
10
], induce changes in ECM similar to those found in wounds that fail to heal [
11
,
12
]. While early tumor detection and diagnosis are irreplaceable tools in cancer management, currently the most critical issue in tumor therapy is represented by limiting the dissemination of malignant tumors, due to their ability to spread from original solid mass and then colonize distant sites, giving rise to the metastatic process.
Briefly, the development of metastasis could be described as a complex five-steps process: (1) invasion, (2) intravasation, (3) cell survival in the circulation, (4) extravasation and (5) formation of premetastatic niche and secondary tumors growth [
13
]. Key players in this process are circulating tumor cells (CTC) that, upon detaching from the original tumor mass, achieve specific features necessary to survive in the bloodstream and to give rise to metastatic colonization. Several studies have demonstrated that the most important feature required for the dissemination and survival of CTCs is represented by a de-differentiation process resulting in gaining of a specific and tumor type-dependent stemness pattern. Tumor cell plasticity during all the above steps is supported by two main mechanisms: epithelial to mesenchymal transition (EMT) and its reverse counterpart mesenchymal to epithelial transition (MET).
The EMT process has been recognized as a biological cell reprogramming characterized by loss of cell adhesion, inhibition of E-cadherin expression and increased cell mobility [
14
]. EMT is essential during development and is regulated by several transcription factors, many of which are actually considered EMT markers: zinc finger protein snail 1 (SNAI1, SNAI2), zinc finger E-box-binding homeobox 1 (ZEB1, ZEB2), TWIST, forkhead box protein 1 (FOXC1), FOXC2, homeobox protein goosecoid (GSC), N-cadherin, vimentin and fibronectin-1 [
14
,
15
]. However, EMT and MET processes, though extensively studied, are still far from being completely understood; the prevailing hypothesis claims that EMT operates in the first steps to form CTCs that, upon survival in the circulation, after reaching the appropriate organ site, undergo MET thus gaining appropriate features required to prepare the soil as premetastatic niche and promote tumor progression [
16
].
Although the entire metastatic cycle may represent a potential therapeutic target, the main efforts of researchers are aimed at interfering with the molecular pathways involved in the formation of the pre-metastatic niche. In this step of the process, interactions between tumor cells and the novel microenvironment are largely influenced by the ECM composition and ECM components play key roles in the niche formation; for these reasons, studies on the molecular mechanisms supporting these interactions and ECM alterations are necessary to exploit new avenues in the therapeutic approach to cancer metastasis.
3. Premetastatic Niche and Tumor Microenvironment
In order to prepare the appropriate soil for the colonization of distant sites, metastatic tumor cells set in motion a complex mechanism aimed at promoting the formation of a suitable microenvironment, thereby creating the conditions for attachment, survival and growth of CTCs (
Figure 1
). This peculiar microenvironment, termed pre-metastatic niche [
17
], represents an abnormal, tumor growth-favoring microenvironment devoid of cancer cells. Several soluble factors and cells have been identified in the pre-metastatic niche formation, such as growth factors secreted by tumor cells, bone marrow-derived cells (BMDCs), extracellular vesicles (EVs), suppressive immune cells and host tissue stromal cells [
18
]. In more detail, the primary tumor cells were found to secrete pro-inflammatory factors such as vascular endothelial growth factor A (VEGF-A), transforming growth factor β (TGFβ) and tumor necrosis factor α (TNFα) that, in turn, induce the expression of chemoattractants such as S100A8 and S100A9 (a calcium-binding protein family) [
19
,
20
,
21
]. The increased expression of S100A8/S100A9 promotes cell proliferation and inhibits cell differentiation and apoptosis, thus contributing to the onset of a metastasis favorable environment. However, at the present time, the exact mechanism by which the overexpression of these chemoattractants elicits these cellular effects is still unknown. In other studies, the S100 protein and the recruitment of bone-marrow-derived myeloid cells in response to tumor-secreted factors [
22
,
23
], cooperate with fibronectin upregulation in lung resident cells to shape the pre-metastatic niche. The intriguing hypothesis assuming that soluble factors released by primary tumors could establish a favorable microenvironment promoting the growth of disseminated tumor cells was further strengthened by a seminal study [
24
]. In this study, the authors demonstrated that tumor-secreted exosomes, expressing different integrins subtypes on their membranes, are selectively taken up by distant non-tumor cells in a tissue-specific way, thereby contributing to prepare the soil for metastatic niche formation. Although the S100 protein was a major component of the tumor-secreted exosomes, its precise role in this mechanism remains to be disclosed.
4. The Tumor Microenvironment and ECM Modifications
The tumor microenvironment is formed by a wide variety of cells deputated to specific tasks in a strictly spatial defined context, such as fibroblasts, endothelial cells, pericytes, macrophages and other immune cells [
25
]. Nearly all the cellular components of the tumor microenvironment, especially stromal cells, contribute to metastatic cell invasion by different mechanisms, which converge on ECM modifications.
4.1. Fibroblasts
Tumors are generally stiffer than the normal tissue, with surrounding ECM alterations mainly induced by fibroblasts; fibroblasts are responsible for deposition and remodeling of ECM proteins [
26
] and facilitate tumor cell invasion through force- and protease-mediated ECM remodeling [
27
,
28
]. Moreover, growth factors and chemokines produced by cancer and endothelial cells promote stromal fibroblast activation, infiltration of T lymphocytes, macrophage activation and fibroblasts differentiation into myofibroblasts and cancer associated fibroblasts (CAFs) [
28
]. Myofibroblasts and CAFs, found in the stroma of carcinomas and especially in the tumor invasive edge, secrete ECM proteins, cytokines, growth factors, chemokines, hormones and inflammation proteins, thus promoting cancer cell proliferation and CSCs de-differentiation and migration [
29
,
30
]. The main contribution of CAFs and myofibroblasts to tumor microenvironment is therefore the synthesis and release of significant amounts of ECM proteins; newly deposited collagen and elastin fibers, in fact, are reoriented and remodeled to generate larger, more-rigid fibrils that contribute to the tumor-surrounding ECM special features [
31
,
32
].
4.2. Tumor Associate Macrophages (TAM)
Activated TAMs contribute to tumor progression by producing pro-inflammatory cytokines, such as IL-6, thus inducing a wide variety of genes involved in tumor progression and apoptosis suppression [
33
]. Other roles proposed for TAMs in cancer progression include VEGF, CXCL13, CCL16 and CCL18 secretion, underlining the relevance of these cells in the regulation of tumor microenvironment [
34
].
However, TAMs were also found to directly contribute to tumor niche formation and tumor ECM shaping by producing proteolytic enzymes (MMP-2 and MMP-9) and matrix-associated proteins. In a mouse colorectal cancer model, TAMs were found to play a role in the deposition, cross-linking and linearization of ECM collagen fibers, thus showing that the cancer ECM collagen deposition is not solely deputed to CAFs [
35
].
4.3. Pericytes (PC)
PCs reside within the wall of post-capillary venules and microvascular structures and, like other stromal components, they synthesize and release several ECM proteins. PCs play several distinct roles in the survival of cell belonging to the tumor niche: they spare endothelial cells (EC) from apoptotic death elicited by action of exogenous interleukin-12 and block the proapoptotic effect induced by tumor cell-secreted VEGF [
36
].
A second potential role of PCs relates to cancer microvessels formation; newly formed EC sprouts from small tumor vessels initially lack PCs and, subsequently, pericyte recruitment around these new vessels reduces EC proliferation and sprouting, leading to the formation of larger microvessels [
37
,
38
]. In a recent study, uveal melanoma and Ewing sarcoma cell lines were found to mimic the behavior of normal blood vessels by producing PDGF and recruiting PCs to induce the formation of vascular-like networks [
39
]. In a collagen VI-null mouse model, the basement membrane deficits deriving from the lack of collagen VI, deeply impair tumor vessel development and function thus reducing tumor growth [
40
].
4.4. Matrix Metallo Proteinases (MMPs)
5. Other Mechanisms Involved in ECM Alteration in Cancer Progression
6. Organ-Specific Pre-Metastatic Niches
6.1. Lung
Metastatic cancers such as bladder, breast, colon, kidney, melanoma and sarcoma often spread to the lungs, and several ECM components have been recognized to be involved in this process.
7. Conclusions
The impact of metastasis on cancer mortality is still dramatic, and an extensive effort by the scientific community is mandatory in this field. Recently, new insights have emerged in the identification of circulating metastatic cells because of great improvement in liquid biopsies techniques and applications. However, it appears that the most easily targetable steps in metastasis deal with the formation of premetastatic niche and colonization of distant sites—two mechanisms that deeply imply the involvement of ECM.
Unfortunately, previous pharmacological approaches based on single molecules aimed at inhibiting cell attachment by targeting interaction of surface receptors with ECM components or by disturbing specific signaling pathways gave disappointing results or limited benefits.
On the basis of recent studies, three different approaches may be hypothesized to counteract metastatic processes.
The first option exploits the possibility, already working in other pathologies, that treatment with multiple agents, targeting different mechanisms in an aberrant signaling pathway, could be much more effective in preventing or shrinking the metastatic process compared to single molecule administration. Moreover, therapeutic schemes taking into account early timing and accumulating dose of combined drugs could be screened in appropriate in vitro settings to ascertain whether these combined treatments affect the composition and subsequent functionality of ECM.
Another approach could be focused on the potential "educational" role of EV secreted by metastatic cells in directing and changing the properties of the "soil" in distant sites to colonize. Blocking or interfering with EV uptake might be a fruitful strategy to understand the role of these vesicles in instructing the target cells to modify their pattern of expression of ECM. The multidrug approach, together with the EV-discovery approach, could be now tested and screened using novel outstanding in vitro models such 3D cell (co)cultures, cancer organoids and cancer-on-a-chip technologies. The main advantages of these models rely on the possibility of mimicking very closely the interplay among all the cancer and non-cancer cells belonging to the metastatic niche and observing the consequences of induced ECM modifications on the functionality of these cells.
Finally, a giant leap forward in our knowledge on the molecular events that govern the interplay between ECM and cancer cells could come from innovative single-cell multiomics technologies. Indeed, comparing healthy vs. cancerous human specimens obtained from surgery by spatial genomic or transcriptomic could hold great promise in characterizing the dynamic changes occurring at different stages in the formation of premetastatic niche.
These considerations, stressing the complexity and the difficulty of the fight against metastasis, indicate that only a synergistic huge collaboration among the pharmaceutical industry, academic and government organizations will have better chances in the near future to defeat metastasis.
Funding
This research received no external funding.
Conflicts of Interest
The authors declare no conflict of interest.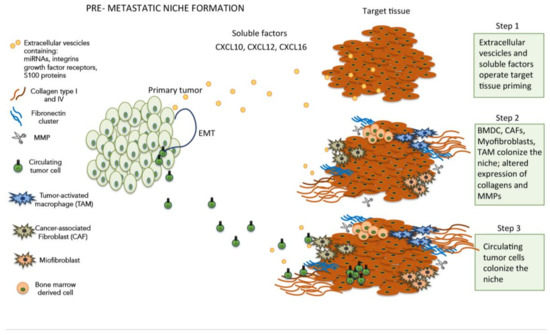 Figure 1. Cellular and soluble components involved in extracellular matrix (ECM) modifications during pre-metastatic niche formation.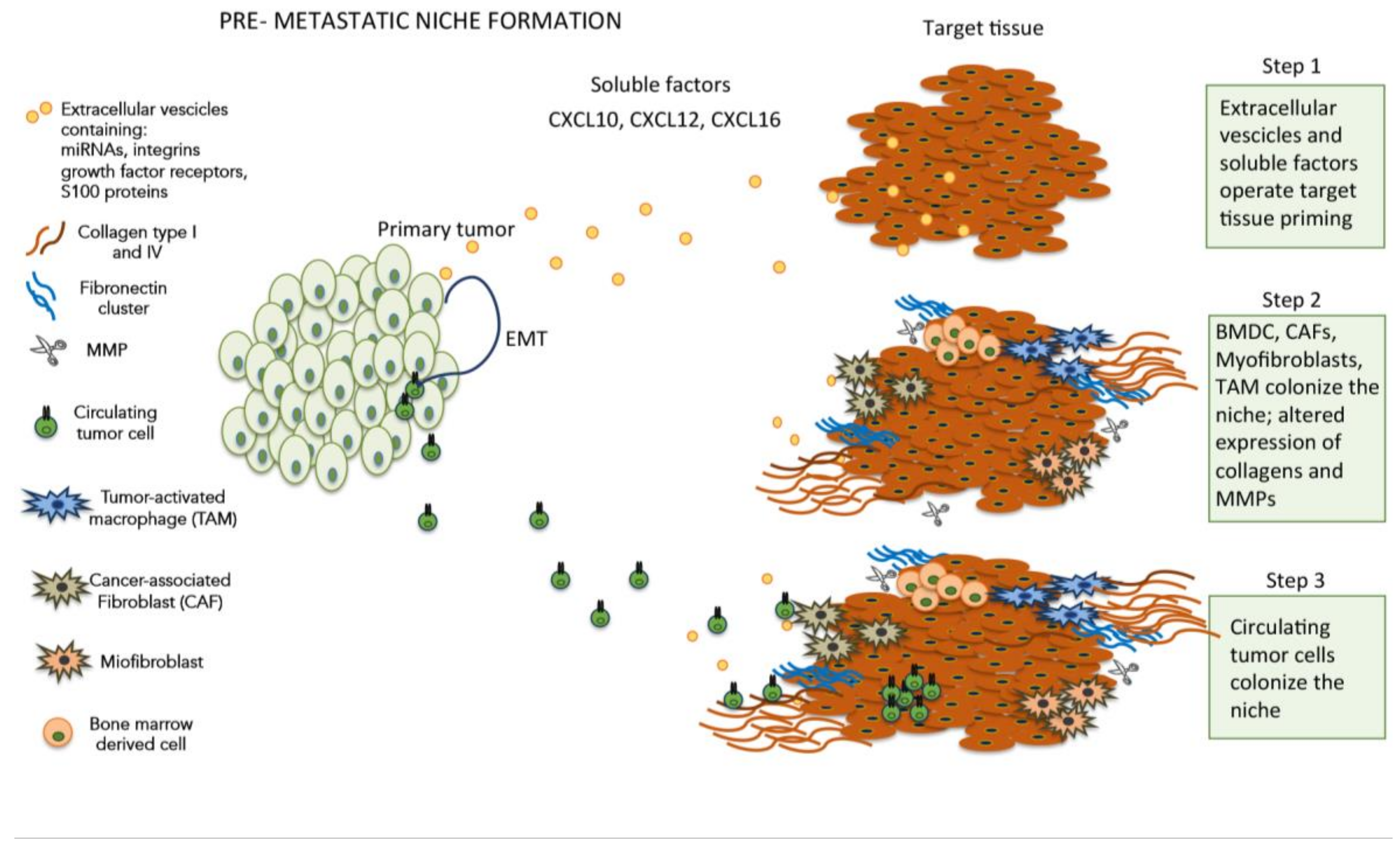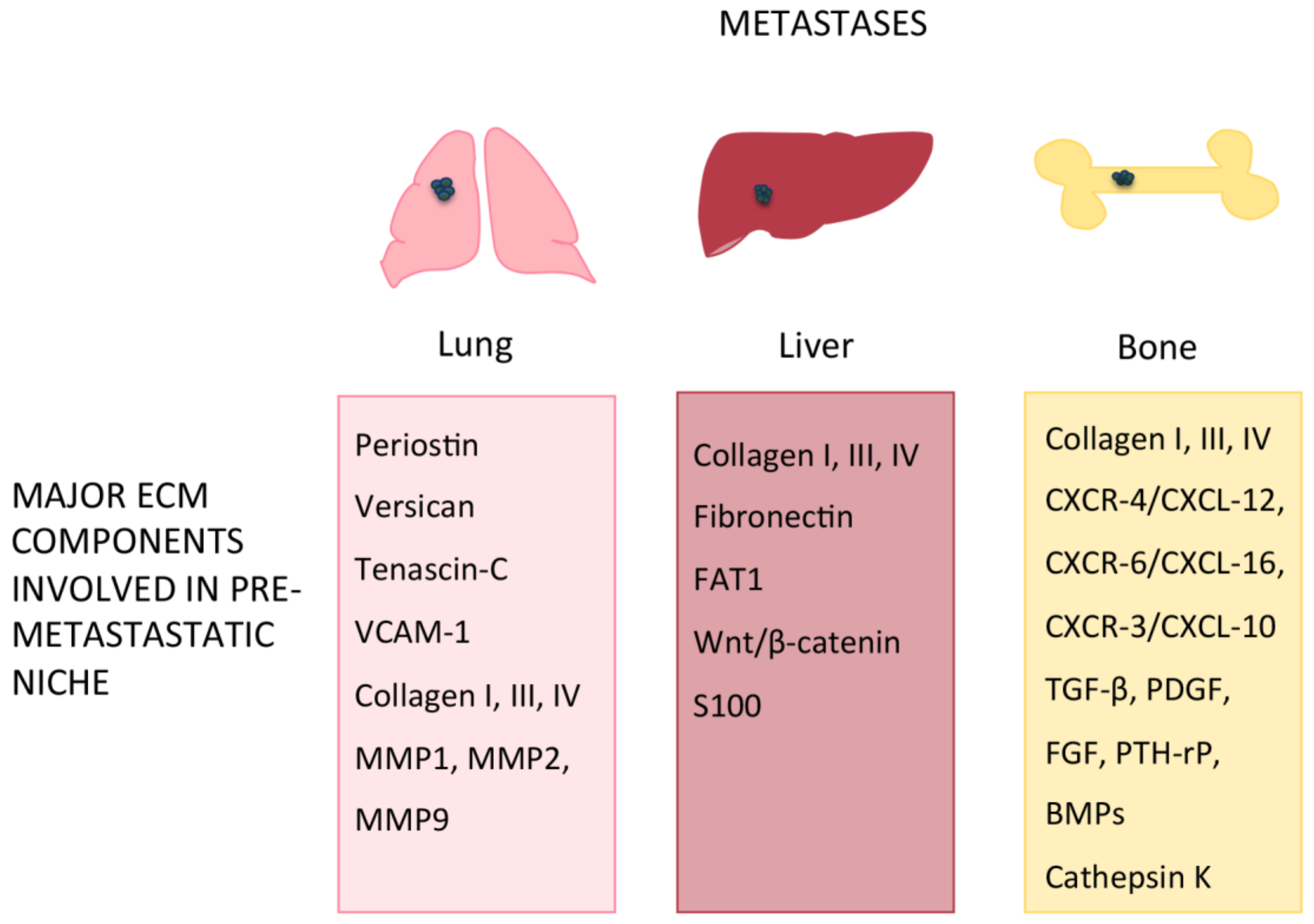 Table 1. Major ECM components involved in pre-metastatic niche formation in lung, liver and bone that are proteinase substrates.
ECM Component
Proteinase
Versican (VCAN)
ADAMTs
Collagen I
MMP1, MMP3, MMP8, MMP10, MMP11, MMP13, MMP14, MMP19
ADAM8
Collagen III
MMP1, MMP3, MMP8, MMP9, MMP10, MMP11, MMP13, MMP14, MMP16,
Collagen IV
MMP1, MMP2, MMP3, MMP7, MMP8, MMP9, MMP10, MMP11, MMP12, MMP13, MMP14, MMP19, MMP25, MMP26, ADAM15
Meprins
Fibronectin
MMP2, MMP7, MMP8, MMP9, MMP10, MMP11, MMP12, MMP13, MMP14, MMP15, MMP16, MMP19, MMP24, MMP25, MMP26
ADAM8, ADAM9, ADAM12, ADAMTs
Meprins
TGF-β
Plasmin, MMP2, MMP9
Periostin
ADAM8
MMP, matrix metalloproteinase; TGF-β, transforming growth factor β; ADAMs, a disintegrin and metalloproteinases; ADAMTs, ADAMs with a thrombospondin motif (for extensive review see [1]).

Table 2. Major ECM components or mediators involved in pre-metastatic niche (PMN) formation in lung, liver and bone.
ECM Component
PMN Site
Mechanism
Reference
Periostin (POSTN)
Lung
Induces EMT, promotes lung metastases
[54]
Versican (VCAN)
Lung
Secreted by the infiltrating bone marrow-derived myeloid cells, promotes metastatic niche formation
[55]
Tenascin-C (TNC)
Lung
Secreted by breast cancer cells, promotes PMN formation
[56,57]
Vascular cell adhesion molecule-1 (VCAM-1)
Lung
Binds to α4β1 integrin, promotes homing of breast and melanoma cancer cells
[60,61,62]
Collagen I, III, IV
Lung, liver, bone
Increased collagen hydroxylation promotes ECM remodeling;
increased collagen I turnover in hepatic metastases
[64,72,73,84,88]
MMP-1, MMP-2, MMP-9
Lung
Increased MMPs expression promotes PMN formation
[65,66,67,68]
Fibronectin
Liver
Increased production in liver PMN; facilitates CTC extravasation
[74,75,76]
Atypical Cadherin 1 (FAT1)
Liver
Inactivation in liver metastases
[77]
Wnt/β-catenin axis
Liver
Aberrant signaling in liver metastases
[79,80,81]
CXCR-4/CXCL-12, CXCR-6/CXCL-16, CXCR-3/CXCL-10,
Bone
Promote bone metastases
[90]
TGF-β, PDGF, FGF, PTH-rP, BMPs
Cathepsin K
Bone
Released during ECM degradation, promote bone metastases
[91,92,93,94]
CTC, circulating tumor cells; MMP, matrix metalloproteinase; TGF-β, transforming growth factor β; PDGF, platelet derived growth factor; FGF, fibroblast growth factor; BMPs, bone morphogenetic proteins; PTH-rP, parathyroid hormone (PTH) related protein.

© 2019 by the authors. Licensee MDPI, Basel, Switzerland. This article is an open access article distributed under the terms and conditions of the Creative Commons Attribution (CC BY) license (http://creativecommons.org/licenses/by/4.0/).