Topographical Visualization of the Reciprocal Projection between the Medial Septum and the Hippocampus in the 5XFAD Mouse Model of Alzheimer's Disease
1
Department of Biochemistry, College of Medicine, Konyang University, 158, Gwanjeodong-ro, Seo-gu, Daejeon 35365, Korea
2
Department of Occupational Therapy, Konyang University, 158, Gwanjeodong-ro, Seo-gu, Daejeon 35365, Korea
3
R&D Center for Advanced Pharmaceuticals & Evaluation, Korea Institute of toxicology, 141, Gajeong-ro, Yuseong-gu, Daejeon 34114, Korea
*
Authors to whom correspondence should be addressed.
Received: 2 July 2019 / Revised: 13 August 2019 / Accepted: 14 August 2019 / Published: 16 August 2019
Abstract
It is widely known that the degeneration of neural circuits is prominent in the brains of Alzheimer's disease (AD) patients. The reciprocal connectivity of the medial septum (MS) and hippocampus, which constitutes the septo-hippocampo-septal (SHS) loop, is known to be associated with learning and memory. Despite the importance of the reciprocal projections between the MS and hippocampus in AD, the alteration of bidirectional connectivity between two structures has not yet been investigated at the mesoscale level. In this study, we adopted AD animal model, five familial AD mutations (5XFAD) mice, and anterograde and retrograde tracers, BDA and DiI, respectively, to visualize the pathology-related changes in topographical connectivity of the SHS loop in the 5XFAD brain. By comparing 4.5-month-old and 14-month-old 5XFAD mice, we successfully identified key circuit components of the SHS loop altered in 5XFAD brains. Remarkably, the SHS loop began to degenerate in 4.5-month-old 5XFAD mice before the onset of neuronal loss. The impairment of connectivity between the MS and hippocampus was accelerated in 14-month-old 5XFAD mice. These results demonstrate, for the first time, topographical evidence for the degradation of the interconnection between the MS and hippocampus at the mesoscale level in a mouse model of AD. Our results provide structural and functional insights into the interconnectivity of the MS and hippocampus, which will inform the use and development of various therapeutic approaches that target neural circuits for the treatment of AD.
View Full-Text
►

▼

Figures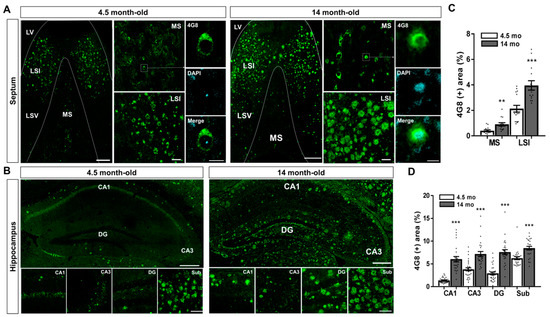 Figure 1
This is an open access article distributed under the
Creative Commons Attribution License
which permits unrestricted use, distribution, and reproduction in any medium, provided the original work is properly cited (CC BY 4.0).

Share & Cite This Article
MDPI and ACS Style
Kim, S.; Nam, Y.; Jeong, Y.-O.; Park, H.H.; Lee, S.-K.; Shin, S.J.; Jung, H.; Kim, B.-H.; Hong, S.B.; Park, Y.H.; Kim, J.; Yu, J.; Yoo, D.-H.; Park, S.-H.; Jeon, S.G.; Moon, M. Topographical Visualization of the Reciprocal Projection between the Medial Septum and the Hippocampus in the 5XFAD Mouse Model of Alzheimer's Disease. Int. J. Mol. Sci. 2019, 20, 3992.
Note that from the first issue of 2016, MDPI journals use article numbers instead of page numbers. See further details here.
Related Articles
Comments
[Return to top]