BrTCP7 Transcription Factor Is Associated with MeJA-Promoted Leaf Senescence by Activating the Expression of
BrOPR3

and

BrRCCR

1

State Key Laboratory for Conservation and Utilization of Subtropical Agro-bioresources/Guangdong Provincial Key Laboratory of Postharvest Science of Fruits and Vegetables/Engineering Research Center of Southern Horticultural Products Preservation, Ministry of Education, College of Horticulture, South China Agricultural University, Guangzhou 510642, China

2

Scientific Observing and Experimental Station of Crop Cultivation in South China, Ministry of Agriculture, College of Agriculture, South China Agricultural University, Guangzhou 510642, China

3

Department of Food Science, Guangdong Food and Drug Vocational College, Guangzhou 510520, China

*

Authors to whom correspondence should be addressed.

Received: 21 June 2019 / Revised: 11 August 2019 / Accepted: 13 August 2019 / Published: 14 August 2019
Abstract
The plant hormone jasmonic acid (JA) has been recognized as an important promoter of leaf senescence in plants. However, upstream transcription factors (TFs) that control JA biosynthesis during JA-promoted leaf senescence remain unknown. In this study, we report the possible involvement of a TEOSINTE BRANCHED1/CYCLOIDEA/PCF (TCP) TF BrTCP7 in methyl jasmonate (MeJA)-promoted leaf senescence in Chinese flowering cabbage. Exogenous MeJA treatment reduced maximum quantum yield (Fv/Fm) and total chlorophyll content, accompanied by the increased expression of senescence marker and chlorophyll catabolic genes, and accelerated leaf senescence. To further understand the transcriptional regulation of MeJA-promoted leaf senescence, a class I member of TCP TFs BrTCP7 was examined. BrTCP7 is a nuclear protein and possesses trans-activation ability through subcellular localization and transcriptional activity assays. A higher level of
BrTCP7
transcript was detected in senescing leaves, and its expression was up-regulated by MeJA. The electrophoretic mobility shift assay and transient expression assay showed that BrTCP7 binds to the promoter regions of a JA biosynthetic gene
BrOPR3
encoding OPDA reductase3 (OPR3) and a chlorophyll catabolic gene
BrRCCR
encoding red chlorophyll catabolite reductase (RCCR), activating their transcriptions. Taken together, these findings reveal that BrTCP7 is associated with MeJA-promoted leaf senescence at least partly by activating JA biosynthesis and chlorophyll catabolism, thus expanding our knowledge of the transcriptional mechanism of JA-mediated leaf senescence.
View Full-Text
►

▼

Figures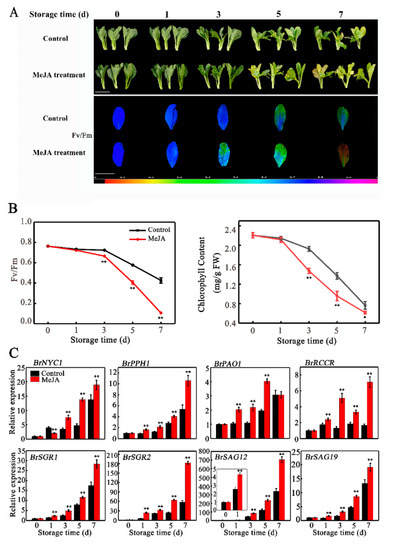 Figure 1
This is an open access article distributed under the
Creative Commons Attribution License
which permits unrestricted use, distribution, and reproduction in any medium, provided the original work is properly cited (CC BY 4.0).

Share & Cite This Article
MDPI and ACS Style
Xu, Y.-M.; Xiao, X.-M.; Zeng, Z.-X.; Tan, X.-L.; Liu, Z.-L.; Chen, J.-W.; Su, X.-G.; Chen, J.-Y. BrTCP7 Transcription Factor Is Associated with MeJA-Promoted Leaf Senescence by Activating the Expression of BrOPR3 and BrRCCR. Int. J. Mol. Sci. 2019, 20, 3963.
Note that from the first issue of 2016, MDPI journals use article numbers instead of page numbers. See further details here.
Related Articles
Comments
[Return to top]