Rehmannia glutinosa

Libosch Extracts Prevent Bone Loss and Architectural Deterioration and Enhance Osteoblastic Bone Formation by Regulating the IGF-1/PI3K/mTOR Pathway in Streptozotocin-Induced Diabetic Rats

1

College of Pharmaceutical Sciences, Zhejiang Chinese Medical University, Hangzhou 311402, China

2

College of Basic Medical Science, Zhejiang Chinese Medical University, Hangzhou 310053, China

3

School of Pharmacy, Second Military Medical University, Shanghai 200433, China

4

School of Pharmacy, Fujian University of Traditional Chinese Medicine, Fuzhou 350108, China

*

Authors to whom correspondence should be addressed.

Received: 21 June 2019 / Revised: 10 August 2019 / Accepted: 13 August 2019 / Published: 15 August 2019
Abstract
Rehmanniae Radix Praeparata (RR, named as Shudihuang in traditional Chinese medicine), the steamed roots of
Rehmannia glutinosa
Libosch (Scrophulariaceae), has been demonstrated to have anti-diabetic and anti-osteoporotic activities. This study aimed to explore the protective effect and underlying mechanism of RR on diabetes-induced bone loss. It was found that RR regulated the alkaline phosphatase activity and osteocalcin level, enhanced bone mineral density, and improved the bone microarchitecture in diabetic rats. The catalpol (CAT), acteoside (ACT), and echinacoside (ECH) from RR increased the proliferation and differentiation of osteoblastic MC3T3-E1 cells injured by high glucose and promoted the production of IGF-1 and expression of related proteins in BMP and IGF-1/PI3K/mammalian target of rapamycin complex 1 (mTOR) signaling pathways. The verifying tests of inhibitors of BMP pathway (noggin) and IGF-1/PI3K/mTOR pathway (picropodophyllin) and molecular docking of IGF-1R further indicated that CAT, ACT, and ECH extracted from RR enhanced bone formation by regulating IGF-1/PI3K/mTOR signaling pathways. These findings suggest that RR may prove to be a promising candidate drug for the prevention and treatment of diabetes-induced osteoporosis.
View Full-Text
►

▼

Figures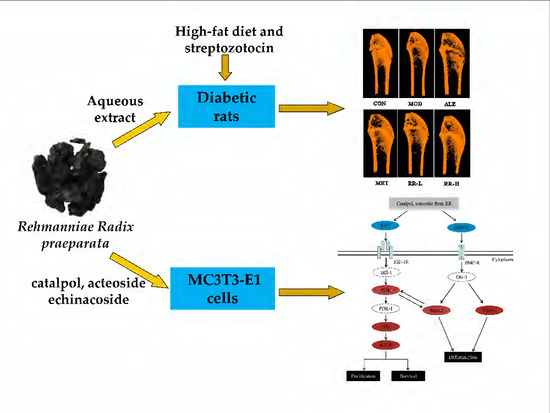 Graphical abstract
This is an open access article distributed under the
Creative Commons Attribution License
which permits unrestricted use, distribution, and reproduction in any medium, provided the original work is properly cited (CC BY 4.0).

Share & Cite This Article
MDPI and ACS Style
Gong, W.; Zhang, N.; Cheng, G.; Zhang, Q.; He, Y.; Shen, Y.; Zhang, Q.; Zhu, B.; Zhang, Q.; Qin, L. Rehmannia glutinosa Libosch Extracts Prevent Bone Loss and Architectural Deterioration and Enhance Osteoblastic Bone Formation by Regulating the IGF-1/PI3K/mTOR Pathway in Streptozotocin-Induced Diabetic Rats. Int. J. Mol. Sci. 2019, 20, 3964.
Note that from the first issue of 2016, MDPI journals use article numbers instead of page numbers. See further details here.
Related Articles
Comments
[Return to top]