Understanding the Mechanisms of Resistance in
EGFR

-Positive NSCLC: From Tissue to Liquid Biopsy to Guide Treatment Strategy

1

Unit of Clinical Pharmacology and Pharmacogenetics, Department of Clinical and Experimental Medicine, University of Pisa, 56126 Pisa, Italy

2

Division of Thoracic Oncology, IEO, European Institute of Oncology, IRCCS, 20141 Milan, Italy

3

General Pathology, Department of Translational Research & New Technologies in Surgery and Medicine, University of Pisa, 56126 Pisa, Italy

4

Unit of Molecular Genetics, Department of Laboratory Medicine, University Hospital, 56126 Pisa, Italy

5

Department of Internal Medicine, University of Pavia, 27100 Pavia, Italy

6

Division of Translational Oncology, I.R.C.C.S. Istituti Clinici Scientifici Maugeri, 27100 Pavia, Italy

7

Unit of Respiratory Medicine, Department of Critical Area and Surgical, Medical and Molecular Pathology, University Hospital, 56126 Pisa, Italy

*

Author to whom correspondence should be addressed.

Received: 29 June 2019 / Revised: 7 August 2019 / Accepted: 9 August 2019 / Published: 14 August 2019
Abstract
Liquid biopsy has emerged as an alternative source of nucleic acids for the management of Epidermal Growth Factor Receptor (
EGFR
)-mutant non-Small Cell Lung Cancer (NSCLC). The use of circulating cell-free DNA (cfDNA) has been recently introduced in clinical practice, resulting in the improvement of the identification of druggable
EGFR
mutations for the diagnosis and monitoring of response to targeted therapy.
EGFR
-dependent (T790M and C797S mutations) and independent (Mesenchymal Epithelial Transition [
MET
] gene amplification, Kirsten Rat Sarcoma [
KRAS
], Phosphatidyl-Inositol 4,5-bisphosphate 3-Kinase Catalytic subunit Alpha isoform [
PI3KCA
], and RAF murine sarcoma viral oncogene homolog B1 [
BRAF
] gene mutations) mechanisms of resistance to EGFR tyrosine kinase inhibitors (TKIs) have been evaluated in plasma samples from NSCLC patients using highly sensitive methods (i.e., digital droplet PCR, Next Generation Sequencing), allowing for the switch to other therapies. Therefore, liquid biopsy is a non-invasive method able to detect the molecular dynamic changes that occur under the pressure of treatment, and to capture tumor heterogeneity more efficiently than is allowed by tissue biopsy. This review addresses how liquid biopsy may be used to guide the choice of treatment strategy in
EGFR
-mutant NSCLC.
View Full-Text
►

▼

Figures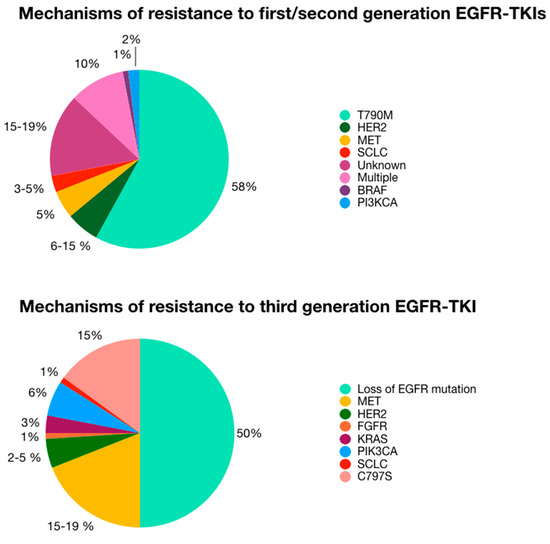 Figure 1
This is an open access article distributed under the
Creative Commons Attribution License
which permits unrestricted use, distribution, and reproduction in any medium, provided the original work is properly cited (CC BY 4.0).

Share & Cite This Article
MDPI and ACS Style
Del Re, M.; Crucitta, S.; Gianfilippo, G.; Passaro, A.; Petrini, I.; Restante, G.; Michelucci, A.; Fogli, S.; de Marinis, F.; Porta, C.; Chella, A.; Danesi, R. Understanding the Mechanisms of Resistance in EGFR-Positive NSCLC: From Tissue to Liquid Biopsy to Guide Treatment Strategy. Int. J. Mol. Sci. 2019, 20, 3951.
Note that from the first issue of 2016, MDPI journals use article numbers instead of page numbers. See further details here.
Related Articles
Comments
[Return to top]