T and B Cells in Periodontal Disease: New Functions in A Complex Scenario
1
School of Dentistry and Oral Health, Griffith University, Queensland 4222, Australia
2
Menzies Health Institute Queensland, Griffith University, Gold Coast, QLD 4222, Australia
3
Division of Oral Diseases, Department of Dental Medicine, Karolinska Institutet, 141 04 Stockholm, Sweden
*
Author to whom correspondence should be addressed.
Received: 29 July 2019 / Revised: 9 August 2019 / Accepted: 13 August 2019 / Published: 14 August 2019
Abstract
Periodontal disease is characterised by a dense inflammatory infiltrate in the connective tissue. When the resolution is not achieved, the activation of T and B cells is crucial in controlling chronic inflammation through constitutive cytokine secretion and modulation of osteoclastogenesis. The present narrative review aims to overview the recent findings of the importance of T and B cell subsets, as well as their cytokine expression, in the pathogenesis of the periodontal disease. T regulatory (Treg), CD8
+
T, and tissue-resident γδ T cells are important to the maintenance of gingival homeostasis. In inflamed gingiva, however, the secretion of IL-17 and secreted osteoclastogenic factor of activated T cells (SOFAT) by activated T cells is crucial to induce osteoclastogenesis via RANKL activation. Moreover, the capacity of mucosal-associated invariant T cells (MAIT cells) to produce cytokines, such as IFN-γ, TNF-α, and IL-17, might indicate a critical role of such cells in the disease pathogenesis. Regarding B cells, low levels of memory B cells in clinically healthy periodontium seem to be important to avoid bone loss due to the subclinical inflammation that occurs. On the other hand, they can exacerbate alveolar bone loss in a receptor activator of nuclear factor kappa-B ligand (RANKL)-dependent manner and affect the severity of periodontitis. In conclusion, several new functions have been discovered and added to the complex knowledge about T and B cells, such as possible new functions for Tregs, the role of SOFAT, and MAIT cells, as well as B cells activating RANKL. The activation of distinct T and B cell subtypes is decisive in defining whether the inflammatory lesion will stabilise as chronic gingivitis or will progress to a tissue destructive periodontitis.
View Full-Text
►

▼

Figures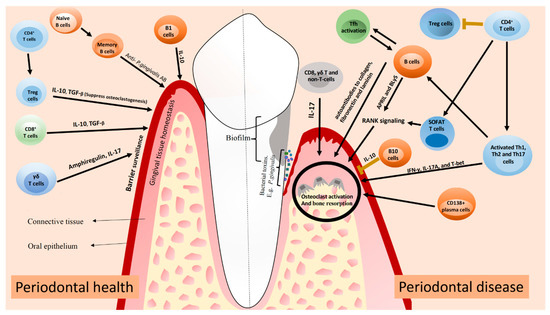 Figure 1
This is an open access article distributed under the
Creative Commons Attribution License
which permits unrestricted use, distribution, and reproduction in any medium, provided the original work is properly cited (CC BY 4.0).

Share & Cite This Article
MDPI and ACS Style
Figueredo, C.; Lira-Junior, R.; Love, R. T and B Cells in Periodontal Disease: New Functions in A Complex Scenario. Int. J. Mol. Sci. 2019, 20, 3949.
Note that from the first issue of 2016, MDPI journals use article numbers instead of page numbers. See further details here.
Related Articles
Comments
[Return to top]