Comprehensive Analysis of LncRNA Reveals the Temporal-Specific Module of Goat Skeletal Muscle Development
1
College of Animal Science and Technology, Anhui Agricultural University, Hefei 230036, China
2
School of Natural and Environmental Sciences, Newcastle University, Newcastle upon Tyne NE1 7RU, UK
3
Local Animal Genetic Resources Conservation and Biobreeding Laboratory of Anhui Province, Hefei 230031, China
4
Institute of Plant Protection and Agro-Products Safety, Anhui Academy of Agricultural Sciences, Hefei 230036, China
5
Key Laboratory of Farm Animal Genetic Resources and Germplasm Innovation of Ministry of Agriculture, Chinese Academy of Agricultural Sciences, Beijing 100193, China
*
Author to whom correspondence should be addressed.
†
These authors contributed equally to this work.
Received: 11 July 2019 / Revised: 5 August 2019 / Accepted: 12 August 2019 / Published: 14 August 2019
Abstract
A series of complex processes regulate muscle development, and lncRNAs play essential roles in the regulation of skeletal myogenesis. Using RNA sequencing, we profiled the lncRNA expression during goat (
Capra hircus
) skeletal muscle development, which included seven stages across fetal 45 (F45), 65 (F65), 90 (F90), 120 (F120), 135 (F135) days, born for 24 h (B1) and 90 (B90) days. A total of 15,079 lncRNAs were identified in the seven stages, and they were less conservative with other species (human, cow, and mouse). Among them, 547 were differentially expressed, and they divided the seven stages into three functional transition periods. Following weighted gene co-expression network analysis (WGCNA), five lncRNA modules specific for developmental stages were defined as three types: 'Early modules', 'late modules', and 'individual-stage-specific modules'. The enrichment content showed that 'early modules' were related to muscle structure formation, 'late modules' participated in the 'p53 signaling pathway' and other pathways, the F90-highly related module was involved in the 'MAPK signaling pathway', and other pathways. Furthermore, we identified hub-lncRNA in three types of modules, and LNC_011371, LNC_ 007561, and LNC_001728 may play important roles in goat skeletal muscle. These data will facilitate further exploration of skeletal muscle lncRNA functions at different developmental stages in goats.
View Full-Text
►

▼

Figures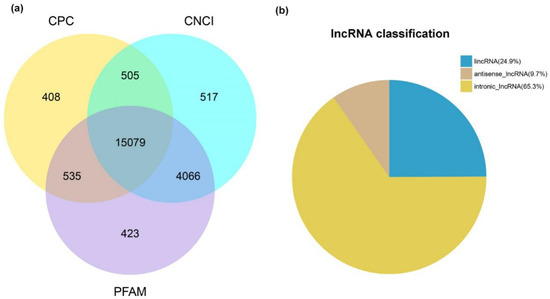 Figure 1
This is an open access article distributed under the
Creative Commons Attribution License
which permits unrestricted use, distribution, and reproduction in any medium, provided the original work is properly cited (CC BY 4.0).

Share & Cite This Article
MDPI and ACS Style
Ling, Y.; Zheng, Q.; Sui, M.; Zhu, L.; Xu, L.; Zhang, Y.; Liu, Y.; Fang, F.; Chu, M.; Ma, Y.; Zhang, X. Comprehensive Analysis of LncRNA Reveals the Temporal-Specific Module of Goat Skeletal Muscle Development. Int. J. Mol. Sci. 2019, 20, 3950.
Note that from the first issue of 2016, MDPI journals use article numbers instead of page numbers. See further details here.
Related Articles
Comments
[Return to top]