The Immune Landscape of Thyroid Cancer in the Context of Immune Checkpoint Inhibition
1
Department of Translational Medical Sciences (DISMET), University of Naples Federico II, 80131 Naples, Italy
2
Center for Basic and Clinical Immunology Research (CISI), University of Naples Federico II, School of Medicine, 80131 Naples, Italy
3
WAO Center of Excellence, 80131 Naples, Italy
4
Department of Public Health, University of Naples Federico II, 80131 Naples, Italy
5
Department of Clinical and Experimental Medicine, University of Pisa, School of Medicine, 56126 Pisa, Italy
*
Author to whom correspondence should be addressed.
†
These authors contributed equally to this work.
Received: 11 June 2019 / Revised: 1 August 2019 / Accepted: 8 August 2019 / Published: 13 August 2019
Abstract
Immune cells play critical roles in tumor prevention as well as initiation and progression. However, immune-resistant cancer cells can evade the immune system and proceed to form tumors. The normal microenvironment (immune cells, fibroblasts, blood and lymphatic vessels, and interstitial extracellular matrix (ECM)) maintains tissue homeostasis and prevents tumor initiation. Inflammatory mediators, reactive oxygen species, cytokines, and chemokines from an altered microenvironment promote tumor growth. During the last decade, thyroid cancer, the most frequent cancer of the endocrine system, has emerged as the fifth most incident cancer in the United States (USA), and its incidence is steadily growing. Inflammation has long been associated with thyroid cancer, raising critical questions about the role of immune cells in its pathogenesis. A plethora of immune cells and their mediators are present in the thyroid cancer ecosystem. Monoclonal antibodies (mAbs) targeting immune checkpoints, such as mAbs anti-cytotoxic T lymphocyte antigen 4 (anti-CTLA-4) and anti-programmed cell death protein-1/programmed cell death ligand-1 (anti-PD-1/PD-L1), have revolutionized the treatment of many malignancies, but they induce thyroid dysfunction in up to 10% of patients, presumably by enhancing autoimmunity. Combination strategies involving immune checkpoint inhibitors (ICIs) with tyrosine kinase (TK) or serine/threonine protein kinase B-raf (BRAF) inhibitors are showing considerable promise in the treatment of advanced thyroid cancer. This review illustrates how different immune cells contribute to thyroid cancer development and the rationale for the antitumor effects of ICIs in combination with BRAF/TK inhibitors.
View Full-Text
►

▼

Figures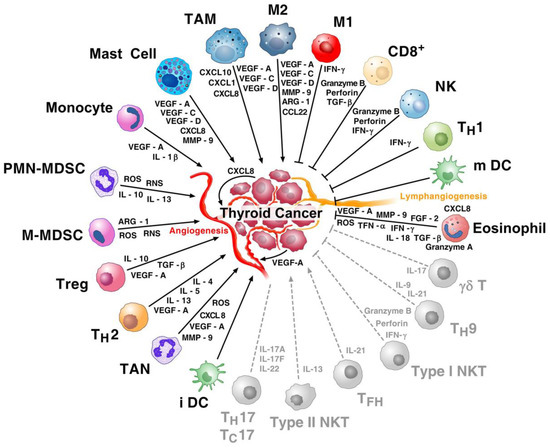 Figure 1
This is an open access article distributed under the
Creative Commons Attribution License
which permits unrestricted use, distribution, and reproduction in any medium, provided the original work is properly cited (CC BY 4.0).

Share & Cite This Article
MDPI and ACS Style
Varricchi, G.; Loffredo, S.; Marone, G.; Modestino, L.; Fallahi, P.; Ferrari, S.M.; de Paulis, A.; Antonelli, A.; Galdiero, M.R. The Immune Landscape of Thyroid Cancer in the Context of Immune Checkpoint Inhibition. Int. J. Mol. Sci. 2019, 20, 3934.
Note that from the first issue of 2016, MDPI journals use article numbers instead of page numbers. See further details here.
Related Articles
Comments
[Return to top]