Streptococcal Pyrogenic Exotoxin A-Stimulated Monocytes Mediate Regulatory T-Cell Accumulation through PD-L1 and Kynurenine
1
Medical Microbiology and Hygiene, Centre for Infectious Diseases, University Hospital Heidelberg, 69120 Heidelberg, Germany
2
DZIF German Center for Infection Research, 38124 Brunswick, Germany
*
Author to whom correspondence should be addressed.
Received: 28 April 2019 / Revised: 8 August 2019 / Accepted: 10 August 2019 / Published: 13 August 2019
Abstract
Bacterial superantigens (SAgs) are exotoxins that promote a fulminant activation of the immune system. The subsequent intense release of inflammatory cytokines often results in hypotension, shock, and organ failure with high mortality rates. In the current paradigm, the direct and simultaneous binding of SAgs with T-cell receptor (TCR)-bearing Vβ regions and conserved structures on major histocompatibility complex class II (MHC class II) on antigen-presenting cells (APCs) induces the activation of both cell types. However, by crosslinking MHC class II molecules, APCs can be activated by SAgs independently of T lymphocytes. Recently, we showed that streptococcal pyrogenic exotoxin A (SPEA) of
Streptococcus pyogenes
stimulates an immunogenic APC phenotype with upregulated costimulatory molecules and inflammatory cytokines. Additionally, we revealed that SPEA triggers immunosuppressive programs in monocytes that facilitate the accumulation of regulatory T cells (Tregs) in in vitro monocyte/CD4
+
T-cell cocultures. Immunosuppressive factors include anti-inflammatory interleukin 10 (IL-10), co-inhibitory surface molecule programmed cell death 1 ligand 1 (PD-L1), and the inhibitory indoleamine 2,3-dioxygenase (IDO)/kynurenine effector system. In the present study, we investigated the underlying mechanism of SPEA-stimulated monocyte-mediated accumulation of Tregs. Blood-derived monocytes from healthy donors were stimulated with SPEA for 48 h (SPEA-monocytes). For the evaluation of SPEA-monocyte-mediated modulation of CD4
+
T lymphocytes, SPEA was removed from the culture through extensive washing of cells before adding allogeneic CD3/CD28-activated T cells. Results: In coculture with allogeneic CD4
+
T cells, SPEA-monocytes mediate apoptosis of CD4
+
Foxp3
−
lymphocytes and accumulation of CD4
+
Foxp3
+
Tregs. PD-L1 and kynurenine are critically involved in the mediated cell death because blocking both factors diminished apoptosis and decreased the proportion of the CD25
+
/Foxp3
+
Treg subpopulation significantly. Upregulation of PD-L1 and kynurenine as well as SPEA-monocyte-mediated effects on T cells depend on inflammatory IL-1β. Our study shows that monocytes activated by SPEA mediate apoptosis of CD4
+
Foxp3
−
T effector cells through PD-L1 and kynurenine. CD4
+
Foxp3
+
T cells are resistant to apoptosis and accumulate in SPEA-monocyte/CD4
+
T-cell coculture.
View Full-Text
►

▼

Figures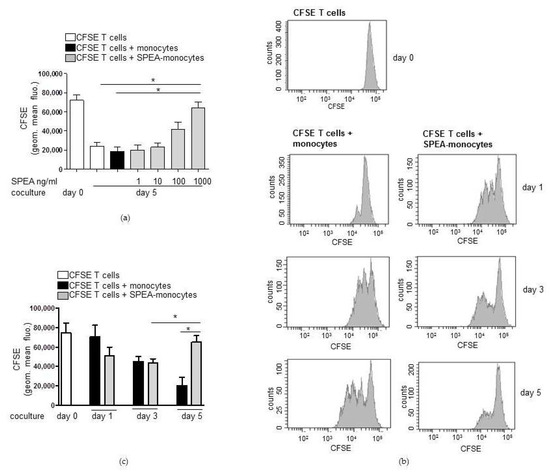 Figure 1
This is an open access article distributed under the
Creative Commons Attribution License
which permits unrestricted use, distribution, and reproduction in any medium, provided the original work is properly cited (CC BY 4.0).

Share & Cite This Article
MDPI and ACS Style
Giesbrecht, K.; Förmer, S.; Sähr, A.; Heeg, K.; Hildebrand, D. Streptococcal Pyrogenic Exotoxin A-Stimulated Monocytes Mediate Regulatory T-Cell Accumulation through PD-L1 and Kynurenine. Int. J. Mol. Sci. 2019, 20, 3933.
Note that from the first issue of 2016, MDPI journals use article numbers instead of page numbers. See further details here.
Related Articles
Comments
[Return to top]