Open Access This article is
freely available
re-usable
Review
HDL Cholesterol as a Marker of Disease Severity and Prognosis in Patients with Pulmonary Arterial Hypertension
Department of Cardiac and Vascular Diseases, Jagiellonian University Medical College, John Paul II Hospital, 31-202 Krakow, Poland
*
Author to whom correspondence should be addressed.
Received: 27 June 2019 / Accepted: 16 July 2019 / Published: 18 July 2019
Abstract
:
The impact of high-density lipoprotein (HDL) cholesterol on the development of atherosclerosis and diseases of systemic circulation has been well documented both in experimental and registry studies. Recent discoveries in pulmonary arterial hypertension (PAH) revealed a significant impact of HDL on pulmonary artery vasoreactivity and patients' prognosis. The vasoprotective activity of HDL primarily involves vascular endothelium that also plays a central role in pulmonary arterial hypertension (PAH) pathobiology. However, the exact mechanism in which this lipoprotein fraction exerts its effect in pulmonary circulation is still under investigation. This paper reviews potential vasoprotective mechanisms of HDL in pulmonary circulation and presents current clinical reports on the role of HDL in PAH patients.
Keywords:
lipoprotein metabolism; inflammation; endothelium; microRNA
Funding
This study was funded by Narodowe Centrum Nauki (grant no 2017/26/E/NZ5/01223).
Conflicts of Interest
The authors declare no conflict of interest.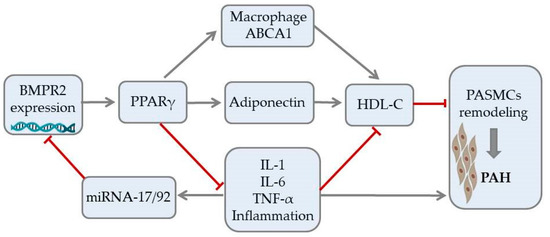 Figure 1. Potential signaling pathway between expression of bone morphogenetic protein receptor type II, HDL cholesterol, and vascular remodeling in pulmonary arterial hypertension. Arrows represent stimulation, T-bars represent inhibitory effect. ABCA1—ATP-binding cassette transporter 1, BMPR2—bone morphogenetic protein receptor type II, IL—interleukin, miRNA—microRNA, PAH—pulmonary arterial hypertension, PASMCs—pulmonary artery smooth muscle cells, PPAR-γ—peroxisome proliferator-activated receptor gamma, TNFα—tumor necrosis factor alpha.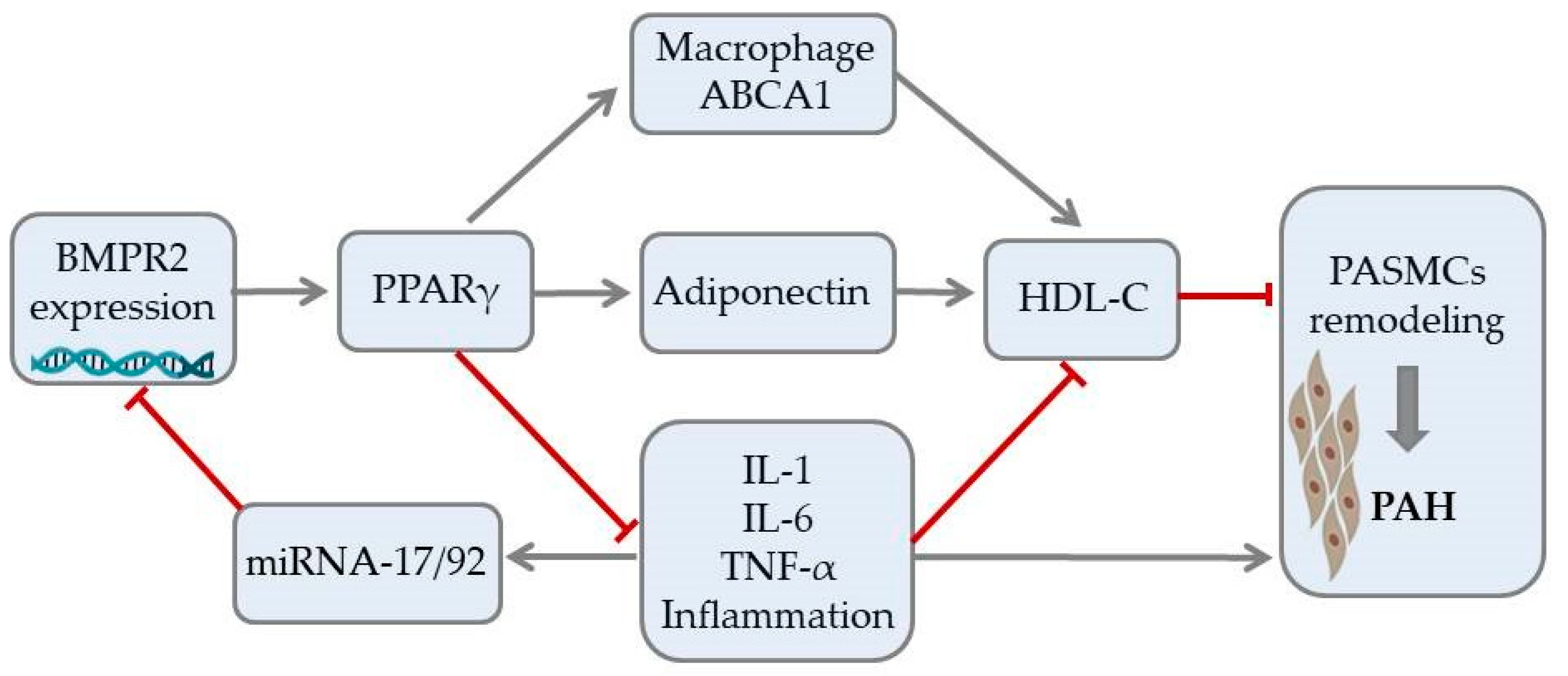 Type of Pulmonary Hypertension
Pathogenesis
Hemodynamic Characteristics
Specific Drug Therapy
Pulmonary arterial hypertension

Idiopathic

Heritable

Drugs and toxins induced

Associated with

Connective tissue disease

HIV infection

Portal hypertension

Congenital heart disease

Schistosomiasis

Pulmonary veno-occlusive disease and/or pulmonary capillary haemangiomatosis

Persistent pulmonary hypertension of the newborn

Usually multifactorial including alterations in:

Genetics

Inflammation

Immunity

Cell metabolism

Hemodynamics

PAPm ≥ 25 mmHg and
PAWP ≤ 15 mmHg and
PVR > 3 WU
Calcium channel blockers
Endothelin receptor antagonists
Phosphodiesterase type 5 inhibitors
Guanylate cyclase stimulators
Prostacyclin analogues
Prostacyclin receptor agonists
Pulmonary hypertension due to left heart disease
Passive backward transmission of filling pressures from the left heart
PAPm ≥ 25 mmHg and
PAWP > 15 mmHg
Global management of the underlying condition of the left heart
Pulmonary hypertension due to lung diseases and/or hypoxia
Alveolar hypoventilation, vascular remodeling,
parenchymal destruction, and fibrosis
PAPm ≥ 25 mmHg
Treatment of the underlying lung disease, long-term oxygen therapy in hypoxemic patients
Chronic thromboembolic pulmonary hypertension
Obstructive pulmonary artery remodeling as a consequence of vessel thromboembolism
PAPm ≥ 25 mmHg and
PAWP ≤ 15 mmHg
Pulmonary endarterectomy, balloon pulmonary angioplasty, targeted medical therapy
Pulmonary hypertension with unclear and/or multifactorial mechanisms
Mechanisms are multifactorial and usually poorly understood
PAPm ≥ 25 mmHg
Treatment is tailored for underlying diagnosis; treatment of pulmonary hypertension is secondary
PAPm—mean pulmonary artery pressure, PAWP—pulmonary artery wedge pressure, PVR—pulmonary vascular resistance, WU—Wood unit.
Biological Activity of HDL
Potential Mechanisms of Vascular Protection
Vasodilatory activity

Stimulation of NO production

Prostacyclin release

Decreased production of reactive oxygen species

Anti-inflammatory properties

Downregulation of adhesion molecule

Inhibition of monocyte activation

Downregulation of proinflammatory macrophages

Inhibition of NFkB and TNF-alpha signaling in endothelial cells

Antioxidative properties

Protection of LDL from oxidation

Inhibition of cellular superoxide production

Cytoprotection

Protection of endothelial cells from apoptosis

Modulation of mitochondrial electron transport

Reduced cellular superoxide production

Antiapoptotic signaling via ABCG1

Protection from extracellular matrix degradation by serpin peptidase inhibitors

Modulation of glucose metabolism

Stimulation of pancreatic insulin secretion

Decrease of insulin resistance

Modulation of cholesterol homeostasis

Modulation of adipocyte metabolism

Regulation of platelet activation

Inhibition of platelet aggregation

Anti-thrombotic effects on endothelium

Upregulation of NO production

Inhibition of calcium release

Regulation of gene expression

Transport of small non-coding microRNA
ABCG1—ATP-binding cassette sub-family G member 1, NFkB—nuclear factor kappa-light-chain-enhancer of activated B cells, NO—nitric oxide, TNF-α—tumor necrosis factor α.

© 2019 by the authors. Licensee MDPI, Basel, Switzerland. This article is an open access article distributed under the terms and conditions of the Creative Commons Attribution (CC BY) license (http://creativecommons.org/licenses/by/4.0/).