Unravelling the Role of Trophoblastic-Derived Extracellular Vesicles in Regulatory T Cell Differentiation
1
Department of Genetics, Cell- and Immunobiology, Semmelweis University, H-1085 Budapest, Hungary
2
MS Proteomics Research Group, Research Centre for Natural Sciences, Hungarian Academy of Sciences, H-1051 Budapest, Hungary
3
MTA-SE Immune-Proteogenomics Extracellular Vesicle Research Group, H-1085 Budapest, Hungary
4
HCEMM-SE Extracellular Vesicle Research Group, H-1085 Budapest, Hungary
*
Author to whom correspondence should be addressed.
Received: 21 June 2019 / Revised: 9 July 2019 / Accepted: 11 July 2019 / Published: 14 July 2019
Abstract
Regulatory T cells (T
reg
) are mandatory elements in the maintenance of human pregnancy, but their de novo differentiation has not been completely exposed. HSPE1 chaperone expressing trophoblast cells may have a role in it. Trophoblast-derived extracellular vesicles (EVs), either at the feto–maternal interface or in circulation, target CD4
+
T cells. We hypothesized that HSPE1-associated trophoblastic cell line (BeWo)-derived EVs are active mediators of T
reg
cell differentiation. We proved at first that recombinant HSPE1 promote human T
reg
cell differentiation in vitro. Developing a CRISPR-Cas9 based
HSPE1
knockout BeWo cell line we could also demonstrate, that EV-associated HSPE1 induces T
reg
development. Next-generation sequencing of miRNA cargo of BeWo-EVs characterized the regulatory processes of T
reg
polarization. By the use of single-cell transcriptomics analysis, seven T
reg
cell subtypes were distinguished and we demonstrated for the first time that the expression level of
HSPE1
was T
reg
subtype dependent, and
CAPG
expression is characteristic to memory phenotype of T cells. Our data indicate that
HSPE1
and
CAPG
may be used as markers for identification of T
reg
subtypes. Our results suggest, that trophoblastic-derived iEVs-associated HSPE1 and miRNA cargo have an important role in T
reg
cell expansion in vitro and
HSPE1
is a useful marker of T
reg
subtype characterization.
View Full-Text
►

▼

Figures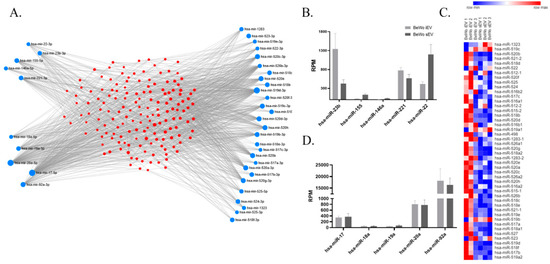 Figure 1
This is an open access article distributed under the
Creative Commons Attribution License
which permits unrestricted use, distribution, and reproduction in any medium, provided the original work is properly cited (CC BY 4.0).

Share & Cite This Article
MDPI and ACS Style
Kovács, Á.F.; Fekete, N.; Turiák, L.; Ács, A.; Kőhidai, L.; Buzás, E.I.; Pállinger, É. Unravelling the Role of Trophoblastic-Derived Extracellular Vesicles in Regulatory T Cell Differentiation. Int. J. Mol. Sci. 2019, 20, 3457.
Note that from the first issue of 2016, MDPI journals use article numbers instead of page numbers. See further details here.
Related Articles
Comments
[Return to top]