Open Access This article is
freely available
re-usable
Review
The Dualistic Effect of COX-2-Mediated Signaling in Obesity and Insulin Resistance
1
Institute of Physiology, National Defense Medical Center, Taipei 114, Taiwan
2
Department of Pediatrics, Taoyuan Armed Forces General Hospital, Taoyuan 325, Taiwan
3
Department of Pediatrics, Tri-Service General Hospital, Taipei 114, Taiwan
4
Department of Medical Research, Tri-Service General Hospital, Taipei 114, Taiwan
†
These authors contributed equally to the work.

Received: 30 April 2019 / Accepted: 25 June 2019 / Published: 26 June 2019
Abstract
:
Obesity and insulin resistance are two major risk factors for the development of metabolic syndrome, type 2 diabetes and associated cardiovascular diseases (CVDs). Cyclooxygenase (COX), a rate-limiting enzyme responsible for the biosynthesis of prostaglandins (PGs), exists in two isoforms: COX-1, the constitutive form, and COX-2, mainly the inducible form. COX-2 is the key enzyme in eicosanoid metabolism that converts eicosanoids into a number of PGs, including PGD
2
, PGE
2
, PGF
2α
, and prostacyclin (PGI
2
), all of which exert diverse hormone-like effects via autocrine or paracrine mechanisms. The
COX-2
gene and immunoreactive proteins have been documented to be highly expressed and elevated in adipose tissue (AT) under morbid obesity conditions. On the other hand, the environmental stress-induced expression and constitutive over-expression of COX-2 have been reported to play distinctive roles under different pathological and physiological conditions; i.e., over-expression of the
COX-2
gene in white AT (WAT) has been shown to induce de novo brown AT (BAT) recruitment in WAT and then facilitate systemic energy expenditure to protect mice against high-fat diet-induced obesity. Hepatic COX-2 expression was found to protect against diet-induced steatosis, obesity, and insulin resistance. However, COX-2 activation in the epidydimal AT is strongly correlated with the development of AT inflammation, insulin resistance, and fatty liver in high-fat-diet-induced obese rats. This review will provide updated information regarding the role of COX-2-derived signals in the regulation of energy metabolism and the pathogenesis of obesity and MS.
Keywords:
cyclooxygenase II; prostaglandins; obesity; metabolic syndrome; energy metabolism
Funding
This study was supported by the Taoyuan Armed Forces General Hospital [grant number AFTYGH-10638] and the Taipei, Taichung, Kaohsiung Veterans General Hospital, Tri-Service General Hospital, Academia Sinica Joint Research Program (VGH, TSGH, AS Joint Research Program) [grant number VTA 105-T-4-1 and VTA 106-T-7-1].
Conflicts of Interest
The authors declared no conflicts of interests.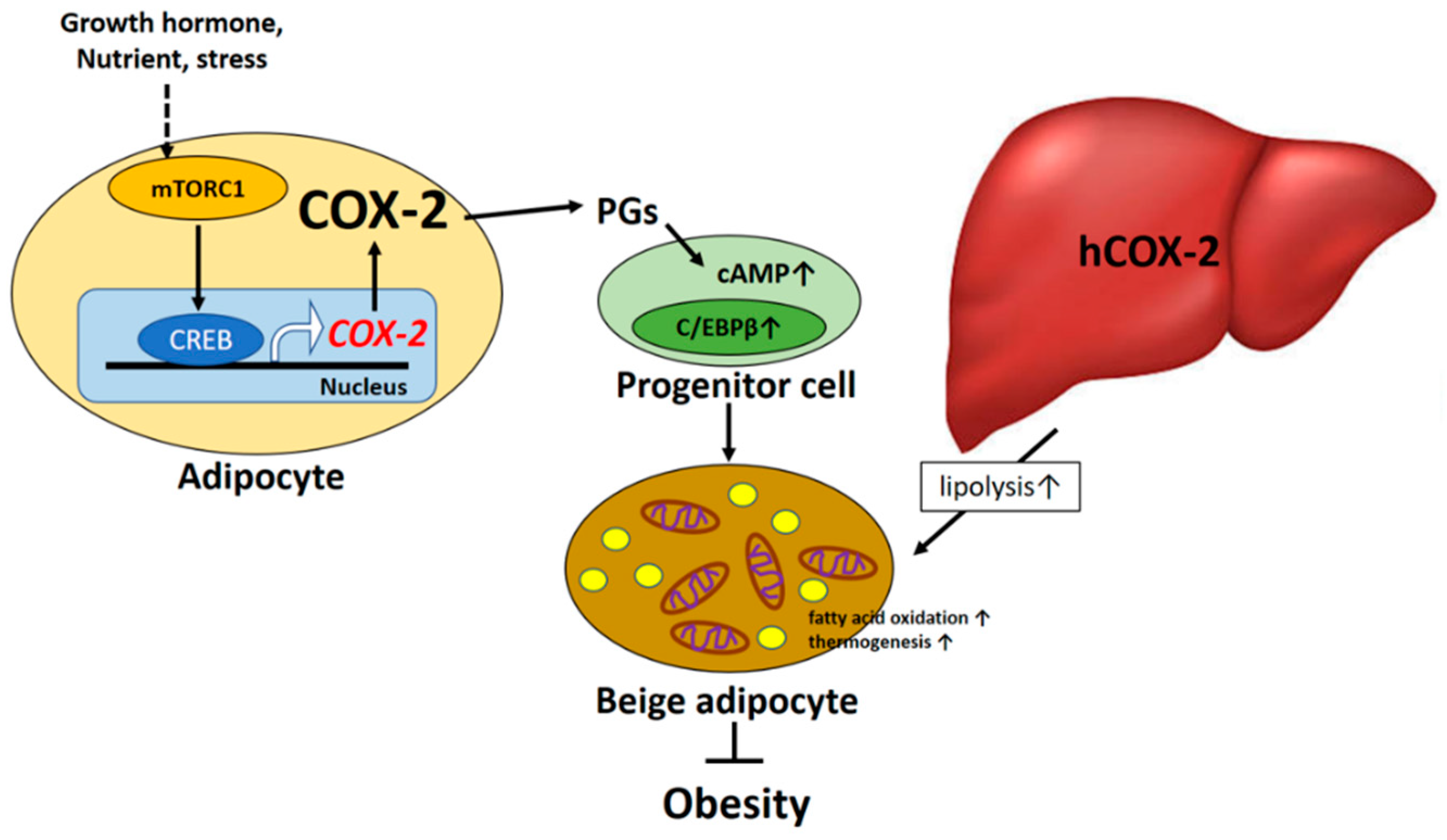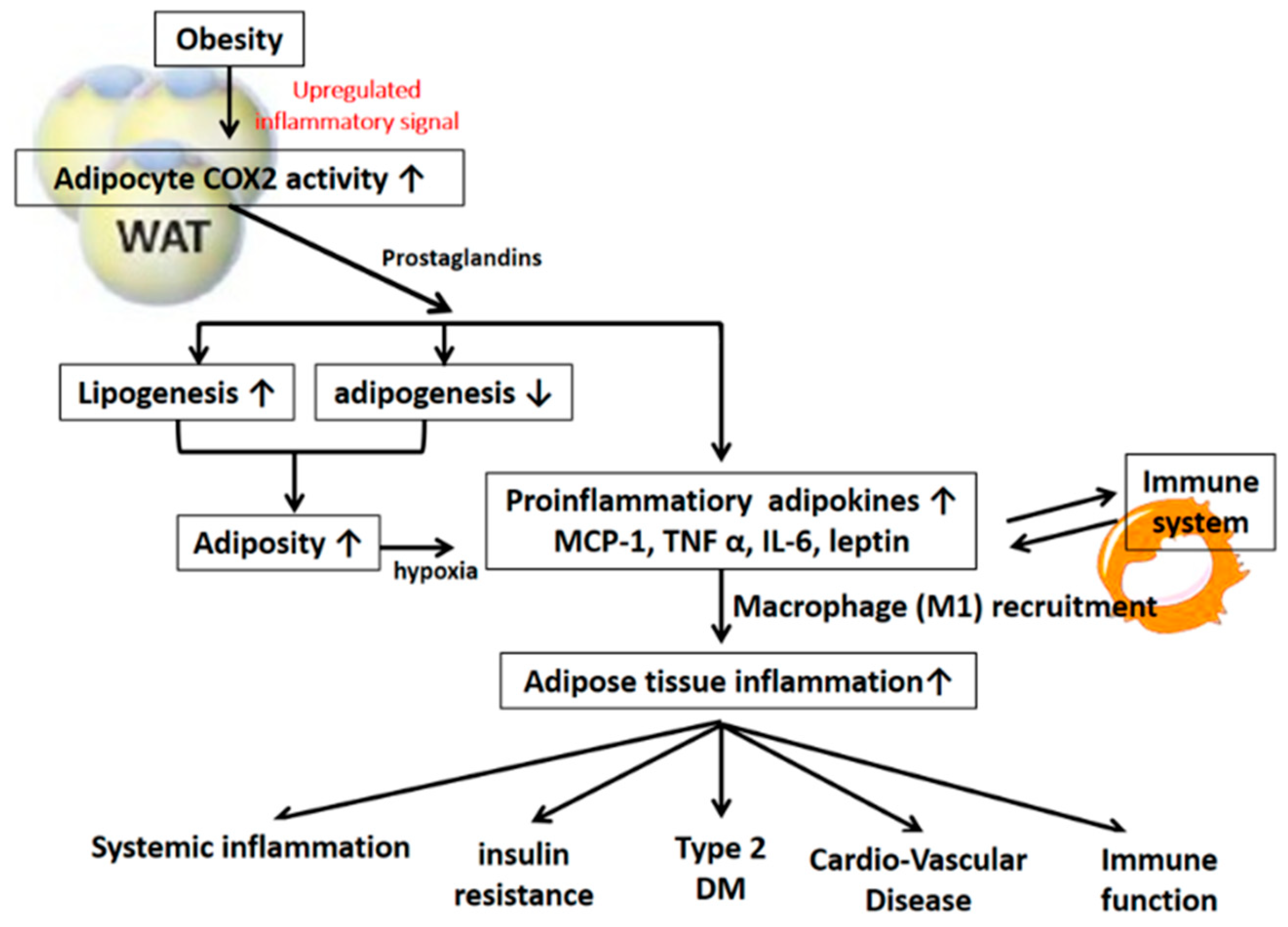 Target
Gene
Model
Effects
Reference
Energy metabolism
global

Cox-2

COX2 KO mice
Cold-induced expression of UCP1 in inguinal white adipocytes was repressed
[3]
(B6;129P2 Ptgs2 tm1Unc)
global

Cox-2

COX2 KO mice
BAT characteristics were diminishedin WAT of CL-treated COX-2–/– mice
[4]
(B6;129P2 Ptgs2 tm1Unc)
global

Cox-2

K5COX2 mice (line 675+/+)
induced de novo BAT recruitment in WAT, increased systemic energy expenditure, and protected mice against HFD–induced obesity.
[4]
(overexpressing the COX-2 gene under the control of the promoter for the keratin 5 gene)
global

Cox-2

COX2 KO mice
Deletion of COX-2 fails to suppress cold-induced browning and UCP-1 expression in AT
[10]
(COX-2 flox/flox mice; Cre-ER,tamoxifen-inducible form of Cre-recombinase)
adipose tissue

Cox-2

adipocyte-specific COX-2 KO mice
no alteration in metabolite excretion under basal conditions and augment their formation in response to cold
[10]
(COX-2 flox/flox mice; adiponectin-Cre)
Obesity and insulin resistance
global

AdPLA

AdPLA-null mice
increases lipolysis and prevents obesity induced by HFD feeding
[21]
(C57BL/ 6J)
global

Cox-2

COX-2−/− mice
Macrophage-dependent AT inflammation was reduced
[18]
(C57BL/6J × 129/Ola (C57/129))
global

mPGES-1

mPGES-1−/− (KO) mice
reduces diet-induced low-grade inflammation and adiposity
[31]
(DBA/11ac J)
global

EP3

EP3−/− mice
increased epididymal fat mass and adipocyte size and macrophage infiltration
[32]
(C57BL/6J)
liver

Cox-2

hepatocyte-specific COX-2 transgenic mice
lower grades of steatosis, inflammation and reduced recruitment and infiltration of hepatic macrophages
[43]
(B6D2/OlaHsd)
global

Cox-2/PGE2/EP3

HFD induced obese mice
increased obesity-associated AT inflammation and systemic insulin resistance
[16,25,26]
Target Gene or Protein
Method
Model
Effects
Reference
Energy metabolism
COX
COX inhibitor, indomethacin
Rb–/– MEFs
COX activity is required for induction of UCP-1
[3]
(embryo fibroblasts (MEFs) lacking the retinoblastioma (Rb) gene)
cPGI2
norepinephrine (NE) treatment
Differentiation of primary human mesenchymal cells
NE-induced cPGI2 shifts the differentiation of WAT mesenchymal progenitors toward a brown adipocyte phenotype
[4,5]
cPGI2
norepinephrine (NE) treatment
beige/brite progenitor cells
cPGI2 induces a broad thermogenic gene expression program in adipocyte progenitors
[5]
(Lin−CD29+CD34+Sca-1+ cells)
cPGI2
cPGI2 treatment
hMADS
activates white to brite adipocyte conversion
[6]
(human multipotent adipose-derived stem cells)
mPGES-1
mPGES-1 siRNA
3T3-L1 adipocytes
mPGES-1 as a key regulator of white-to-brown adipogenesis
[7]
PGE2
PGE2 treatment
adipocytes isolated from human omental WAT
PGE2 increased the expression of UCP1 and PRDM16 in adipocytes
[8]
Obesity and insulin resistance

Cox-2

COX-2 shRNA and COX-2 inhibitor, NS398
3T3-L1 adipocytes
The suppressive effect of COX-2 inhibition was noted in the release of pro-inflammatory adipokines into the medium from the hypertrophy adipocytes
[16]

Cox-2

lentivirus derived shCOX-2 or COX-2 cDNA
SGBS adipocytes
adipocyte COX-2 activation up-regulates MIF production during thedevelopment of hypertrophy and hypoxia
[38]

Cox-2

COX-2 inhibitor,sc-58236
3T3-L1 adipocytes
inhibition of the COX-2 enzyme impairs adipocyte differentiation
[23]

Cox-2

COX-2 inhibitor, NS398
mouse embryonic fibroblasts (MEF)
COX-2-derived PGE2 suppresses adipocyte differentiation in MEF cells
[24]
EP3
mouse embryonic fibroblasts (MEF) isolated EP3–/– mice WAT
activation of EP3 receptor suppressed adipogenesis and lipolysis
[1]
| | |
| --- | --- |
| 1 | The cellular and molecular mechanisms and the potential interplay of COX-2 derived PGs in control of energy metabolism and the development of obesity and insulin resistance. |
| 2 | The detailed mechanisms regarding the role of PGs and their receptors in the development of these COX-2 mediated phenomenon. |
| 3 | The therapeutive strategy to develop COX-2 targeting compounds which could boost energy expenditure without trigger COX-2-mediated inflammation |
| 4 | To dissect the role of COX-2 dependent and independent adaptive thermogenesis and their impact on energy homeostasis |
| 5 | Clinical application of selective COX-2 activator in prevention and treatment of NAFLD |

© 2019 by the authors. Licensee MDPI, Basel, Switzerland. This article is an open access article distributed under the terms and conditions of the Creative Commons Attribution (CC BY) license (http://creativecommons.org/licenses/by/4.0/).