Molecular Inverse Comorbidity between Alzheimer's Disease and Lung Cancer: New Insights from Matrix Factorization
1
Department of Physics and INFN, Universitá degli Studi di Torino, via P. Giuria 1, 10125 Turin, Italy
2
Institut Curie, PSL Research University, 75005 Paris, France
3
INSERM U900, 75248 Paris, France
4
CBIO-Centre for Computational Biology, Mines ParisTech, PSL Research University, 75006 Paris, France
5
Aix Marseille Université, INSERM, MMG, CNRS, 13005 Marseille, France
6
Centre de Recherches en Cancérologie de Toulouse (CRCT), UMR1037 Inserm, ERL5294 CNRS, 2 Avenue Hubert Curien, 31037 Toulouse, France
7
Université de Toulouse, Université Toulouse III Paul Sabatier, 31062 Toulouse, France
8
Barcelona Supercomputing Center (BSC), 08034 Barcelona, Spain
9
ICREA, 08010 Barcelona, Spain
10
Computational Systems Biology Team, Institut de Biologie de l'Ecole Normale Supérieure, CNRS UMR8197, INSERM U1024, Ecole Normale Supérieure, Paris Sciences et Lettres Research University, 75005 Paris, France
*
Author to whom correspondence should be addressed.
Received: 20 May 2019 / Revised: 13 June 2019 / Accepted: 18 June 2019 / Published: 26 June 2019
Abstract
Matrix factorization (MF) is an established paradigm for large-scale biological data analysis with tremendous potential in computational biology. Here, we challenge MF in depicting the molecular bases of epidemiologically described disease–disease (DD) relationships. As a use case, we focus on the inverse comorbidity association between Alzheimer's disease (AD) and lung cancer (LC), described as a lower than expected probability of developing LC in AD patients. To this day, the molecular mechanisms underlying DD relationships remain poorly explained and their better characterization might offer unprecedented clinical opportunities. To this goal, we extend our previously designed MF-based framework for the molecular characterization of DD relationships. Considering AD–LC inverse comorbidity as a case study, we highlight multiple molecular mechanisms, among which we confirm the involvement of processes related to the immune system and mitochondrial metabolism. We then distinguish mechanisms specific to LC from those shared with other cancers through a pan-cancer analysis. Additionally, new candidate molecular players, such as estrogen receptor (ER), cadherin 1 (CDH1) and histone deacetylase (HDAC), are pinpointed as factors that might underlie the inverse relationship, opening the way to new investigations. Finally, some lung cancer subtype-specific factors are also detected, also suggesting the existence of heterogeneity across patients in the context of inverse comorbidity.
View Full-Text
►

▼

Figures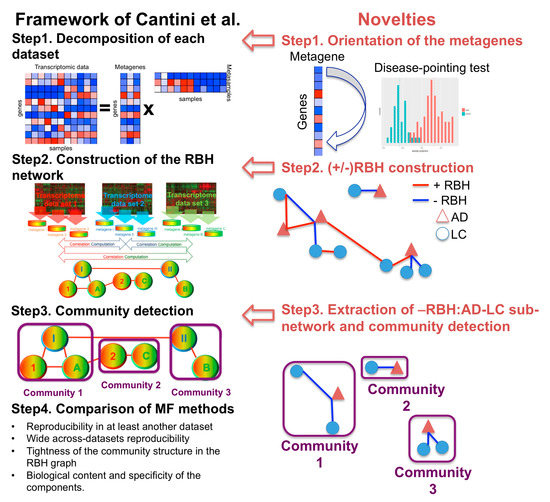 Figure 1
This is an open access article distributed under the
Creative Commons Attribution License
which permits unrestricted use, distribution, and reproduction in any medium, provided the original work is properly cited (CC BY 4.0).

Share & Cite This Article
MDPI and ACS Style
Greco, A.; Sanchez Valle, J.; Pancaldi, V.; Baudot, A.; Barillot, E.; Caselle, M.; Valencia, A.; Zinovyev, A.; Cantini, L. Molecular Inverse Comorbidity between Alzheimer's Disease and Lung Cancer: New Insights from Matrix Factorization. Int. J. Mol. Sci. 2019, 20, 3114.
Note that from the first issue of 2016, MDPI journals use article numbers instead of page numbers. See further details here.
Related Articles
Comments
[Return to top]