Open Access This article is
freely available
re-usable
Review
The Role of Telomerase and Telomeres in Interstitial Lung Diseases: From Molecules to Clinical Implications
1
Pulmonary Institute, Shaare Zedek Medical Center, P.O. Box 3235, 12 Shmuel Bait St., 9103102 Jerusalem, Israel
2
Lung Cellular and Molecular Biology Laboratory, Institute of Pulmonary Medicine, Hadassah–Hebrew University Medical Center, P.O. Box 12000, Qiryat Hadassah, 91120 Jerusalem, Israel
*
Author to whom correspondence should be addressed.
Received: 23 May 2019 / Accepted: 15 June 2019 / Published: 19 June 2019
Abstract
:
Telomeres are distal chromosome regions associated with specific protein complexes that protect the chromosome against degradation and aberrations. Telomere maintenance capacity is an essential indication of healthy cell populations, and telomere damage is observed in processes such as malignant transformation, apoptosis, or cell senescence. At a cellular level, telomere damage may result from genotoxic stress, decreased activity of telomerase enzyme complex, dysfunction of shelterin proteins, or changes in expression of telomere-associated RNA such as TERRA. Clinical evidence suggests that mutation of telomerase genes (
Tert/Terc
) are associated with increased risk of congenital as well as age-related diseases (e.g., pneumonitis, idiopathic pulmonary fibrosis (IPF), dyskeratosis congenita, emphysema, nonspecific interstitial pneumonia, etc.). Thus, telomere length and maintenance can serve as an important prognostic factor as well as a potential target for new strategies of treatment for interstitial lung diseases (ILDs) and associated pulmonary pathologies.
Keywords:
telomere; interstitial lung disease; idiopathic pulmonary fibrosis; telomerase; shelterin; long noncoding RNA
2. Experimental ILDs
2.1. Telomerase-Deficiency and Spontaneous Development of Experimental ILD
The holoenzyme of telomerase consists of a catalytic subunit (telomerase reverse transcriptase (Tert)), regulatory subunits and an RNA cofactor (telomerase RNA component (Terc)) [
16
]. Telomerase function is critical to the maintenance of telomeres.
The role of telomerase activity and the significance of telomere length to the ILD susceptibility in experimental models remains a contested subject. Degryse et al. found that neither Tert
−/−
nor
Terc
−/−
telomerase mutations are associated with the development of spontaneous fibrosis [
17
]. Lee et al. showed that under normoxia, telomerase-null mice (Terc
−/−
) show a compromised alveolar epithelial type 2 integrity after being inbred for only four to six generations, but do not develop spontaneous fibrosis [
18
].
This could be explained by the fact that telomerase deficiency in itself does not immediately lead to a decrease in the length of telomeres [
19
]. Instead, the telomere shortening is gradual through the consecutive generations [
20
] or accumulation of DNA damage [
21
]. The number of DNA breaks increases in each consecutive generation of telomerase-deficient mice [
18
], as detected, for example, by activation of the SAPK/JNK stress response [
22
].
2.2. Stress-Induced ILDs in the Context of Deficient Telomerase Function
Telomere shortening due to telomerase deficiency (Tert
−/−
), combined with inbred generations (four to six), increases the susceptibility of mice to stress-induced pulmonary fibrosis. Povedano et al. showed that the doses of bleomycin required to initiate lung fibrosis were significantly lower than in wild-type animals [
23
]. Liu et al. further demonstrated increased susceptibility of these mice to pulmonary fibrosis following exposure to liposaccharide [
24
]. Alder et al. demonstrated pulmonary emphysema in Terc
−/−
mice following their exposure to smoke [
25
].
2.3. Experimental ILDs in the Context of Irregular Telomere Maintenance
2.4. ILD Development and Telomere Length in Fibroblast vs. Epithelial Cells
3. Telomere and Telomerase in Human ILDs
5. Perspectives for Further Studies
6. Summary and Unsolved Problems
Idiopathic pulmonary fibrosis is one of the most common manifestations of a telomere-related disease (ILDs). Genetic mutations related to telomere maintenance are one of many genetic defects found in patients with familial IPF. Mutations in telomerase genes and shortened telomeres influence the course of the disease and tend to have a worse prognosis and more extrapulmonary manifestations.
Taken together, it is important to identify IPF patients early, to introduce antifibrotic drugs and refer them to a lung transplant center. However, and unfortunately, there are neither good and available screening tools nor efficient treatments for these patients in clinical practice.
The evaluation of telomere length is not included in the diagnostic algorithm of IPF or other fibrotic diseases due to the limited evidence about the utility of this test. Furthermore, telomere length testing is only available through a minority of expert centers for interstitial lung disease. However, identification the clinical signs that increase the probability of telomere shortening is possible and could help in diagnostic and treatment decisions. Many questions remain open regarding screening and treatment, such as: Who should be screened, and what tests should be performed in suspected genetically determined IPF (e.g., genetic analysis of telomerase-related genes, telomere length measurement or both)? What is the best treatment for IPF patients? Could Nintedanib be more efficient that pirfenidone, giving its anti-cancer role? Should danazol be added to anti-fibrotic therapy or as supplementary therapy after lung transplantation in these patients?
In summary, further research is needed in order to better understand how to manage IPF patients before and after lung transplantation, and to try to tailor personalized medicine.
Author Contributions
Writing–original draft, N.A. and D.P. Writing–review & editing, S.B.W.-D.
Funding
This research received no external funding.
Conflicts of Interest
The authors declare no conflict of interest.
Abbreviations
| | |
| --- | --- |
| ILD | Interstitial lung disease |
| IPF | Idiopathic pulmonary fibrosis |
| UIP | Usual interstitial pneumonia |
| FPF | Familial pulmonary fibrosis |
| lncRNA | Long non-coding RNA |
| NSIP | Nonspecific intestinal pneumonitis |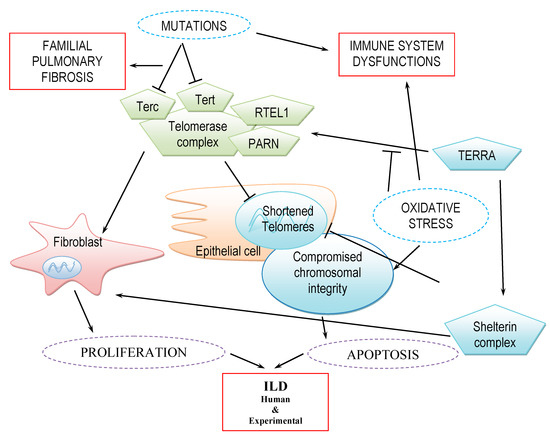 Figure 1. Principal factors involved in the regulation of telomere maintenance in the fibrotic lung. External or internal factors (such as mutations and oxidative stress, indicated by dashed blue ovals) may positively (pointed arrow) or negatively (block arrow) affect the telomere maintenance machinery through telomerase complex (green pentagon) or TERRA and shelterin complexes (blue pentagons), leading to structural and functional damage of telomeric and chromosomal DNA (solid blue ovals). The results of these disruptions depend on the affected cell type and vary from apoptosis in epithelial cells to cellular proliferation in fibroblasts (dashed violet ovals), thus causing imbalances in cell populations of the organ in question. In lungs, in particular, this may produce a proliferation of fibrotic tissue that manifests itself as an ILD, such as IPF or familial pulmonary fibrosis (red squares).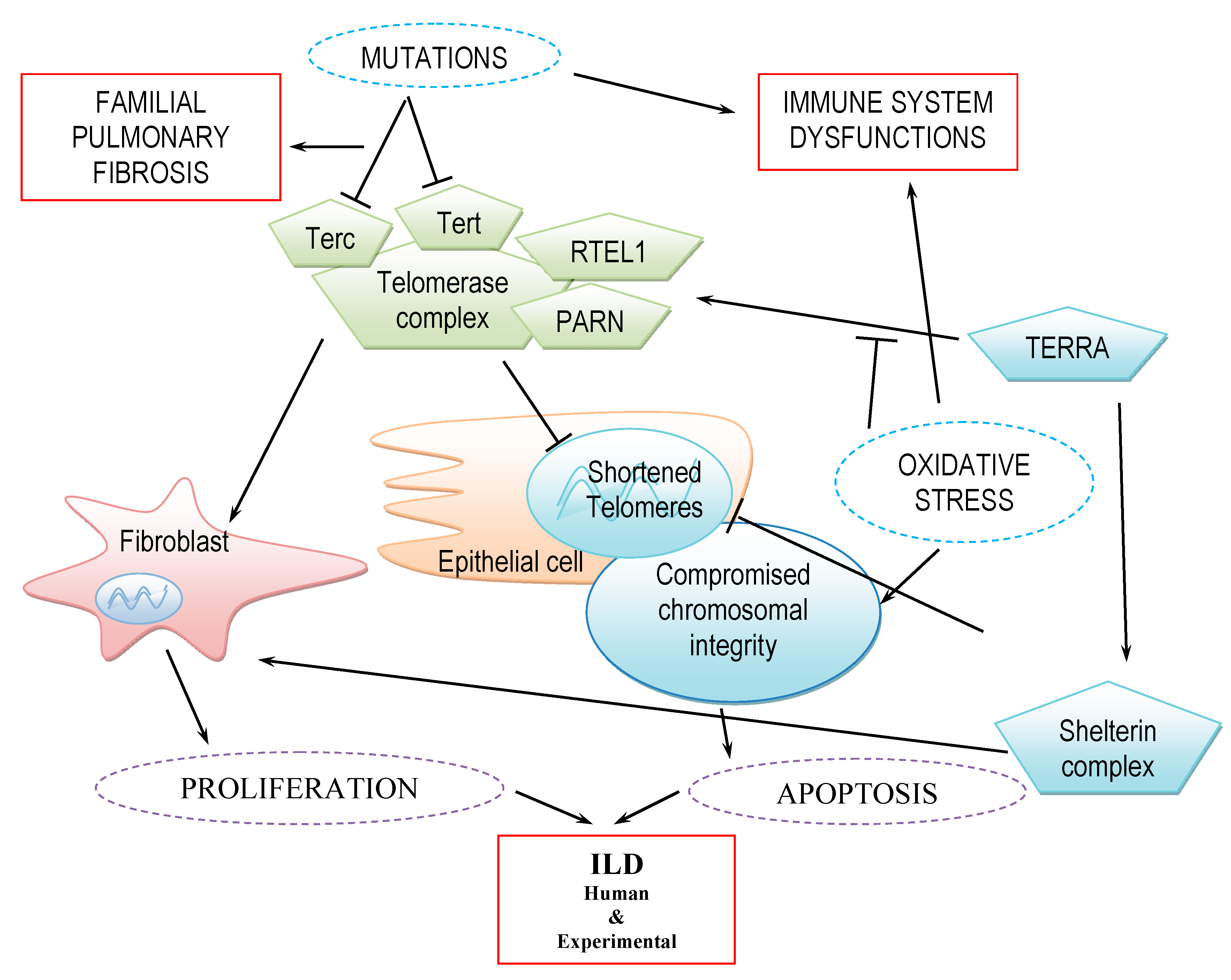 | Telomere-Related Mutation | Interstitial Lung Disease 1 | References |
| --- | --- | --- |
| Tert | IPF; NSIP; AIP; COP; SR-ILD; HP; PPFE | [46,48,58,59] |
| Tert | IPF; NSIP; PPFE; HP | [46,48,59] |
| PARN | IPF; NSIP; HP | [43,59] |
| TINIF2 | IPF | [60] |
| NAF1 | IPF | [61] |
| DKC1 | IPF; NSIP | [59] |
| RTEL1 | IPF; NSIP; PPEF; HP | [43,48] |
1 IPF: idiopathic pulmonary fibrosis; NSIP: nonspecific intestinal pneumonitis, AIP: acute intestinal pneumonia; COP: cryptogenic organizing pneumonia; SR-ILD: smoking related interstitial lung disease; HP: hypersensitivity pneumonitis; PPFE: pleuroparenchymal fibroelastosis.

© 2019 by the authors. Licensee MDPI, Basel, Switzerland. This article is an open access article distributed under the terms and conditions of the Creative Commons Attribution (CC BY) license (http://creativecommons.org/licenses/by/4.0/).