Open Access This article is
freely available
re-usable
Article
The High Mobility Group A1 (HMGA1) Chromatin Architectural Factor Modulates Nuclear Stiffness in Breast Cancer Cells
1
Department of Life Sciences, University of Trieste, 34127 Trieste, Italy
2
Nano Innovation Laboratory, Elettra-Sincrotrone Trieste S.C.p.A., 34149 Trieste, Italy
3
Max Planck Institute for Molecular Cell Biology and Genetics, 01307 Dresden, Germany
†
These authors contributed equally to this work.

‡
Present address: Department of Infectious Diseases, Centre for Integrative Infectious Disease Research (CIID), Integrative Virology, University Hospital Heidelberg, D-69120 Heidelberg, Germany.

§
Present address: Keenan Research Centre for Biomedical Science, Li Ka Shing Knowledge Institute, St. Michael's Hospital, Toronto, ON M5B 1W8, Canada.

‖
Present address: Department of Medical Biochemistry and Biophysics (MBB), Karolinska Institutet, SE-171 77 Stockholm, Sweden.

Received: 10 May 2019 / Accepted: 30 May 2019 / Published: 4 June 2019
Abstract
:
Plasticity is an essential condition for cancer cells to invade surrounding tissues. The nucleus is the most rigid cellular organelle and it undergoes substantial deformations to get through environmental constrictions. Nuclear stiffness mostly depends on the nuclear lamina and chromatin, which in turn might be affected by nuclear architectural proteins. Among these is the HMGA1 (High Mobility Group A1) protein, a factor that plays a causal role in neoplastic transformation and that is able to disentangle heterochromatic domains by H1 displacement. Here we made use of atomic force microscopy to analyze the stiffness of breast cancer cellular models in which we modulated HMGA1 expression to investigate its role in regulating nuclear plasticity. Since histone H1 is the main modulator of chromatin structure and HMGA1 is a well-established histone H1 competitor, we correlated HMGA1 expression and cellular stiffness with histone H1 expression level, post-translational modifications, and nuclear distribution. Our results showed that HMGA1 expression level correlates with nuclear stiffness, is associated to histone H1 phosphorylation status, and alters both histone H1 chromatin distribution and expression. These data suggest that HMGA1 might promote chromatin relaxation through a histone H1-mediated mechanism strongly impacting on the invasiveness of cancer cells.
Keywords:
HMGA1; histone H1; chromatin; cancer; nuclear stiffness; mass spectrometry; atomic force microscopy (AFM); Stimulated emission depletion (STED) microscopy
1. Introduction
Despite great progresses achieved in the understanding of cancer biology, metastases are still synonymous of terminal illness in several cancer types [
1
]. Among other aspects, the bidirectional interactions between cancer cells and the extracellular matrix (ECM) are necessary to sustain the process of metastatization. Cells can sense biochemical/biophysical properties of the ECM through their mechanosensing chain, which is constituted by focal adhesions, the cytoskeleton, the lamin, and the chromatin. External forces can thus propagate inside the cell up to the nucleus affecting its structure and influencing the modulation of the expression of specific set of genes, as a mechanism to adapt to environmental changes [
2
]. During invasion, cancer cells need to break through extracellular matrix openings that are smaller than their own diameters. In order to efficiently migrate in this crowded environment, cells adopt two, not mutually exclusive, strategies: cells can digest the surrounding ECM by secreting proteolytic enzymes, such as matrix metalloproteinases (MMPs) and/or they can become softer in order to undergo substantial deformations. Indeed, several studies have demonstrated that metastatic tumor cells are softer than non-malignant cells [
3
]. The nucleus is 2–10 times stiffer than cytoplasm, thus representing the more rigid physical barrier within the mechanosensing chain [
4
]. Nuclear stiffness is related to two strictly interconnected components of the nucleus: the nucleoskeleton, mainly composed of nuclear lamina [
5
] and the chromatin structure [
6
]. The nuclear lamina is a filamentous meshwork of lamin proteins juxtaposed to the inner membrane of the nuclear envelope that provides nuclear shape, supports its structure and contributes to organize the chromatin into distinct functional domains [
7
]. On the other side, the chromatin contribution to nuclear stiffness is mainly due to the degree of DNA compaction that is in turn linked to nucleosomal histone modifications and histone H1 [
8
,
9
]. Non-histone proteins also contribute to nuclear sturdiness influencing chromatin compaction state. For instance, HMGN5 (High Mobility Group N5) competing with histone H1 promotes chromatin decondensation [
10
] and impairs lamina organization thus strongly impacting the mechanical properties of nuclei [
11
]. The HMGA (High Mobility Group A) protein family belongs to the same High Mobility Group superfamily of HMGN proteins [
12
]. Despite distinct families differing in functions and structural domains, all HMG proteins lack any obvious specificity for DNA consensus sequences and compete with different mechanisms with histone H1 for DNA binding, thus negatively influencing the formation of higher order chromatin structures [
13
]. One peculiarity of HMGA proteins is that their expression is very high in embryonic [
14
,
15
] and tumor cells [
16
,
17
]. Importantly, HMGA proteins have been demonstrated to have a causal role in cancer onset and development [
17
]. HMGA proteins are encoded by two genes, HMGA1 and HMGA2, that give rise to three main proteins (HMGA1a and HMGA1b, two splicing variants of the HMGA1 gene, that from now on we will refer for simplicity as HMGA1, and HMGA2 from the HMGA2 gene). They are natively disordered architectural transcription factors [
18
] that contribute to the transcriptional regulation of several genes [
19
,
20
,
21
,
22
,
23
] in a context-dependent way [
24
] through the interaction with many different protein partners [
25
,
26
]. HMGA proteins have been demonstrated to be key actors in the process of epithelial-to-mesenchymal transition (EMT), cell motility, and invasion [
19
,
27
,
28
,
29
]. Here, we provide evidences that in breast cancer cells HMGA1 affects nuclear stiffness and that this effect could be, at least in part, explained through a mechanism involving histone H1, a protein linked to higher-order chromatin compaction. This work thus suggests that HMGA1 could exert its oncogenic activities also by modulating the biophysical properties of cells.
3. Discussion
Taken together, our data highlighted a direct link between HMGA1 expression levels, cellular stiffness, and histone H1 phosphorylation, nanoscale localization, and expression levels. Several key points must be recalled in order to discuss the possible mechanisms underlying these evidences.
In conclusion, the dissection of the molecular mechanisms linked to chromatin architecture could provide important details about the chromatin dynamics involved both in embryonic development and in the process of neoplastic transformation in which HMGA proteins are highly expressed and play key roles. This work sheds light on a novel and unexpected link between chromatin architectural proteins expression and biophysical properties of cells unveiling novel and unexpected functional relationships among chromatin architectural proteins, which deserve further clarification.
Author Contributions
Conceptualization, G.M., L.C., and R.S.; acquisition, analysis, and interpretation of data, B.S., C.P., L.U.S., R.M., S.P. (Sara Petrosino), H.M.-N., E.P., E.A., P.P., S.P. (Silvia Pegoraro); writing—original draft preparation, R.S.; writing—review and editing, all authors; supervision, L.C. and R.S.
Funding
This work was supported from Associazione Italiana per la Ricerca sul Cancro (AIRC, IG18385) and Regione Friuli Venezia Giulia (TNBCneo and RiFT) to GM.
Conflicts of Interest
The authors declare no conflict of interest.
Abbreviations
| | |
| --- | --- |
| ECM | extracellular matrix |
| MMPs | matrix metalloproteinases |
| HMG | High Mobility Group |
| EMT | epithelial-to-mesenchymal transition |
| TNBC | triple negative breast cancer |
| MET | mesenchymal-to-epithelial transition |
| AFM | atomic force microscopy |
| PTMs | post-translational modifications |
| LC–MS | liquid chromatography-mass spectrometry |
| TICs | total ion current chromatograms |
| STORM | stochastic optical reconstruction microscopy |
| TSA | Trichostatin A |
| STED | stimulated emission depletion |
| FRAP | fluorescence recovery after photobleaching |
| MMTV | mouse mammary tumor virus |
| PR | progesterone receptor |
| NF1 | nuclear factor 1 |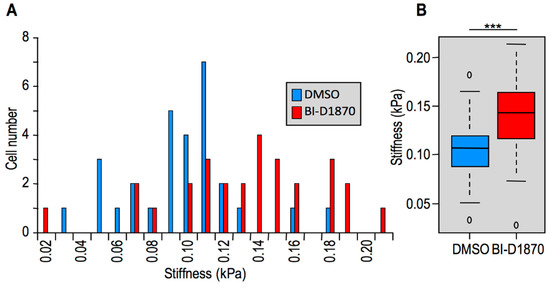 Figure 1.
Cells undergoing mesenchymal-to-epithelial transition (MET) increase their stiffness. (
A
) Histograms graphs reporting stiffness distributions of the two cell populations analyzed (DMSO 0.05% and BI-D1870 10 μM). (
B
) Box plot illustrative of median and quantile distributions of the two cell populations (***:
p
< 0.001).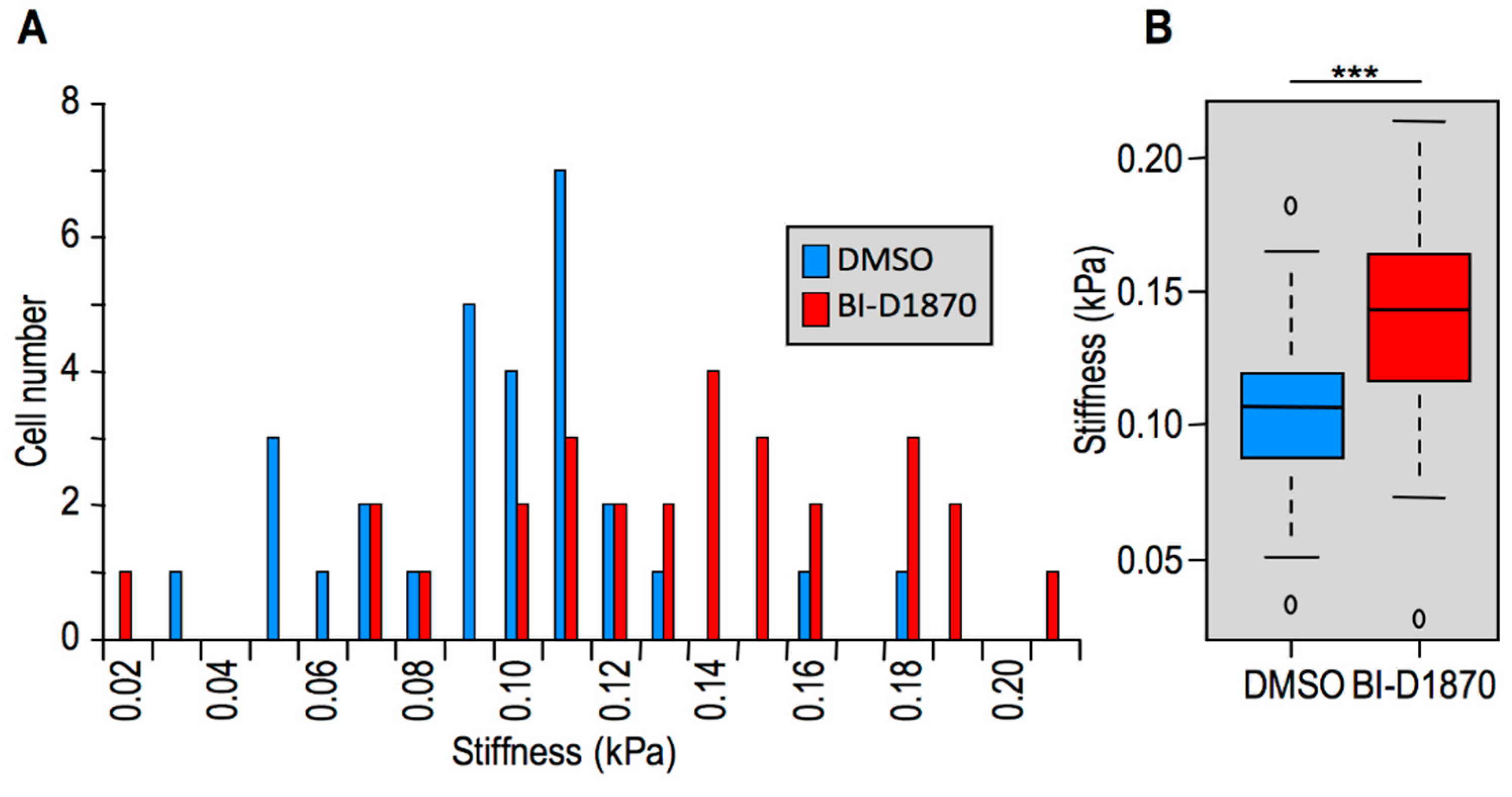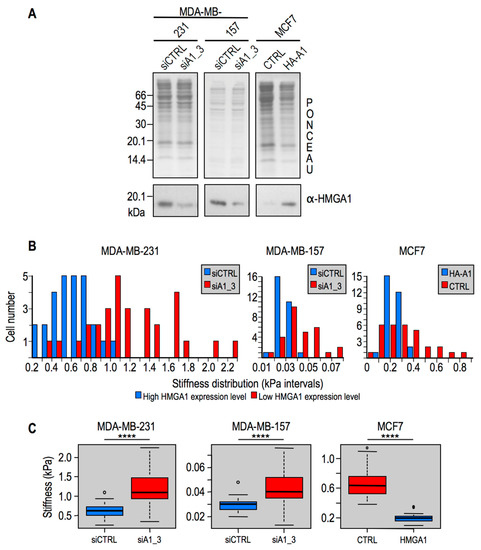 Figure 2.
Cellular stiffness is modulated by changes in HMGA1 (High Mobility Group A 1) expression levels. In MDA-MB-231 and MDA-MB-157 cells HMGA1 expression has been silenced by siRNA, whereas in MCF7 cells HMGA1 has been overexpressed by means of transfection with a HA-HMGA1 protein expression vector. CTRLs indicate control experiments performed with siCTRL or an empty HA-expression vector. (
A
) Western blot analyses to assess HMGA1 protein expression levels in the three cellular models. Red ponceau membranes are shown as controls for protein loading normalization. Molecular weight markers are indicated on the left (kDa). (
B
) Stiffness distributions of all cell populations analyzed. (
C
) Box plots illustrative of median and quantile distribution of the three different cell population analyzed (****:
p
< 0.0001).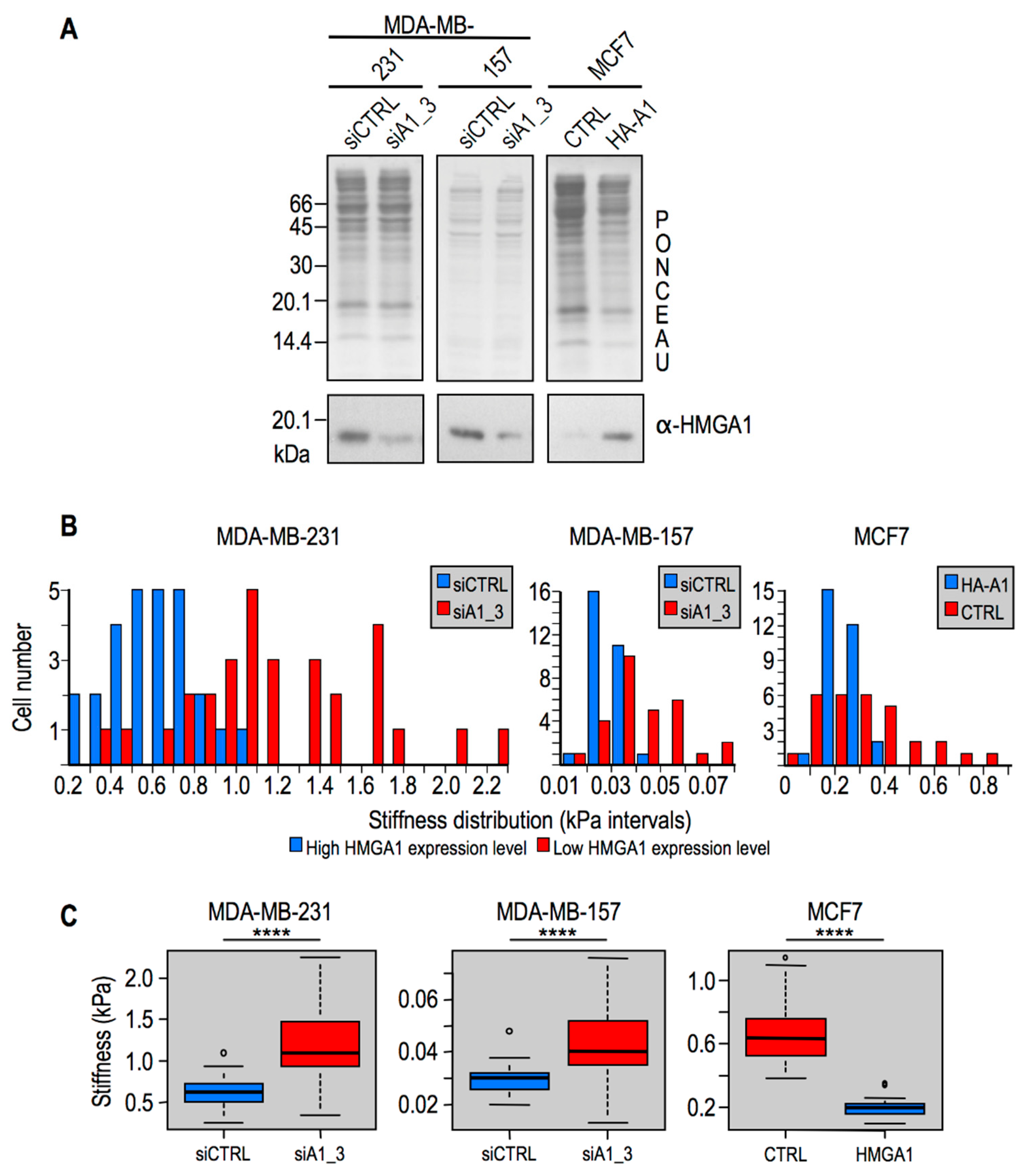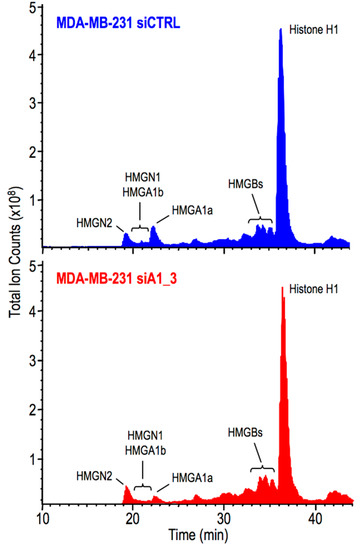 Figure 3. LC-MS analyses of HMGs and histone H1 variants. Comparison of total ion chromatograms (TICs) obtained by LC-MS analyses of MDA-MB-231 treated with siCTRL or siA1_3. The peaks within each chromatogram of HMGN2, HMGA1b, and HMGN1, HMGA1a, HMGBs, and histone H1 variants are indicated.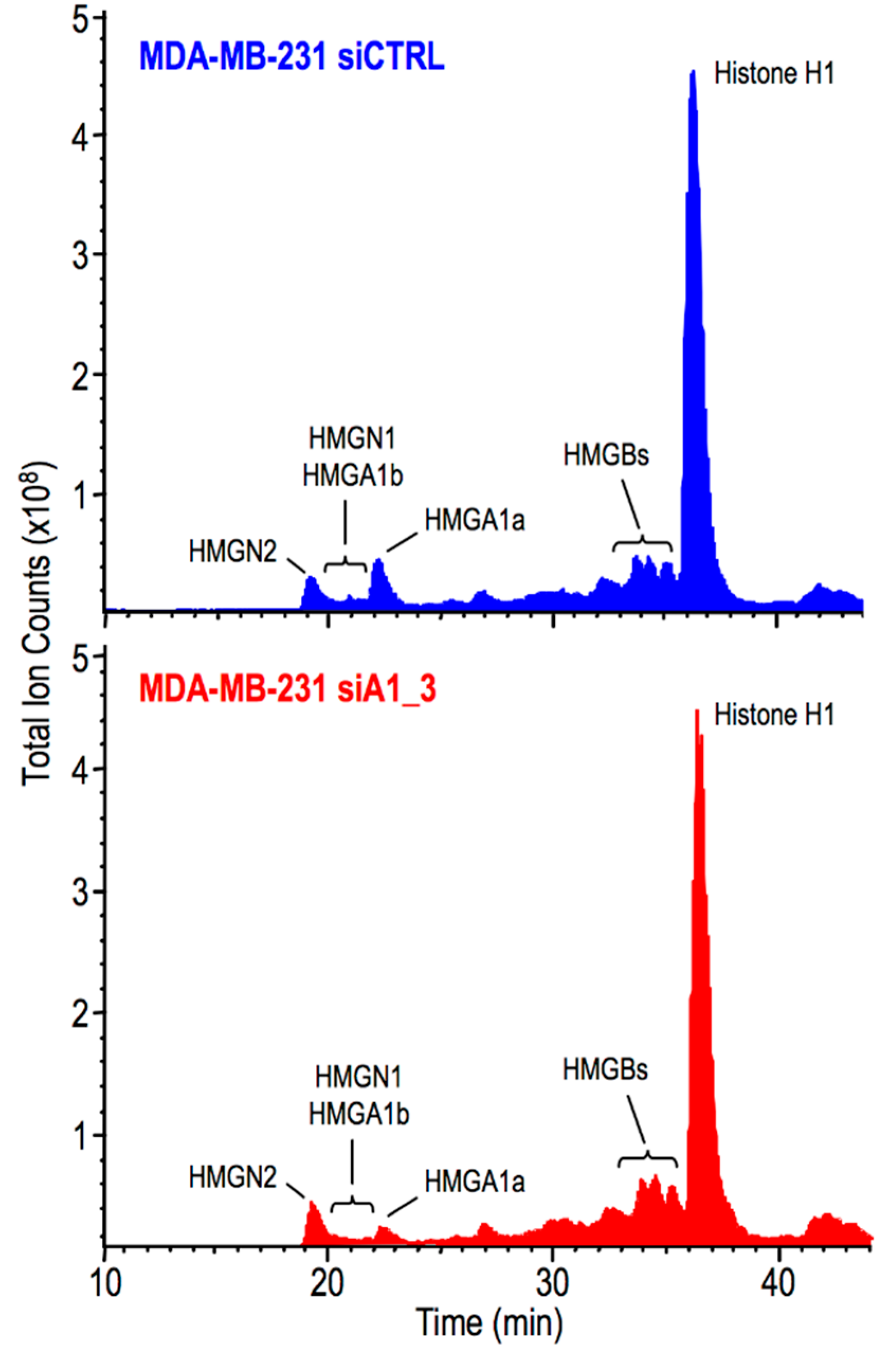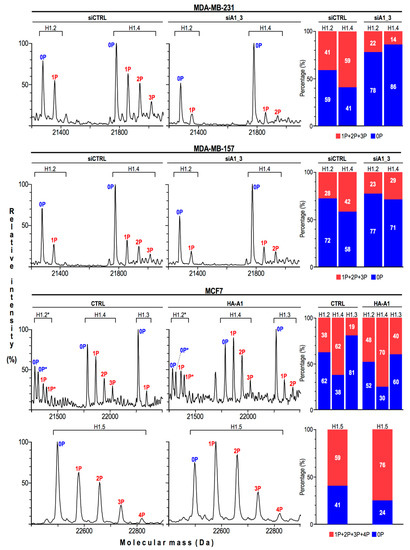 Figure 4. Histone H1 phosphorylation is linked to HMGA1 expression level. Left part: Reconstructed mass spectra of histone H1 variants obtained from MDA-MB-231 and MDA-MB-157 cells treated with siCTRL and siA1_3 and from control (CTRL) and HA-HMGA1 overexpressing (HA-A1) MCF7 cells. The various histone H1 variants are indicated above each spectrum. 0P, 1P, 2P, 3P, and 4P indicate the number of phosphate groups. *: MCF-7 cells express two histone H1.2 allelic variants. Right part: Histogram graphs showing for each histone H1 variant the distribution in terms of percentage between unphosphorylated (0P) and phosphorylated forms (1P+2P+3P+4P). The percentage values are indicated within each bar.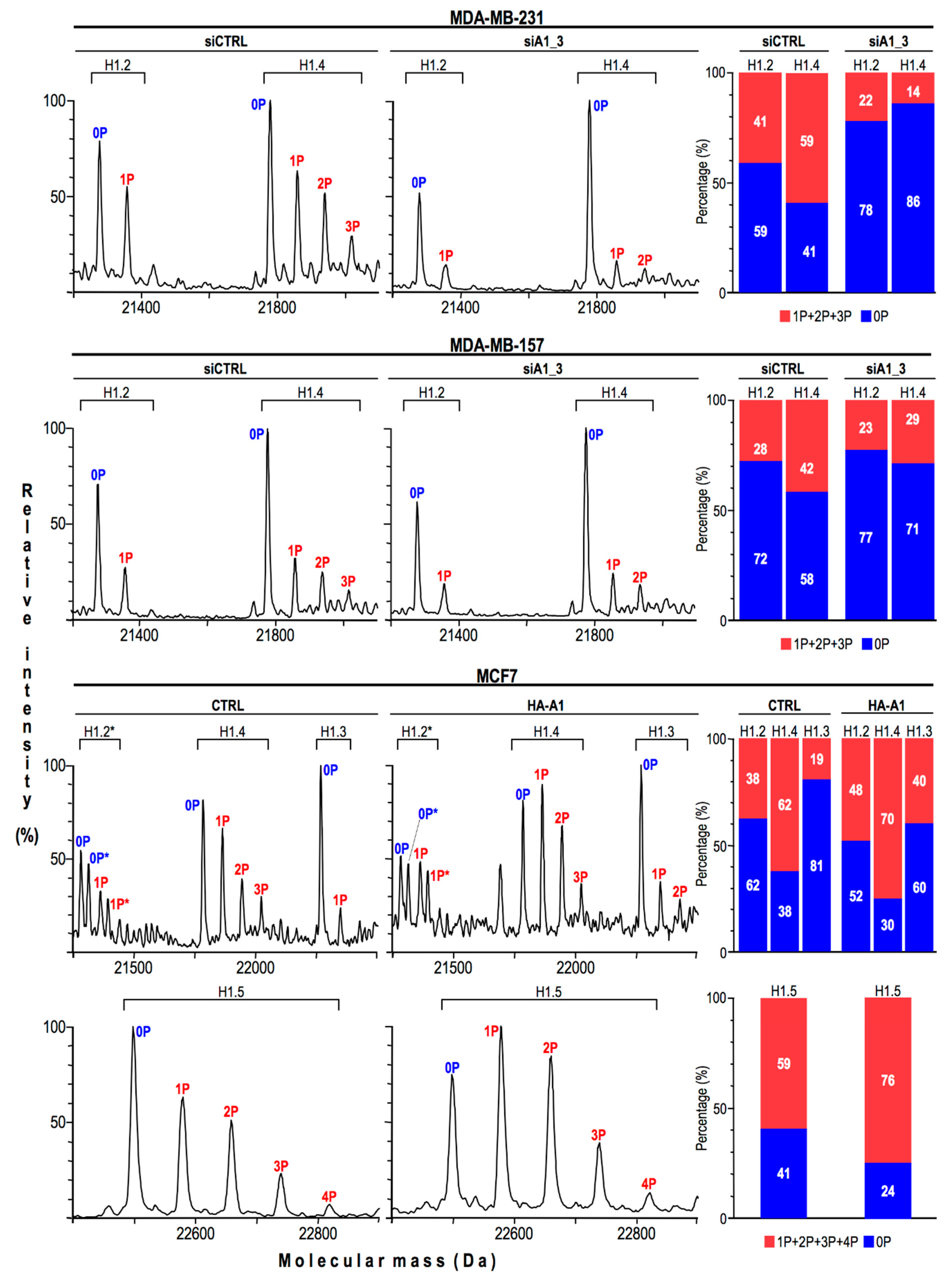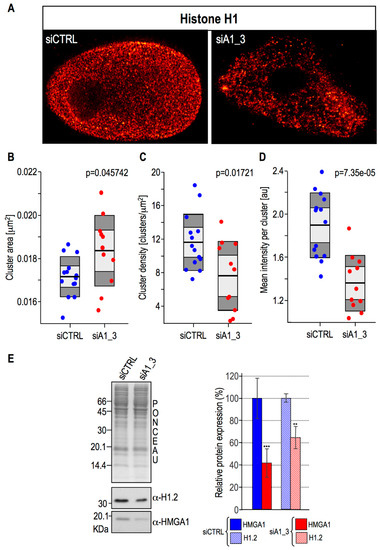 Figure 5.
HMGA1 influences histone H1 nuclear distribution and protein expression. (
A
) Representative STED microscopy images of MDA-MB-231 cells silenced for HMGA1 (siA1_3) or treated with control siRNA (siCTRL) and immunostained for histone H1. (
B
–
D
) Box plots showing the median area, density, and mean intensity of histone H1 clusters. (siA1_3:
n
= 11; siCTRL:
n
= 14). (
E
) Western blot analyses to assess HMGA1 and histone H1.2 protein expression levels in MDA-MB-231 cells silenced for HMGA1 (siA1_3) or treated with control siRNA (siCTRL). Representative WB analyses are shown together with red ponceau stained membranes to verify total protein normalization. The histogram graphs relative to Western blot analyses were obtained using densitometric analyses (siCTRL versus siA1_3). Bars indicate the means. Standard deviations are shown (
n
= 3). Statistical significance was assessed with Student's t test (*:
p
≤ 0.05; **:
p
≤ 0.01; ***:
p
≤ 0.001). Molecular weight markers are indicated on the left (kDa).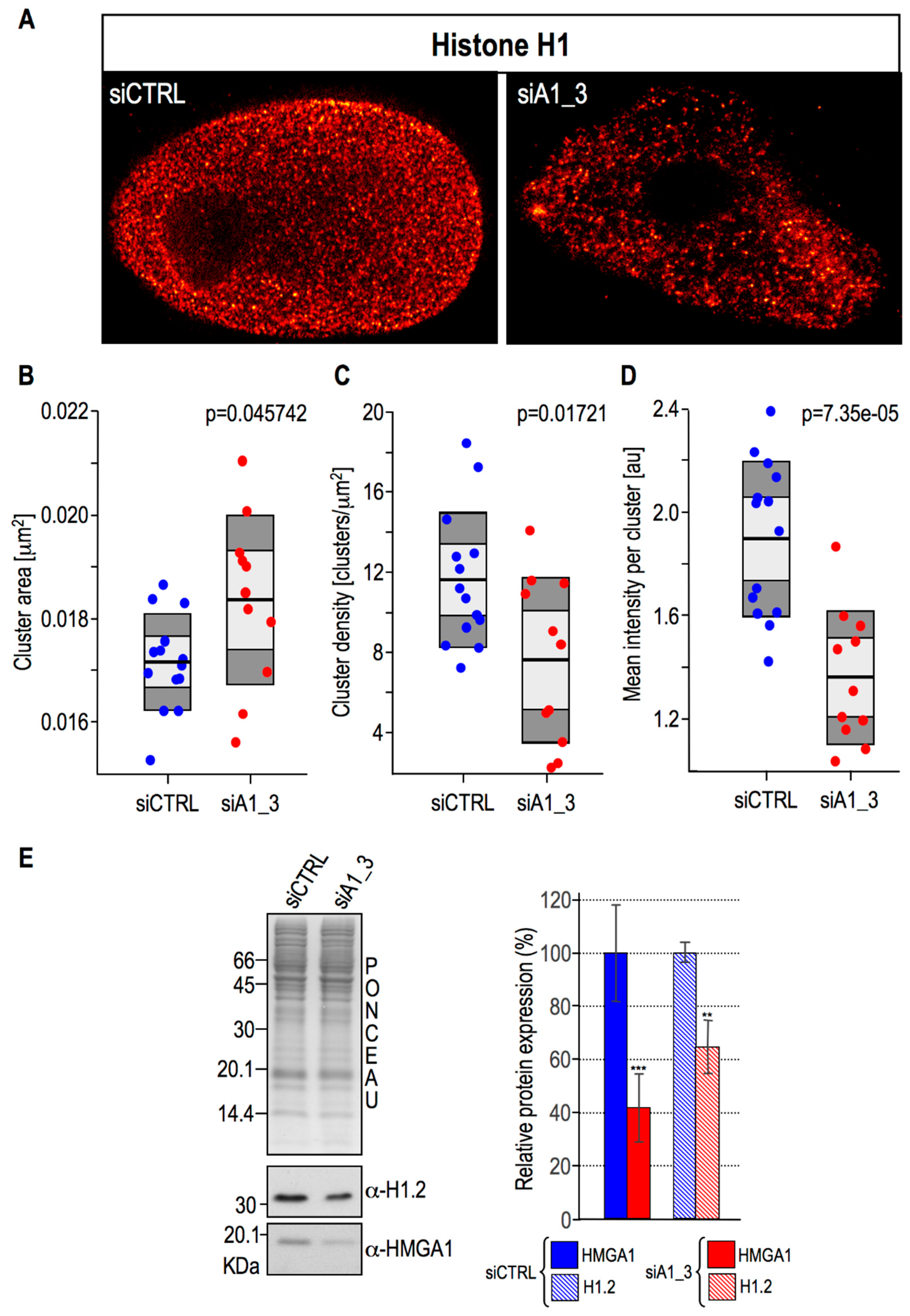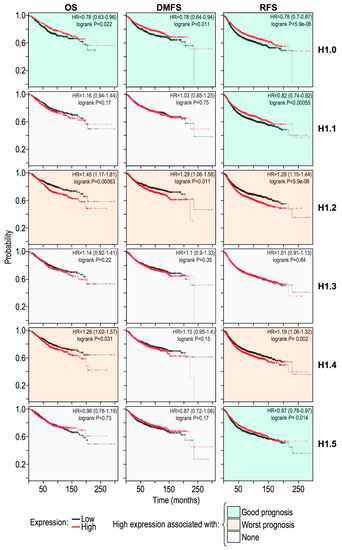 Figure 6.
The prognostic value of histone H1 variants gene expression levels in breast cancer specimens. Kaplan–Meier plots for overall (OS), relapse-free (RFS), and distant-metastasis-free (DMFS) survival with regards to histone H1.0, H1.1, H1.2, H1.3, H1.4, and H1.5 gene expression level (low or high) in a collection of breast cancer gene expression data sets using KM plotter (
kmplot.com
).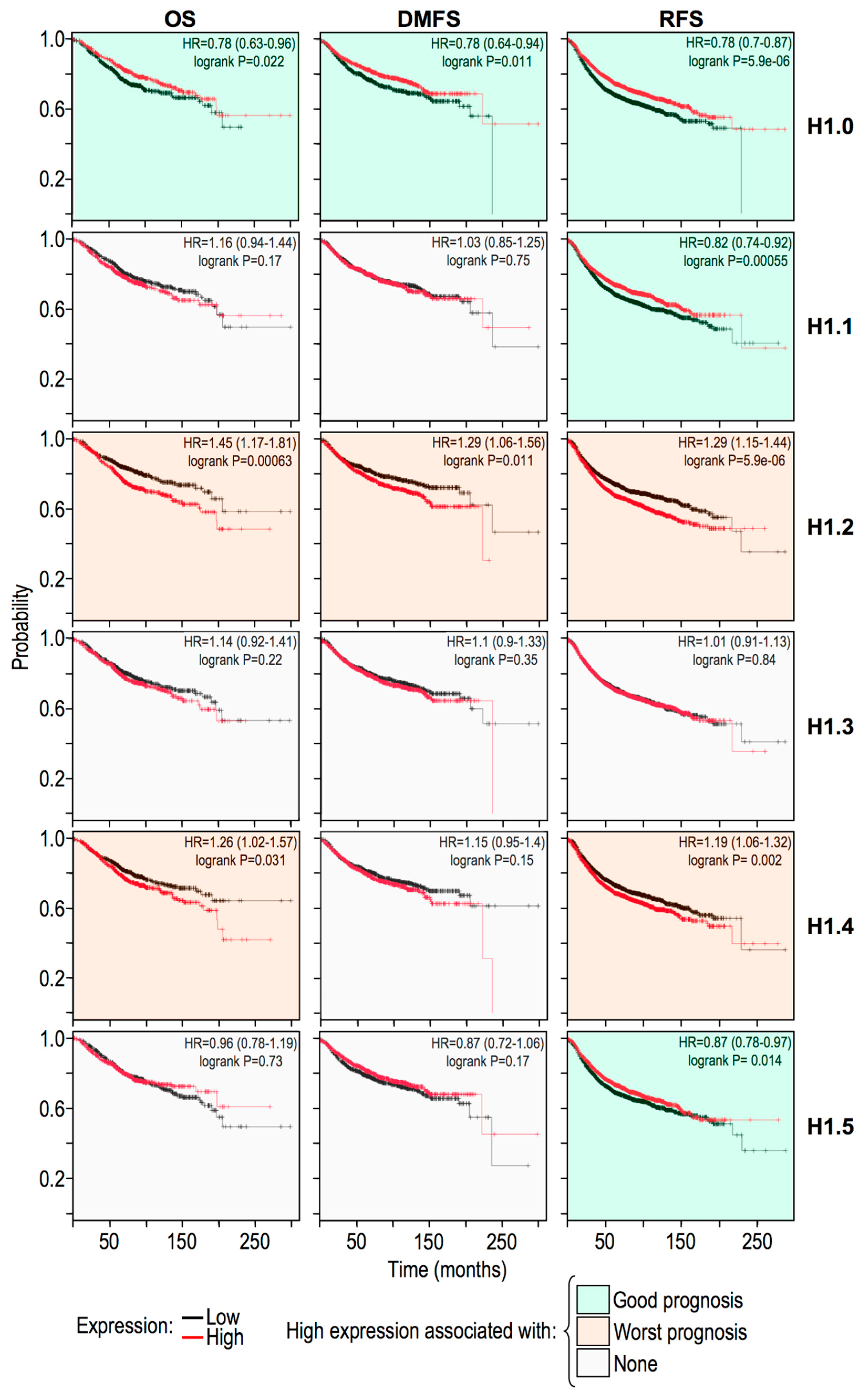 © 2019 by the authors. Licensee MDPI, Basel, Switzerland. This article is an open access article distributed under the terms and conditions of the Creative Commons Attribution (CC BY) license (http://creativecommons.org/licenses/by/4.0/).