Metabolomics of Type 1 and Type 2 Diabetes
1
Institute of Laboratory Medicine and Pathobiochemistry, Molecular Diagnostics, Hospital of the Universities of Giessen and Marburg (UKGM), Justus Liebig University Giessen, Feulgenstr. 12, 35392 Giessen, Germany
2
Clinics for Internal Medicine 2, University Hospital of the Universities of Giessen and Marburg UKGM, Justus Liebig University. Giessen, 35392 Giessen, Germany
3
Department of Pharmacy Practice, Faculty of Pharmacy, Mansoura University, Mansoura 35516, Egypt
*
Author to whom correspondence should be addressed.
Received: 19 April 2019 / Revised: 13 May 2019 / Accepted: 16 May 2019 / Published: 18 May 2019
Abstract
Type 1 and type 2 diabetes mellitus (DM) are chronic diseases that affect nearly 425 million people worldwide, leading to poor health outcomes and high health care costs. High-throughput metabolomics screening can provide vital insight into the pathophysiological pathways of DM and help in managing its effects. The primary aim of this study was to contribute to the understanding and management of DM by providing reliable evidence of the relationships between metabolites and type 1 diabetes (T1D) and metabolites and type 2 diabetes (T2D). Information for the study was obtained from the PubMed, MEDLINE, and EMBASE databases, and leads to additional articles that were obtained from the reference lists of the studies examined. The results from the selected studies were used to assess the relationships between diabetes (T1D and/or T2D) and metabolite markers—such as glutamine, glycine, and aromatic amino acids—in patients. Seventy studies were selected from the three databases and from the reference lists in the records retrieved. All studies explored associations between various metabolites and T1D or T2D. This review identified several plasma metabolites associated with T2D prediabetes and/or T1D and/or T2D in humans. The evidence shows that metabolites such as glucose, fructose, amino acids, and lipids are typically altered in individuals with T1D and T2D. These metabolites exhibit significant predictive associations with T2D prediabetes, T1D, and/or T2D. The current review suggests that changes in plasma metabolites can be identified by metabolomic techniques and used to identify and analyze T1D and T2D biomarkers. The results of the metabolomic studies can be used to help create effective interventions for managing these diseases.
View Full-Text
►

▼

Figures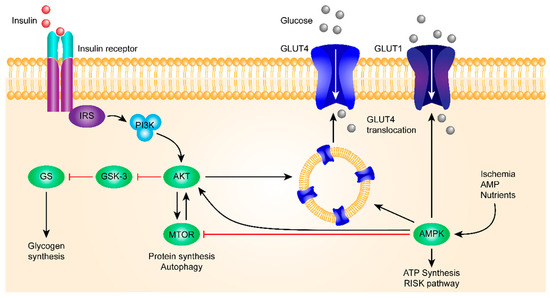 Figure 1
This is an open access article distributed under the
Creative Commons Attribution License
which permits unrestricted use, distribution, and reproduction in any medium, provided the original work is properly cited (CC BY 4.0).

Share & Cite This Article
MDPI and ACS Style
Arneth, B.; Arneth, R.; Shams, M. Metabolomics of Type 1 and Type 2 Diabetes. Int. J. Mol. Sci. 2019, 20, 2467.
Note that from the first issue of 2016, MDPI journals use article numbers instead of page numbers. See further details here.
Related Articles
Comments
[Return to top]