Pharmacological Targeting of the ER-Resident Chaperones GRP94 or Cyclophilin B Induces Secretion of IL-22 Binding Protein Isoform-1 (IL-22BPi1)
1
Neurogenomiks Group, Department of Neuroscience, University of the Basque Country (UPV/EHU), 48490 Leioa, Spain
2
IKERBASQUE, Basque Foundation for Science, 48013 Bilbao, Spain
*
Author to whom correspondence should be addressed.
Received: 29 April 2019 / Revised: 14 May 2019 / Accepted: 15 May 2019 / Published: 17 May 2019
Abstract
Of the three interleukin-22 binding protein (IL-22BP) isoforms produced by the human
IL22RA2
gene, IL-22BPi2 and IL-22BPi3 are capable of neutralizing IL-22. The longest isoform, IL-22BPi1, does not bind IL-22, is poorly secreted, and its retention within the endoplasmic reticulum (ER) is associated with induction of an unfolded protein response (UPR). Therapeutic modulation of IL-22BPi2 and IL-22BPi3 production may be beneficial in IL-22-dependent disorders. Recently, we identified the ER chaperones GRP94 and cyclophilin B in the interactomes of both IL-22BPi1 and IL-22BPi2. In this study, we investigated whether secretion of the IL-22BP isoforms could be modulated by pharmacological targeting of GRP94 and cyclophilin B, either by means of geldanamycin, that binds to the ADP/ATP pocket shared by HSP90 paralogs, or by cyclosporin A, which causes depletion of ER cyclophilin B levels through secretion. We found that geldanamycin and its analogs did not influence secretion of IL-22BPi2 or IL-22BPi3, but significantly enhanced intracellular and secreted levels of IL-22BPi1. The secreted protein was heterogeneously glycosylated, with both high-mannose and complex-type glycoforms present. In addition, cyclosporine A augmented the secretion of IL-22BPi1 and reduced that of IL-22BPi2 and IL-22BPi3. Our data indicate that the ATPase activity of GRP94 and cyclophilin B are instrumental in ER sequestration and degradation of IL-22BPi1, and that blocking these factors mobilizes IL-22BPi1 toward the secretory route.
View Full-Text
►

▼

Figures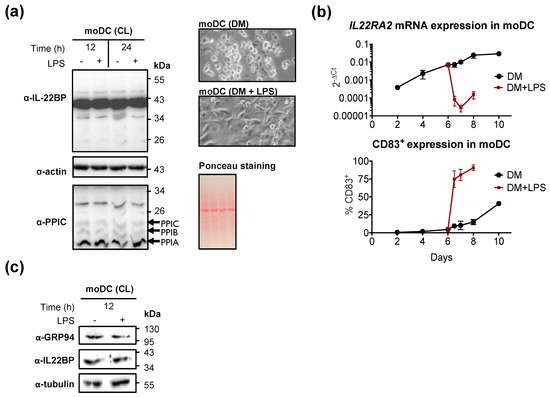 Figure 1
This is an open access article distributed under the
Creative Commons Attribution License
which permits unrestricted use, distribution, and reproduction in any medium, provided the original work is properly cited (CC BY 4.0).

Share & Cite This Article
MDPI and ACS Style
Gómez-Fernández, P.; Urtasun, A.; Astobiza, I.; Mena, J.; Alloza, I.; Vandenbroeck, K. Pharmacological Targeting of the ER-Resident Chaperones GRP94 or Cyclophilin B Induces Secretion of IL-22 Binding Protein Isoform-1 (IL-22BPi1). Int. J. Mol. Sci. 2019, 20, 2440.
Note that from the first issue of 2016, MDPI journals use article numbers instead of page numbers. See further details here.
Related Articles
Comments
[Return to top]