Protective Effects of Caffeic Acid Phenethyl Ester (CAPE) and Novel Cape Analogue as Inducers of Heme Oxygenase-1 in Streptozotocin-Induced Type 1 Diabetic Rats
1
Department of Drug Science, Biochemistry Section, University of Catania, 95125 Catania, Italy
2
Department of Drug Science, Pharmaceutical Chemistry Section, University of Catania, 95125 Catania, Italy
3
Department of Medicinal Chemistry, College of Pharmacy, University of Florida, Gainesville, FL 32610, USA
*
Author to whom correspondence should be addressed.
Received: 24 April 2019 / Revised: 14 May 2019 / Accepted: 15 May 2019 / Published: 17 May 2019
Abstract
Type 1 diabetes mellitus (T1D) is a chronic autoimmune disease resulting in the destruction of insulin producing β-cells of the pancreas, with consequent insulin deficiency and excessive glucose production. Hyperglycemia results in increased levels of reactive oxygen species (ROS) and nitrogen species (RNS) with consequent oxidative/nitrosative stress and tissue damage. Oxidative damage of the pancreatic tissue may contribute to endothelial dysfunction associated with diabetes. The aim of the present study was to investigate if the potentially protective effects of phenethyl ester of caffeic acid (CAPE), a natural phenolic compound occurring in a variety of plants and derived from honeybee hive propolis, and of a novel CAPE analogue, as heme oxygenase-1 (HO-1) inducers, could reduce pancreatic oxidative damage induced by excessive amount of glucose, affecting the nitric oxide synthase/dimethylarginine dimethylaminohydrolase (NOS/DDAH) pathway in streptozotocin-induced type 1 diabetic rats. Our data demonstrated that inducible nitric oxide synthase/gamma-Glutamyl-cysteine ligase (iNOS/GGCL) and DDAH dysregulation may play a key role in high glucose mediated oxidative stress, whereas HO-1 inducers such as CAPE or its more potent derivatives may be useful in diabetes and other stress-induced pathological conditions.
View Full-Text
►

▼

Figures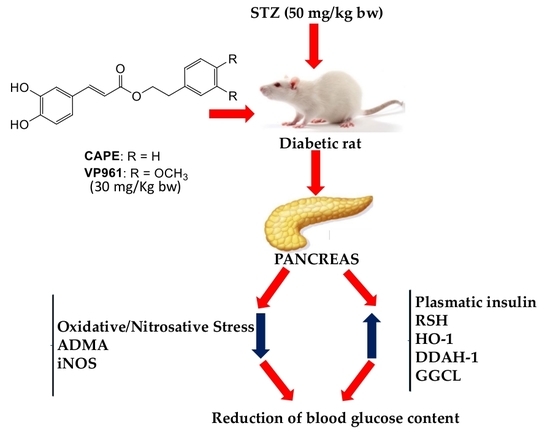 Graphical abstract
This is an open access article distributed under the
Creative Commons Attribution License
which permits unrestricted use, distribution, and reproduction in any medium, provided the original work is properly cited (CC BY 4.0).

Share & Cite This Article
MDPI and ACS Style
Sorrenti, V.; Raffaele, M.; Vanella, L.; Acquaviva, R.; Salerno, L.; Pittalà, V.; Intagliata, S.; Di Giacomo, C. Protective Effects of Caffeic Acid Phenethyl Ester (CAPE) and Novel Cape Analogue as Inducers of Heme Oxygenase-1 in Streptozotocin-Induced Type 1 Diabetic Rats. Int. J. Mol. Sci. 2019, 20, 2441.
Note that from the first issue of 2016, MDPI journals use article numbers instead of page numbers. See further details here.
Related Articles
Comments
[Return to top]