Proteomic Studies Reveal Disrupted in Schizophrenia 1 as a Player in Both Neurodevelopment and Synaptic Function
1
CIMUS Biomedical Research Institute, University of Santiago de Compostela-IDIS, 15782 Santiago de Compostela, Spain
2
Department of Psychiatry and Behavioral Sciences, Johns Hopkins University, Baltimore, MD 21287, USA
3
Department of Pharmacology, University of Santiago de Compostela, 15782 Santiago de Compostela, Spain
4
Cell Biology and Stem Cells Unit, CIC-bioGUNE, Parque Tecnologico de Bizkaia, 48160 Derio, Spain
5
Proteomics Unit, IDIS, 15706 Santiago de Compostela, Spain
6
Department of Neuropathology, Heinrich Heine University, Medical School, 40225 Düsseldorf, Germany
7
Department of Surgery and Cancer, Imperial College London, London W12 OUQ, UK
8
Department of Medical Sciences, University of Santiago de Compostela, 15782 Santiago de Compostela, Spain
†
These authors contributed equally to this work.
*
Author to whom correspondence should be addressed.
Received: 17 November 2018 / Revised: 21 December 2018 / Accepted: 24 December 2018 / Published: 29 December 2018
Abstract
A balanced chromosomal translocation disrupting DISC1 (Disrupted in Schizophrenia 1) gene has been linked to psychiatric diseases, such as major depression, bipolar disorder and schizophrenia. Since the discovery of this translocation, many studies have focused on understating the role of the truncated isoform of DISC1, hypothesizing that the gain of function of this protein could be behind the neurobiology of mental conditions, but not so many studies have focused in the mechanisms impaired due to its loss of function. For that reason, we performed an analysis on the cellular proteome of primary neurons in which DISC1 was knocked down with the goal of identifying relevant pathways directly affected by DISC1 loss of function. Using an unbiased proteomic approach, we found that the expression of 31 proteins related to neurodevelopment (e.g., CRMP-2, stathmin) and synaptic function (e.g., MUNC-18, NCS-1) is altered by DISC1 in primary mouse neurons. Hence, this study reinforces the idea that DISC1 is a unifying regulator of both neurodevelopment and synaptic function, thereby providing a link between these two key anatomical and cellular circuitries.
View Full-Text
►

▼

Figures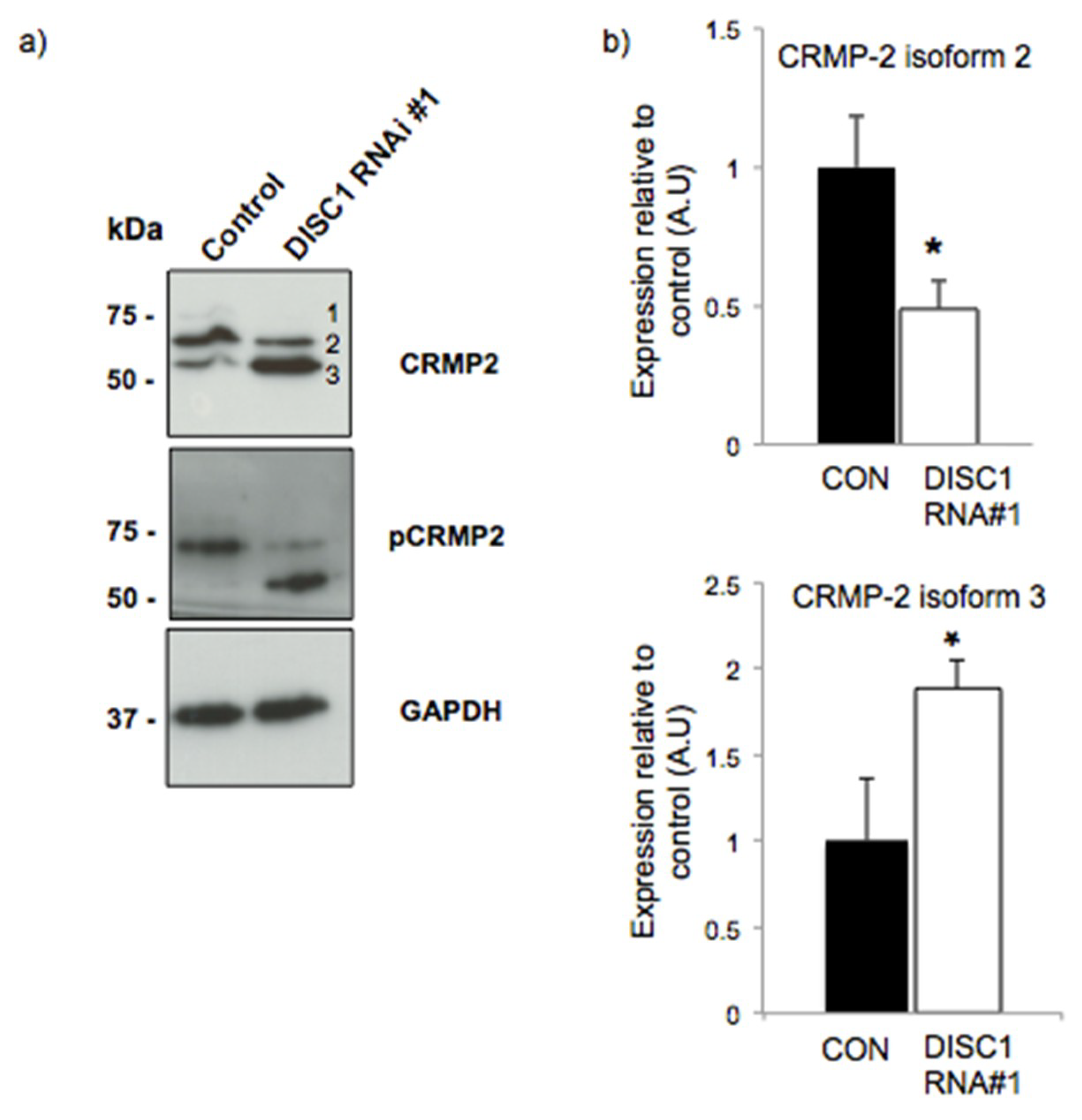 Figure 1
This is an open access article distributed under the
Creative Commons Attribution License
which permits unrestricted use, distribution, and reproduction in any medium, provided the original work is properly cited (CC BY 4.0).

Share & Cite This Article
MDPI and ACS Style
Ramos, A.; Rodríguez-Seoane, C.; Rosa, I.; Gorroño-Etxebarria, I.; Alonso, J.; Veiga, S.; Korth, C.; Kypta, R.M.; García, Á.; Requena, J.R. Proteomic Studies Reveal Disrupted in Schizophrenia 1 as a Player in Both Neurodevelopment and Synaptic Function. Int. J. Mol. Sci. 2019, 20, 119.
Note that from the first issue of 2016, MDPI journals use article numbers instead of page numbers. See further details here.
Related Articles
Comments
[Return to top]