Open Access This article is
freely available
re-usable
Review
Mesenchymal Stem Cells as New Therapeutic Approach for Diabetes and Pancreatic Disorders
Experimental Neurology Unit and Milan Center for Neuroscience, School of Medicine and Surgery, University Milano-Bicocca, Via Cadore 48, 20900 Monza, Italy
*
Author to whom correspondence should be addressed.
Received: 8 August 2018 / Accepted: 14 September 2018 / Published: 16 September 2018
Abstract
:
Diabetes is a worldwide disease which actually includes different disorders related to glucose metabolism. According to different epidemiological studies, patients affected by diabetes present a higher risk to develop both acute and chronic pancreatitis, clinical situations which, in turn, increase the risk to develop pancreatic cancer. Current therapies are able to adjust insulin levels according to blood glucose peak, but they only partly reach the goal to abrogate the consequent inflammatory milieu responsible for diabetes-related diseases. In recent years, many studies have investigated the possible use of adult mesenchymal stem cells (MSCs) as alternative therapeutic treatment for diabetes, with promising results due to the manifold properties of these cells. In this review we will critically analyze the many different uses of MSCs for both diabetes treatment and for the reduction of diabetes-related disease development, focusing on their putative molecular mechanisms.
Keywords:
diabetes; acute pancreatitis; chronic pancreatitis; pancreatic cancer; mesenchymal stem cells
Author Contributions
Conceptualization: A.S.; writing—original draft preparation: A.S. and M.M.; writing—review and editing: A.S. and M.M.
Funding
This research received no external funding.
Acknowledgments
We are grateful to Elisabetta Donzelli for the preparation of
Figure 3
and Graphic Abstract.
Conflicts of Interest
The authors declare no conflict of interest.
Abbreviations
| | |
| --- | --- |
| MSCs | Mesenchymal Stem Cells |
| ADA | American Diabetes Association |
| AGEs | Advanced Glycosylation End products |
| PKC | Protein Kinase C |
| Cox2 | Cyclooxigenase 2 |
| PDK-1 | Pancreatic Duodenal Homeobox-1 |
| GLUT-4 | Glucose Transporter 4 |
| TNF-α | Tumor Necrosis Factor-α |
| HDL | High Density Lipoprotein |
| VLDL | Very Low Density Lipoprotein |
| FFA | Free Fatty Acids |
| IL | Interleukyn |
| IGF-1 | Insulin-like Growth Factor-1 |
| VEGF | Vascular Endothelial Growth Factor |
| TCA | Taurocholic Acid |
| LPS | Lipopolysaccharides |
| TGF-β | Tumor Growth Factor-β |
| INF-γ | Interferon-γ |
| Trail-1 | Tumor Necrosis Factor (TNF)-related apoptosis-inducing ligand |
| ISCT | International Society of Cellular Therapy |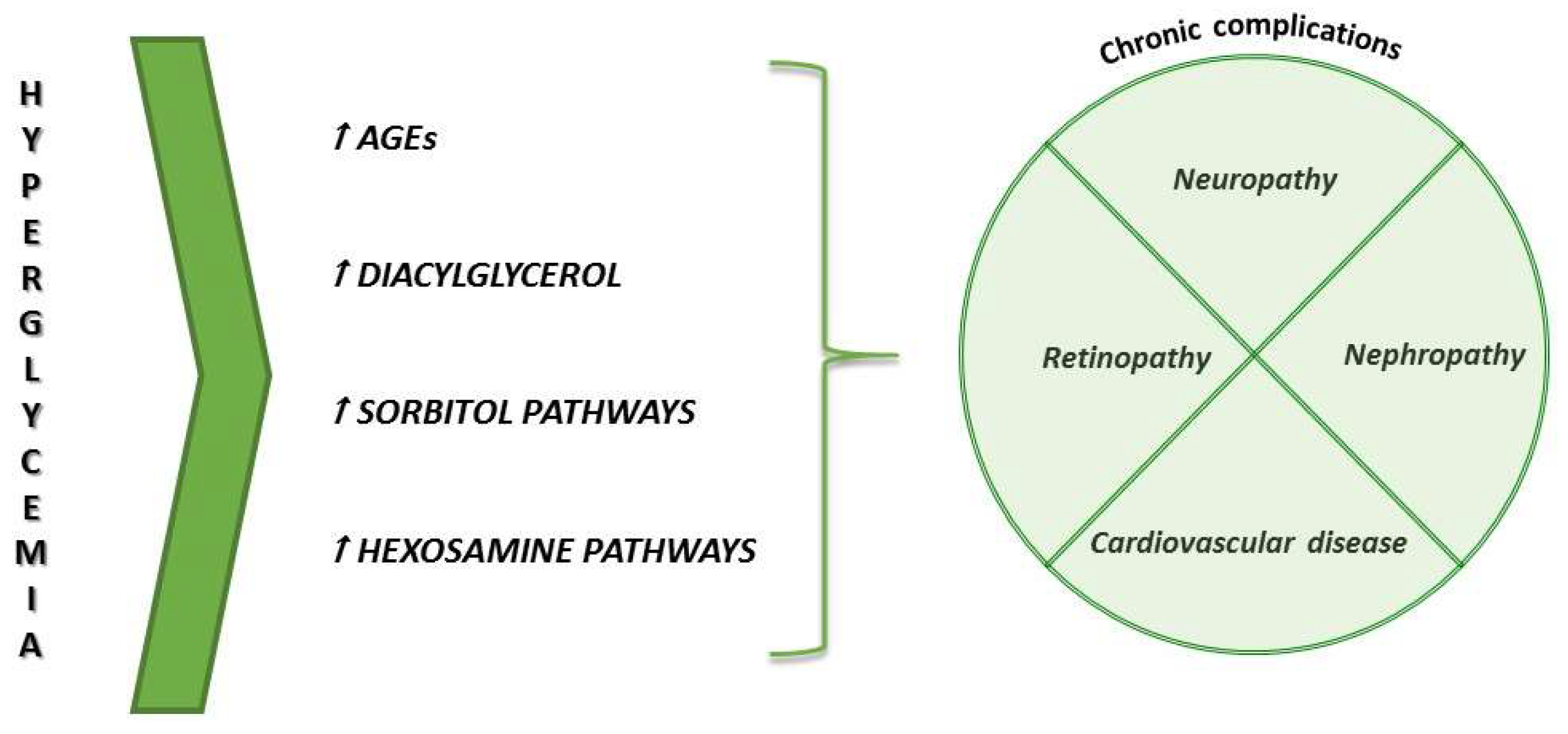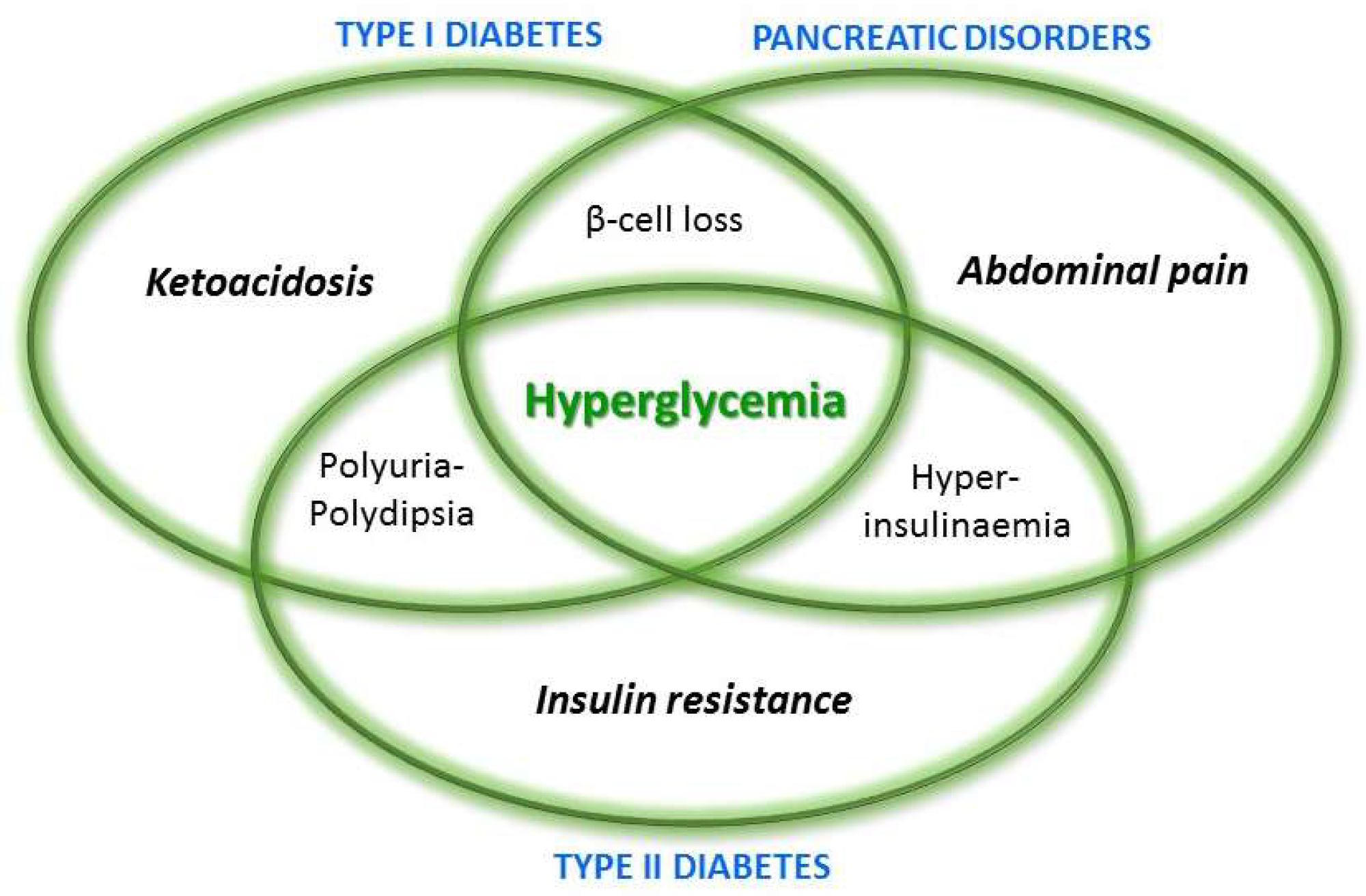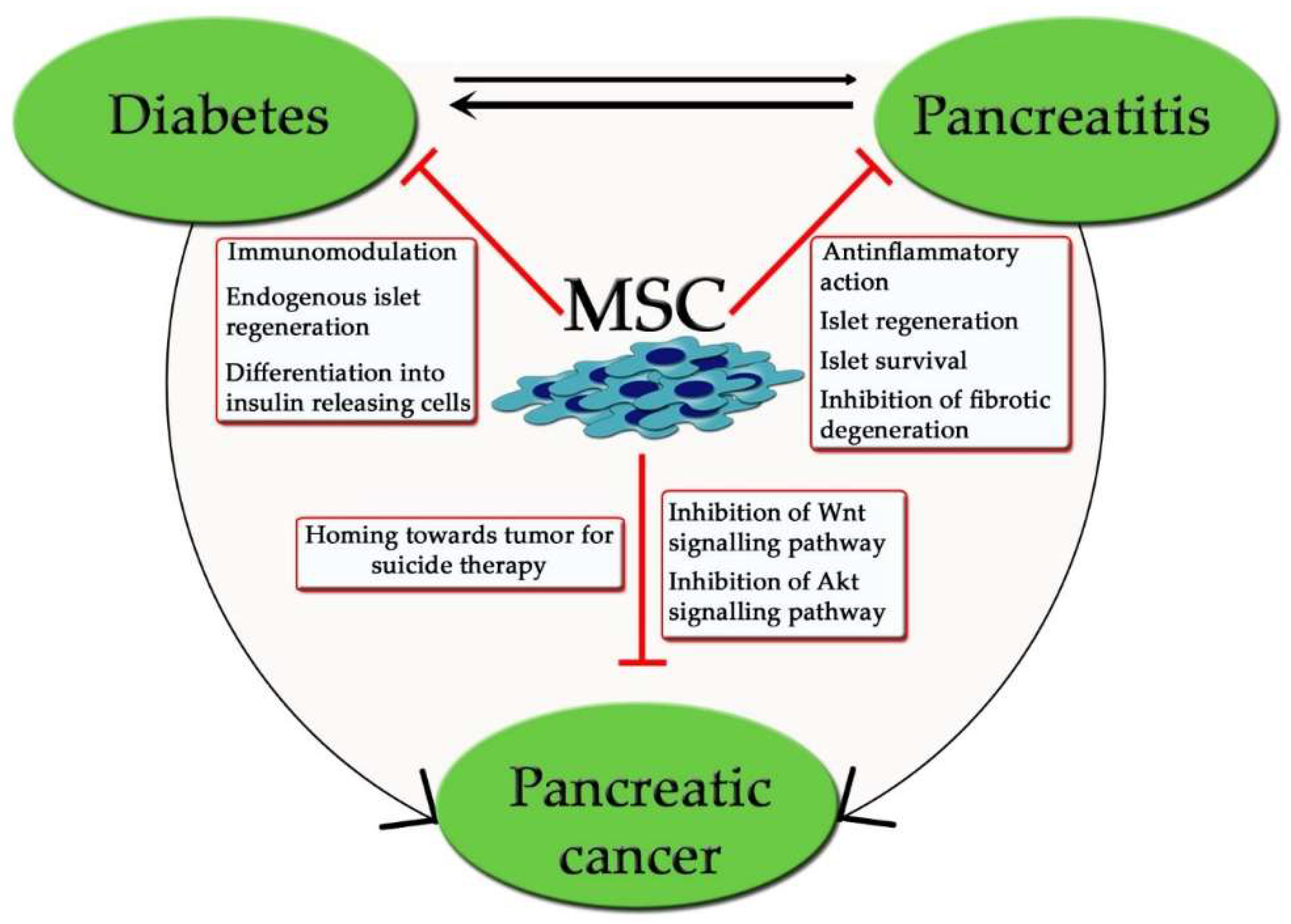 Disorder
Underlying mechanisms
Type I Diabetes
Immune-mediated β-cell destruction
Type II Diabetes
Insulin resistance and insulin deficiency
Type III Diabetes
a. Genetic defects β-cell function
b. Genetic defects of insulin action
c. Diseases of the exocrine pancreas
d. Endocrinopathies
e. Drug- or chemical-induced
f. Infections
g. Uncommon forms of immune-mediated diabetes
h. Genetic Syndrome
Acute Pancreatitis
Inflammation due to pancreatic enzyme activation inside the pancreas
Chronic Pancreatitis
Inflammation, fibrosis and progressive destruction of exocrine and endocrine tissue
Pancreatic Cancer
Genetic mutations
Positive Markers
Negative Markers
Marker Expression
CD73/5'-Nucleotidase
CD90/Thy1
CD105
CD34
CD45
CD11b/CD14
CD79α
HLA ClassII
Culture Type
Adhesion to plastic
Differentiation Ability
Adipogenic differentiation, Osteogenic differentiation, Chondrogenic differentiation after specific stimulation
Abbreviation: ISCT, International Society of Cellular Therapy.

© 2018 by the authors. Licensee MDPI, Basel, Switzerland. This article is an open access article distributed under the terms and conditions of the Creative Commons Attribution (CC BY) license (http://creativecommons.org/licenses/by/4.0/).