Inhibition of Wnt3a/FOXM1/β-Catenin Axis and Activation of GSK3β and Caspases are Critically Involved in Apoptotic Effect of Moracin D in Breast Cancers
College of Korean Medicine, Kyung Hee University, Seoul 02447, Korea
*
Author to whom correspondence should be addressed.
†
These authors contributed equally to this work.
Received: 23 August 2018 / Revised: 7 September 2018 / Accepted: 7 September 2018 / Published: 10 September 2018
Abstract
Although Moracin D derived from
Morus alba
was known to have anti-inflammatory and antioxidant activities, the underlying antitumor mechanism of Moracin D has not been unveiled thus far. Thus, in the recent study, the apoptotic mechanism of Moracin D was elucidated in breast cancer cells. Herein, Moracin D exerted significant cytotoxicity in MDA-MB-231 and MCF-7 cells. Furthermore, Moracin D increased sub G1 population; cleaved poly (Adenosine diphosphate (ADP-ribose)) polymerase (PARP); activated cysteine aspartyl-specific protease 3 (caspase 3); and attenuated the expression of c-Myc, cyclin D1, B-cell lymphoma 2 (Bcl-2), and X-linked inhibitor of apoptosis protein (XIAP) in MDA-MB231 cells. Of note, Moracin D reduced expression of Forkhead box M1 (FOXM1), β-catenin, Wnt3a, and upregulated glycogen synthase kinase 3 beta (GSK3β) on Tyr216 along with disturbed binding of FOXM1 with β-catenin in MDA-MB-231 cells. Conversely, GSK3β inhibitor SB216763 reversed the apoptotic ability of Moracin D to reduce expression of FOXM1, β-catenin, pro-caspase3, and pro-PARP in MDA-MB-231 cells. Overall, these findings provide novel insight that Moracin D inhibits proliferation and induces apoptosis via suppression of Wnt3a/FOXM1/β-catenin signaling and activation of caspases and GSK3β.
View Full-Text
►

▼

Figures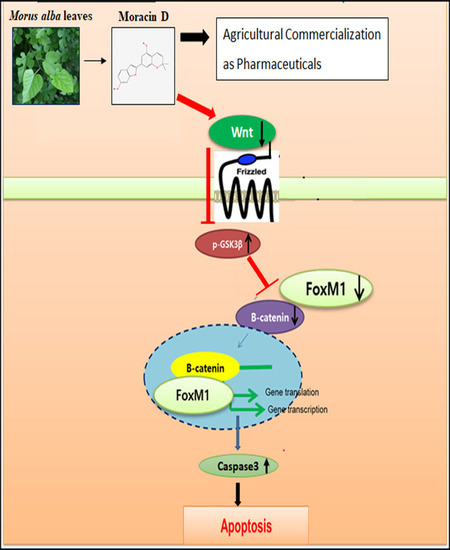 Graphical abstract
This is an open access article distributed under the
Creative Commons Attribution License
which permits unrestricted use, distribution, and reproduction in any medium, provided the original work is properly cited (CC BY 4.0).

Share & Cite This Article
MDPI and ACS Style
Hwang, S.M.; Lee, H.-J.; Jung, J.H.; Sim, D.Y.; Hwang, J.; Park, J.E.; Shim, B.S.; Kim, S.-H. Inhibition of Wnt3a/FOXM1/β-Catenin Axis and Activation of GSK3β and Caspases are Critically Involved in Apoptotic Effect of Moracin D in Breast Cancers. Int. J. Mol. Sci. 2018, 19, 2681.
Note that from the first issue of 2016, MDPI journals use article numbers instead of page numbers. See further details here.
Related Articles
Comments
[Return to top]