Effects of Sunitinib and Other Kinase Inhibitors on Cells Harboring a
PDGFRB

Mutation Associated with Infantile Myofibromatosis

1

Laboratory of Tumor Biology, Department of Experimental Biology, Faculty of Science, Masaryk University, 61137 Brno, Czech Republic

2

Department of Pediatric Oncology, University Hospital Brno and Faculty of Medicine, Masaryk University, 66263 Brno, Czech Republic

3

International Clinical Research Center, St. Anne's University Hospital, 65691 Brno, Czech Republic

4

Central European Institute of Technology, Masaryk University, 62500 Brno, Czech Republic

*

Author to whom correspondence should be addressed.

Received: 1 August 2018 / Revised: 22 August 2018 / Accepted: 29 August 2018 / Published: 1 September 2018
Abstract
Infantile myofibromatosis represents one of the most common proliferative fibrous tumors of infancy and childhood. More effective treatment is needed for drug-resistant patients, and targeted therapy using specific protein kinase inhibitors could be a promising strategy. To date, several studies have confirmed a connection between the p.R561C mutation in gene encoding platelet-derived growth factor receptor beta (PDGFR-beta) and the development of infantile myofibromatosis. This study aimed to analyze the phosphorylation of important kinases in the NSTS-47 cell line derived from a tumor of a boy with infantile myofibromatosis who harbored the p.R561C mutation in PDGFR-beta. The second aim of this study was to investigate the effects of selected protein kinase inhibitors on cell signaling and the proliferative activity of NSTS-47 cells. We confirmed that this tumor cell line showed very high phosphorylation levels of PDGFR-beta, extracellular signal-regulated kinases (ERK) 1/2 and several other protein kinases. We also observed that PDGFR-beta phosphorylation in tumor cells is reduced by the receptor tyrosine kinase inhibitor sunitinib. In contrast, MAPK/ERK kinases (MEK) 1/2 and ERK1/2 kinases remained constitutively phosphorylated after treatment with sunitinib and other relevant protein kinase inhibitors. Our study showed that sunitinib is a very promising agent that affects the proliferation of tumor cells with a p.R561C mutation in PDGFR-beta.
View Full-Text
►

▼

Figures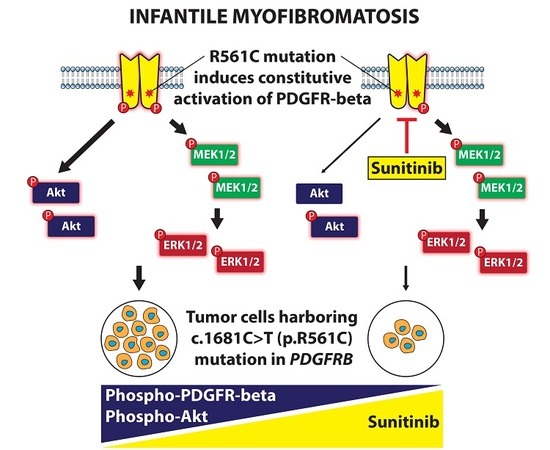 Graphical abstract
This is an open access article distributed under the
Creative Commons Attribution License
which permits unrestricted use, distribution, and reproduction in any medium, provided the original work is properly cited (CC BY 4.0).

Share & Cite This Article
MDPI and ACS Style
Sramek, M.; Neradil, J.; Macigova, P.; Mudry, P.; Polaskova, K.; Slaby, O.; Noskova, H.; Sterba, J.; Veselska, R. Effects of Sunitinib and Other Kinase Inhibitors on Cells Harboring a PDGFRB Mutation Associated with Infantile Myofibromatosis. Int. J. Mol. Sci. 2018, 19, 2599.
Note that from the first issue of 2016, MDPI journals use article numbers instead of page numbers. See further details here.
Related Articles
Comments
[Return to top]