Open Access This article is
freely available
re-usable
Review
Updates on Old and Weary Haematopoiesis
1
Stem Cell Aging and Cancer Research Group, Department of Medical Biology, Faculty of Health Sciences, UiT, The Arctic University of Norway, 9019 Tromsø, Norway
2
Department of Hematology, University Hospital of North Norway, 9019 Tromsø, Norway
3
Young Associate Investigator, Norwegian Center for Molecular Medicine (NCMM), 0349 Oslo, Norway
*
Author to whom correspondence should be addressed.
Received: 20 July 2018 / Accepted: 26 August 2018 / Published: 29 August 2018
Abstract
:
Blood formation, or haematopoiesis, originates from haematopoietic stem cells (HSCs), whose functions and maintenance are regulated in both cell- and cell non-autonomous ways. The surroundings of HSCs in the bone marrow create a specific niche or microenvironment where HSCs nest that allows them to retain their unique characteristics and respond rapidly to external stimuli. Ageing is accompanied by reduced regenerative capacity of the organism affecting all systems, due to the progressive decline of stem cell functions. This includes blood and HSCs, which contributes to age-related haematological disorders, anaemia, and immunosenescence, among others. Furthermore, chronological ageing is characterised by myeloid and platelet HSC skewing, inflammageing, and expanded clonal haematopoiesis, which may be the result of the accumulation of preleukaemic lesions in HSCs. Intriguingly, haematological malignancies such as acute myeloid leukaemia have a high incidence among elderly patients, yet not all individuals with clonal haematopoiesis develop leukaemias. Here, we discuss recent work on these aspects, their potential underlying molecular mechanisms, and the first cues linking age-related changes in the HSC niche to poor HSC maintenance. Future work is needed for a better understanding of haematopoiesis during ageing. This field may open new avenues for HSC rejuvenation and therapeutic strategies in the elderly.
Keywords:
haematopoiesis; ageing; clonal haematopoiesis; leukaemia; bone marrow; haematopoietic stem cell niche; inflammageing
1. Introduction
Haematopoiesis is the process of the generation of all differentiated blood cells in the organism, including red blood cells, platelets, innate immune cells, and lymphocytes; all found to fade in functionality in aged individuals. Haematopoiesis is carried out by a rare population of haematopoietic stem cells (HSCs), which in adults, reside mainly in the bone marrow. There, they either remain dormant, i.e., in a quiescent state, or undergo proliferation and differentiation, depending on their cell-intrinsic transcriptional programs and the external cues from the surroundings. In both humans and mice, advances in highly purified or single-cell transcriptomics and functional techniques challenge the past concept of cellular hierarchy in the haematopoietic system, where HSCs were thought to differentiate into a series of multilineage progenitors, culminating in unilineage progenitors that give rise to the variety of differentiated cells. Rather, adult HSCs seem to be a heterogeneous subset of mainly multipotent and unipotent progenitors affiliated to specific lineages, and the ratio of their skewing shifts when homeostasis is perturbed [
1
,
2
,
3
]. HSC maintenance relies on the support from the microenvironment or niche, which tightly controls their function, fate, and numbers [
4
]. The HSC niche, a concept cued by Schofield already in 1978 [
5
], is necessary to preserve the self-renewing potential of HSCs [
4
], which ensures the provision of newly differentiated blood cells whilst maintaining the HSC pool itself [
6
]. Extensive research on HSC niches composition shows that they are closely related to the vasculature in the bone marrow, with mainly endothelial, perivascular, and mesenchymal stromal cells secreting factors that support HSC maintenance [
7
]. In this scenario, the effects of ageing on haematopoiesis may be the result of age-related alterations in all blood cell subsets, including HSCs and progenitors, as well as in the HSC niche.
2. HSC Ageing and Myeloid/Platelet Skewing
3. Inflammageing and Its Relation to HSC Ageing
4. Ageing of the HSC Niche
5. Clonal Haematopoiesis and Age-Related Haematological Malignancies
6. Conclusions
HSC ageing is characterised by reduced self-renewal, myeloid and platelet HSC skewing, and expanded clonal haematopoiesis that is considered a preleukaemic state. The underlying molecular mechanisms seem to be related to increased oxidative stress due to ROS accumulation and DNA damage, which are influenced by both cell- and cell non-autonomous mechanisms such as prolonged exposure to infections, inflammageing, immunosenescence, and age-related changes in the HSC niche. Thus, HSC ageing seems to be multifactorial and we are only beginning to connect all the dots. In mouse models, strategies such as restoring telomerase function and prolonged treatment with antioxidants or inhibitors of p38 MAPK have been successful at rejuvenating HSC function. Examples of cell non-autonomous therapies include the pharmacological targeting of insulin-like growth factor-1 in aged osteoblastic niche cells and treatment with adrenoreceptor beta 3 agonist. The latter not only significantly rejuvenates the in vivo function of aged HSCs, but also blocks disease progression in a model of age-related haematological malignancy. Thus, future work should accurately explore the sequence of events and players leading to HSC decay and transformation with ageing, aiming at developing integrative and efficient combinatorial strategies to slow down these processes.
Acknowledgments
Our work is supported by a joint meeting grant of the Northern Norway Regional Health Authority, the University Hospital of Northern Norway (UNN), and The Arctic University of Norway (UiT) (2014/5668), Young Research Talent grants from the Research Council of Norway (Stem Cell Program, 247596; FRIPRO Program, 250901), and grants from the Norwegian Cancer Society (6765150), the Northern Norway Regional Health Authority (HNF1338-17), and the Aakre-Stiftelsen Foundation (2016/9050) to L. Arranz. Correspondence and requests should be addressed to L. Arranz (email: lorena.arranz@uit.no).
Conflicts of Interest
The authors declare no conflict of interest.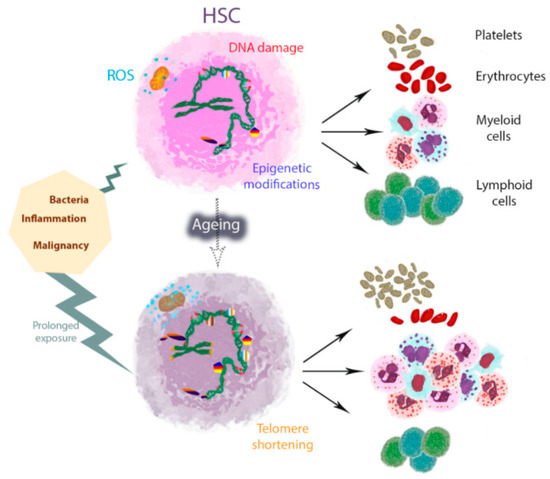 Figure 1. Model of haematopoietic stem cell (HSC) myeloid and platelet skewing with ageing in mice. One of the typical characteristics of HSC ageing is myeloid and platelet HSC skewing, which is accompanied by profound changes in the epigenetic landscape and gene expression profiles. HSC activation in response to external stimuli such as infections and inflammation elicits HSC differentiation and myeloid skewing, aimed at mediating rapid myeloid cell recovery at the expense of their self-renewal capacity. HSCs shift from quiescence to more cycling states, with increased reactive oxygen species (ROS) levels and DNA damage. Prolonged exposure during life may potentially cause the accumulation and aggravation of changes, including telomere shortening, ultimately reducing HSC survival and differentiation potential. The course of lifetime is represented by a dotted arrow.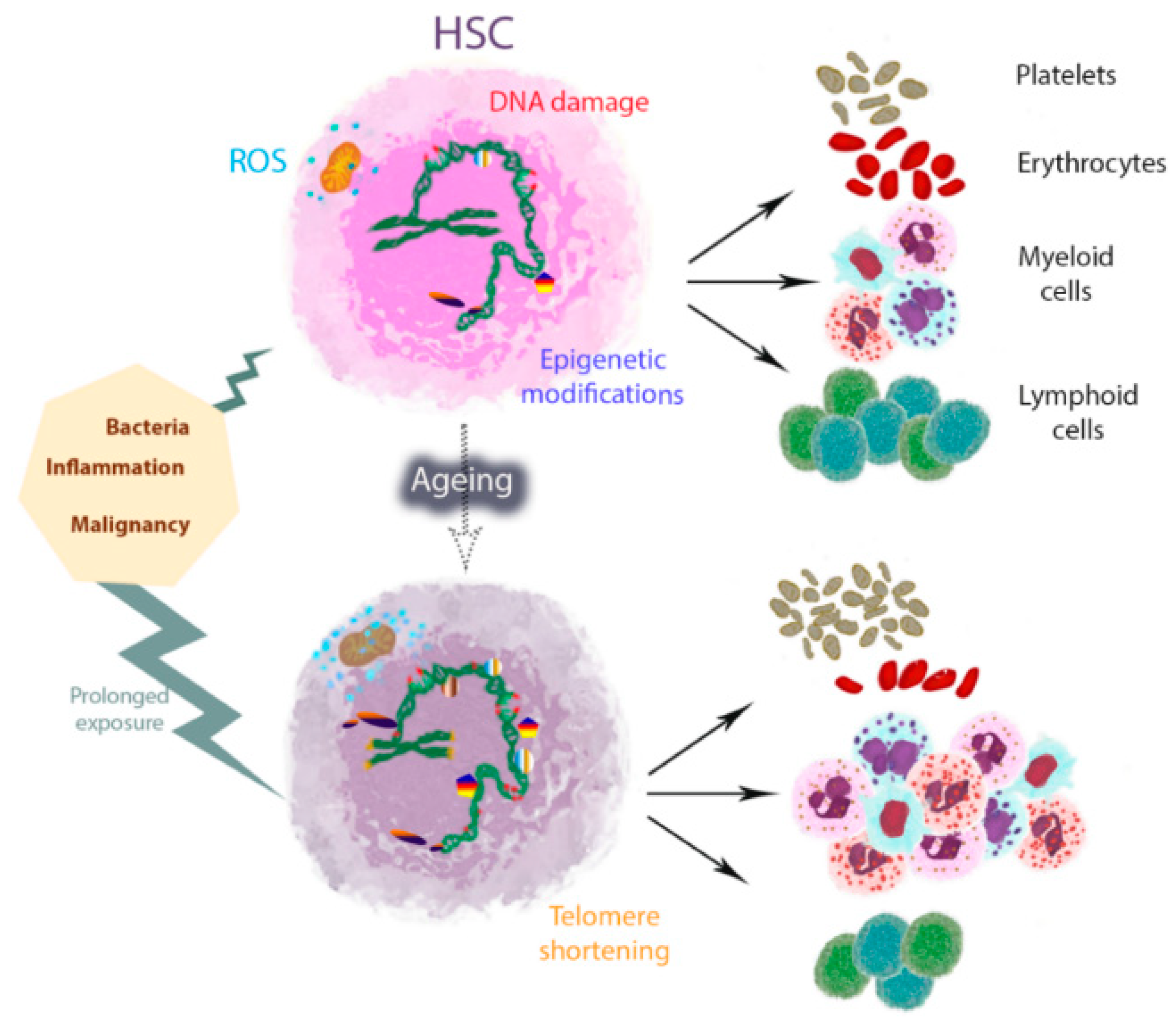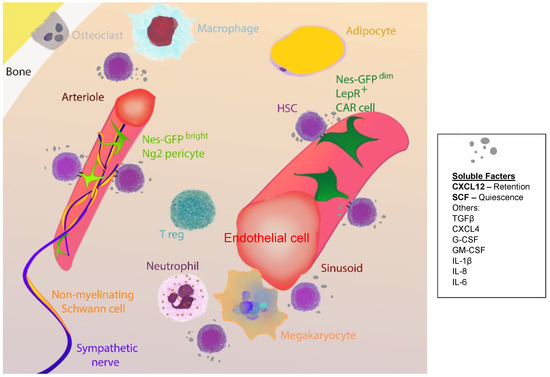 Figure 2. Major players in bone marrow haematopoietic stem cell (HSC) niches. HSC niches in the bone marrow are complex and closely related to the vasculature. The majority of HSCs localise near sinusoids associated with endothelial cells and leptin receptor (LepR)-expressing mesenchymal stromal cells, which partially overlap with CXC-chemokine ligand 12 (CXCL12)-abundant reticular (CAR) cells and Nestin (Nes)-GPFdim cells. A fraction of HSCs localise adjacent to small-diameter arterioles, adjacent to neural/glial antigen (Ng)2 pericytes that partially overlap with Nes-GFPbright cells. Other cell subsets that regulate HSC function include sympathetic fibres, non-myelinating Schwann cells, adipocytes, megakaryocytes, neutrophils, macrophages, T regulatory (reg) cells, and osteoclasts, either by direct or indirect mechanisms. Direct mechanisms include cell-to-cell contact and secretion of soluble factors, importantly stem cell factor (SCF) that regulates HSC quiescence and CXCL12 that promotes HSC retention. Other soluble factors that control HSC function are tumor growth factor beta (TGFβ), CXCL4, granulocyte colony-stimulating factor (G-CSF), granulocyte-macrophage colony-stimulating factor (GM-CSF), and several interleukins (IL), among others.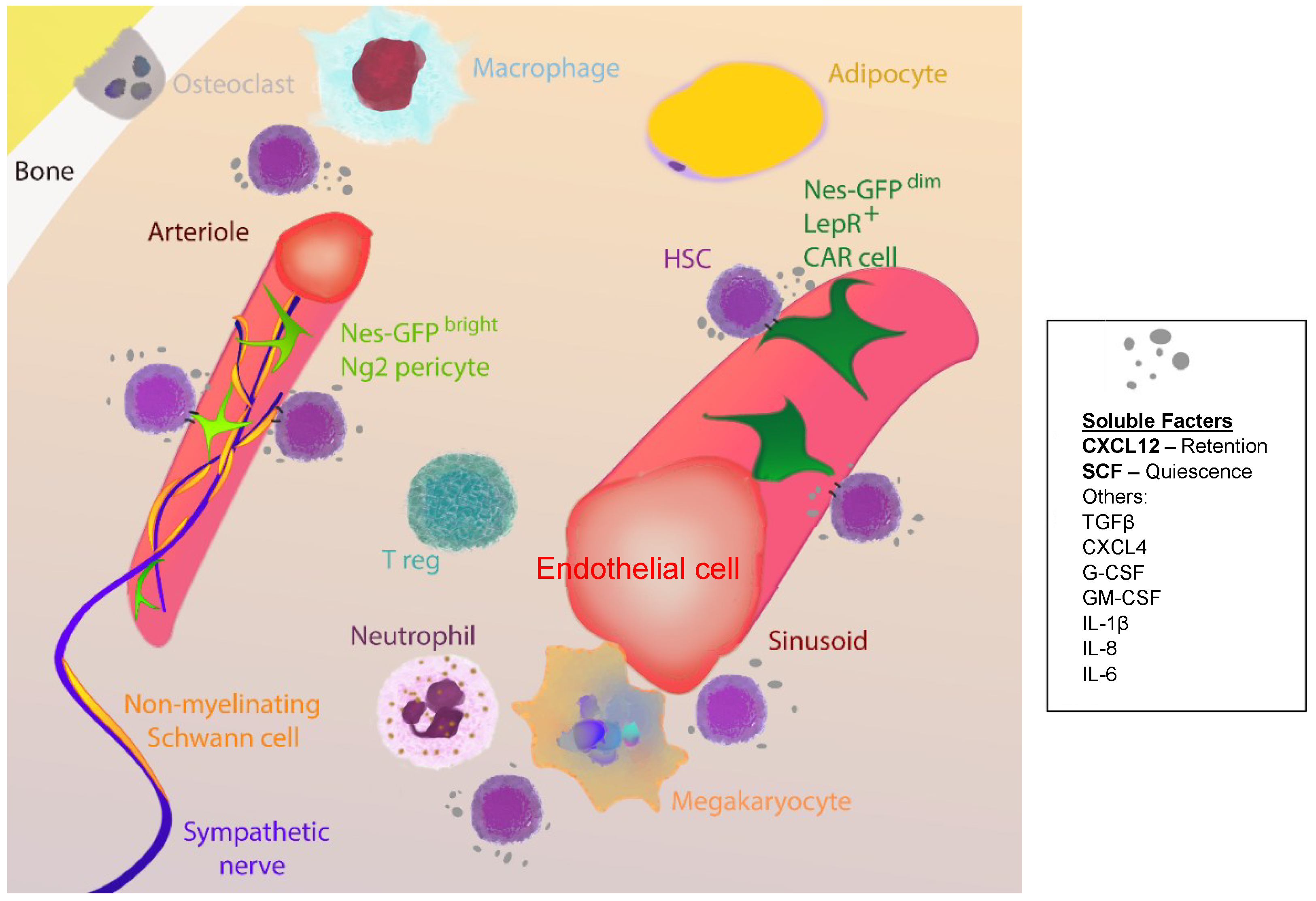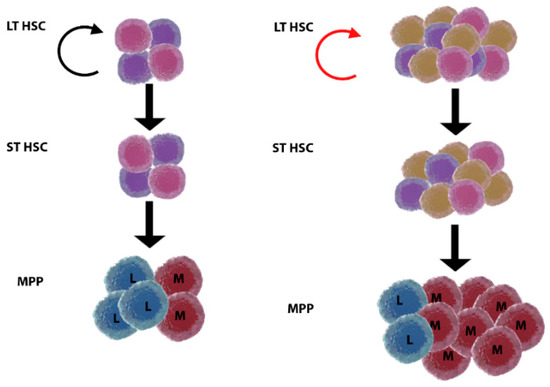 Figure 3. Model of age-related clonal haematopoiesis. Young (left) versus old (right) haematopoiesis. Long-term haematopoietic stem cells (LT HSC) are present in increased numbers but with reduced self-renewal ability (twisted arrow, red) in the elderly. Somatic mutations arise with ageing in LT HSC, and some of the clones are positively selected and expand, giving rise to age-related clonal haematopoiesis. This status may or not evolve to malignancy by acquisition of additional mutations. It is currently unknown how clonal haematopoiesis relates to inflammageing, why selection of clones originates myeloid skewing, and what is the role of the HSC niche. ST HSC, short-term haematopoietic stem cell; MPP, multipotent progenitor; L, lymphoid; M, myeloid.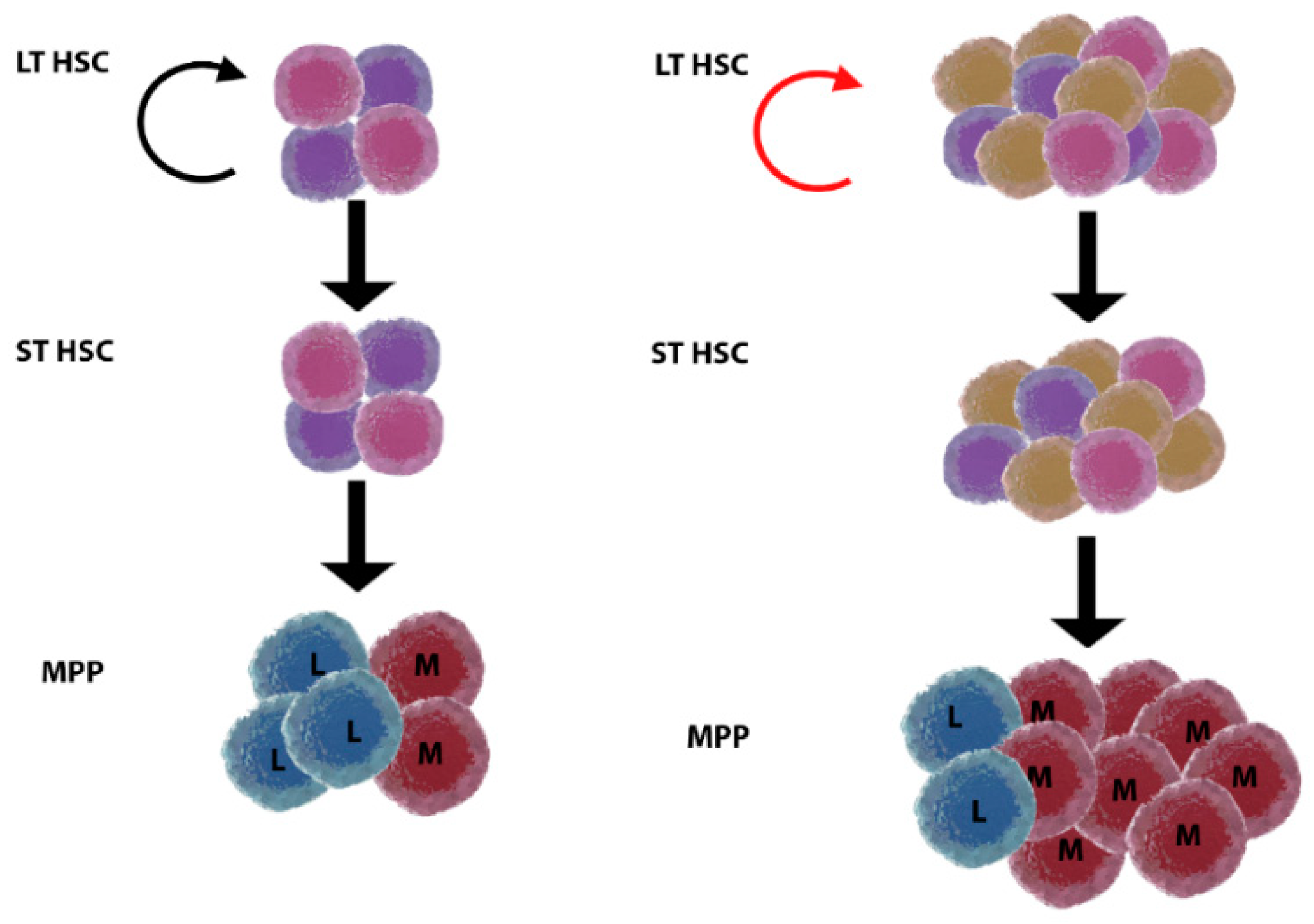 © 2018 by the authors. Licensee MDPI, Basel, Switzerland. This article is an open access article distributed under the terms and conditions of the Creative Commons Attribution (CC BY) license (http://creativecommons.org/licenses/by/4.0/).