Updates on Old and Weary Haematopoiesis
1
Stem Cell Aging and Cancer Research Group, Department of Medical Biology, Faculty of Health Sciences, UiT, The Arctic University of Norway, 9019 Tromsø, Norway
2
Department of Hematology, University Hospital of North Norway, 9019 Tromsø, Norway
3
Young Associate Investigator, Norwegian Center for Molecular Medicine (NCMM), 0349 Oslo, Norway
*
Author to whom correspondence should be addressed.
Received: 20 July 2018 / Revised: 20 August 2018 / Accepted: 26 August 2018 / Published: 29 August 2018
Abstract
Blood formation, or haematopoiesis, originates from haematopoietic stem cells (HSCs), whose functions and maintenance are regulated in both cell- and cell non-autonomous ways. The surroundings of HSCs in the bone marrow create a specific niche or microenvironment where HSCs nest that allows them to retain their unique characteristics and respond rapidly to external stimuli. Ageing is accompanied by reduced regenerative capacity of the organism affecting all systems, due to the progressive decline of stem cell functions. This includes blood and HSCs, which contributes to age-related haematological disorders, anaemia, and immunosenescence, among others. Furthermore, chronological ageing is characterised by myeloid and platelet HSC skewing, inflammageing, and expanded clonal haematopoiesis, which may be the result of the accumulation of preleukaemic lesions in HSCs. Intriguingly, haematological malignancies such as acute myeloid leukaemia have a high incidence among elderly patients, yet not all individuals with clonal haematopoiesis develop leukaemias. Here, we discuss recent work on these aspects, their potential underlying molecular mechanisms, and the first cues linking age-related changes in the HSC niche to poor HSC maintenance. Future work is needed for a better understanding of haematopoiesis during ageing. This field may open new avenues for HSC rejuvenation and therapeutic strategies in the elderly.
View Full-Text
►

▼

Figures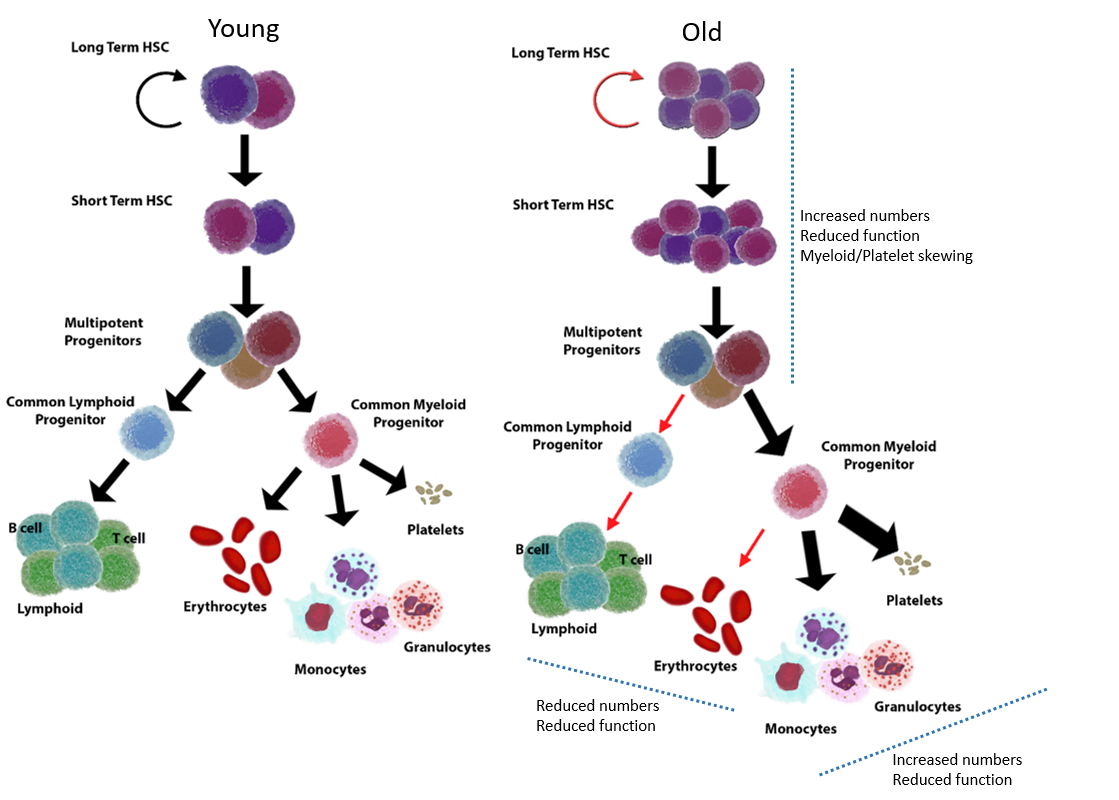 Graphical abstract
This is an open access article distributed under the
Creative Commons Attribution License
which permits unrestricted use, distribution, and reproduction in any medium, provided the original work is properly cited (CC BY 4.0).

Share & Cite This Article
MDPI and ACS Style
Konieczny, J.; Arranz, L. Updates on Old and Weary Haematopoiesis. Int. J. Mol. Sci. 2018, 19, 2567.
Note that from the first issue of 2016, MDPI journals use article numbers instead of page numbers. See further details here.
Related Articles
Comments
[Return to top]