A Rapid Screen for Host-Encoded miRNAs with Inhibitory Effects against Ebola Virus Using a Transcription- and Replication-Competent Virus-Like Particle System
Academy of Military Medical Sciences, No. 27 Taiping Road, Beijing 100850, China
*
Author to whom correspondence should be addressed.
Received: 19 April 2018 / Revised: 9 May 2018 / Accepted: 14 May 2018 / Published: 16 May 2018
Abstract
MicroRNAs (miRNAs) may become efficient antiviral agents against the Ebola virus (EBOV) targeting viral genomic RNAs or transcripts. We previously conducted a genome-wide search for differentially expressed miRNAs during viral replication and transcription. In this study, we established a rapid screen for miRNAs with inhibitory effects against EBOV using a tetracistronic transcription- and replication-competent virus-like particle (trVLP) system. This system uses a minigenome comprising an EBOV leader region, luciferase reporter, VP40, GP, VP24, EBOV trailer region, and three noncoding regions from the EBOV genome and can be used to model the life cycle of EBOV under biosafety level (BSL) 2 conditions. Informatic analysis was performed to select up-regulated miRNAs targeting the coding regions of the minigenome with the highest binding energy to perform inhibitory effect screening. Among these miRNAs, miR-150-3p had the most significant inhibitory effect. Reverse transcription polymerase chain reaction (RT-PCR), Western blot, and double fluorescence reporter experiments demonstrated that miR-150-3p inhibited the reproduction of trVLPs via the regulation of GP and VP40 expression by directly targeting the coding regions of GP and VP40. This novel, rapid, and convenient screening method will efficiently facilitate the exploration of miRNAs against EBOV under BSL-2 conditions.
View Full-Text
►

▼

Figures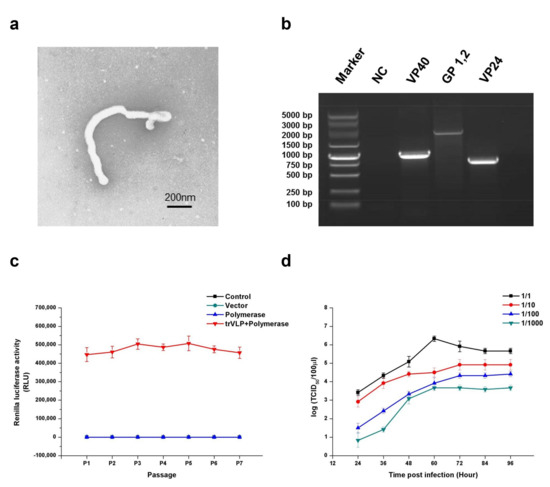 Figure 1
This is an open access article distributed under the
Creative Commons Attribution License
which permits unrestricted use, distribution, and reproduction in any medium, provided the original work is properly cited (CC BY 4.0).

Share & Cite This Article
MDPI and ACS Style
Wang, Z.; Li, J.; Fu, Y.; Zhao, Z.; Zhang, C.; Li, N.; Li, J.; Cheng, H.; Jin, X.; Lu, B.; Guo, Z.; Qian, J.; Liu, L. A Rapid Screen for Host-Encoded miRNAs with Inhibitory Effects against Ebola Virus Using a Transcription- and Replication-Competent Virus-Like Particle System. Int. J. Mol. Sci. 2018, 19, 1488.
Note that from the first issue of 2016, MDPI journals use article numbers instead of page numbers. See further details here.
Related Articles
Comments
[Return to top]