Expression and Interaction Analysis among Saffron ALDHs and Crocetin Dialdehyde
1
Instituto Botánico, Departamento de Ciencia y Tecnología Agroforestal y Genética, Facultad de Farmacia, Universidad de Castilla-La Mancha, Campus Universitario s/n, 02071 Albacete, Spain
2
Centro de Biotecnología y Genómica de Plantas (CBGP, UPM-INIA), Universidad Politécnica de Madrid (UPM)—Instituto Nacional de Investigación y Tecnología Agraria y Alimentaria (INIA), Campus de Montegancedo-UPM, 28223 Pozuelo de Alarcón, Madrid, Spain
3
Facultad de Ciencias Ambientales y Bioquímica Toledo, Campus Tecnológico de la Fábrica de Armas, Avda. Carlos III, s/n, E-45071 Toledo, Spain
*
Author to whom correspondence should be addressed.
Received: 13 April 2018 / Revised: 3 May 2018 / Accepted: 7 May 2018 / Published: 9 May 2018
Abstract
In saffron, the cleavage of zeaxanthin by means of CCD2 generates crocetin dialdehyde, which is then converted by an unknown aldehyde dehydrogenase to crocetin. A proteome from saffron stigma was released recently and, based on the expression pattern and correlation analyses, five aldehyde dehydrogenases (ALDHs) were suggested as possible candidates to generate crocetin from crocetin dialdehydes. We selected four of the suggested ALDHs and analyzed their expression in different tissues, determined their activity over crocetin dialdehyde, and performed structure modeling and docking calculation to find their specificity. All the ALDHs were able to convert crocetin dialdehyde to crocetin, but two of them were stigma tissue-specific. Structure modeling and docking analyses revealed that, in all cases, there was a high coverage of residues in the models. All of them showed a very close conformation, indicated by the low root-mean-square deviation (RMSD) values of backbone atoms, which indicate a high similarity among them. However, low affinity between the enzymes and the crocetin dialdehyde were observed. Phylogenetic analysis and binding affinities calculations, including some ALDHs from
Gardenia jasmonoides
,
Crocus sieberi
, and
Buddleja
species that accumulate crocetin and
Bixa orellana
synthetizing the apocarotenoid bixin selected on their expression pattern matching with the accumulation of either crocins or bixin, pointed out that family 2 C4 members might be involved in the conversion of crocetin dialdehyde to crocetin with high specificity.
View Full-Text
►

▼

Figures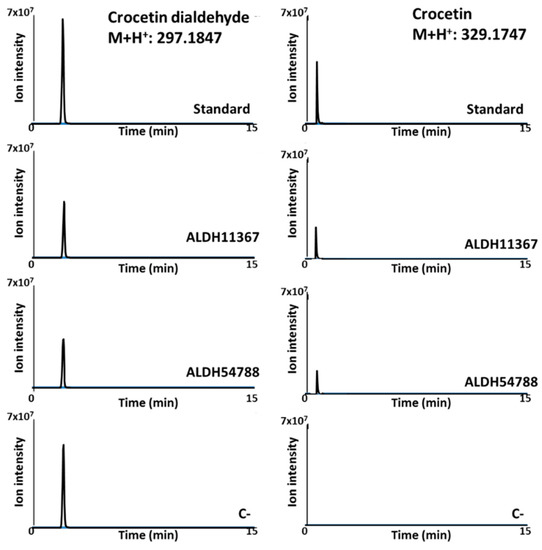 Figure 1
This is an open access article distributed under the
Creative Commons Attribution License
which permits unrestricted use, distribution, and reproduction in any medium, provided the original work is properly cited (CC BY 4.0).

Share & Cite This Article
MDPI and ACS Style
Gómez-Gómez, L.; Pacios, L.F.; Diaz-Perales, A.; Garrido-Arandia, M.; Argandoña, J.; Rubio-Moraga, Á.; Ahrazem, O. Expression and Interaction Analysis among Saffron ALDHs and Crocetin Dialdehyde. Int. J. Mol. Sci. 2018, 19, 1409.
Note that from the first issue of 2016, MDPI journals use article numbers instead of page numbers. See further details here.
Related Articles
Comments
[Return to top]